Zero Gravity became well known back in the 90's with the introduction of the now ubiquitous double-bubble windscreen design. Originally developed for racebikes, the "bubble on bubble" shape has been the single most-copied aspect of their products ever since. All Zero Gravity windscreens are manufactured from acrylic plastic using a blow-molding process that creates a final product which allows light to pass through without bending it and distorting your view of the road ahead. For easy installation, windscreens are drilled at the factory to fit OEM mounting points - simply re-use your OEM hardware for installation.
Double Bubble Windscreens feature the "bubble on bubble" design that made Zero Gravity famous. The extra wedge-shaped bubble in the middle portion of the windscreen provides more wind protection and better aerodynamics, especially when the rider is tucked in for speed.
Zero Gravity windscreens are not yet available on our website. To order yours, call TJ at 866.931.6644 ext 817. You can also email us with any questions you may have - send those for FORUM at RIDERSDISCOUNT dot COM with ZERO G in the subject line and please specify the type of motorcycle windscreen you want and the model/year of the bike you're riding for accurate availability and fast shipping.
Almost all Zero Gravity windscreens are available in clear, light smoke and dark smoke tints. Notice that all holes are pre-drilled in the OEM mounting positions for easy installation. We also have available extra hardware kits with rubber expansion grommets to replace any worn-out items you may have.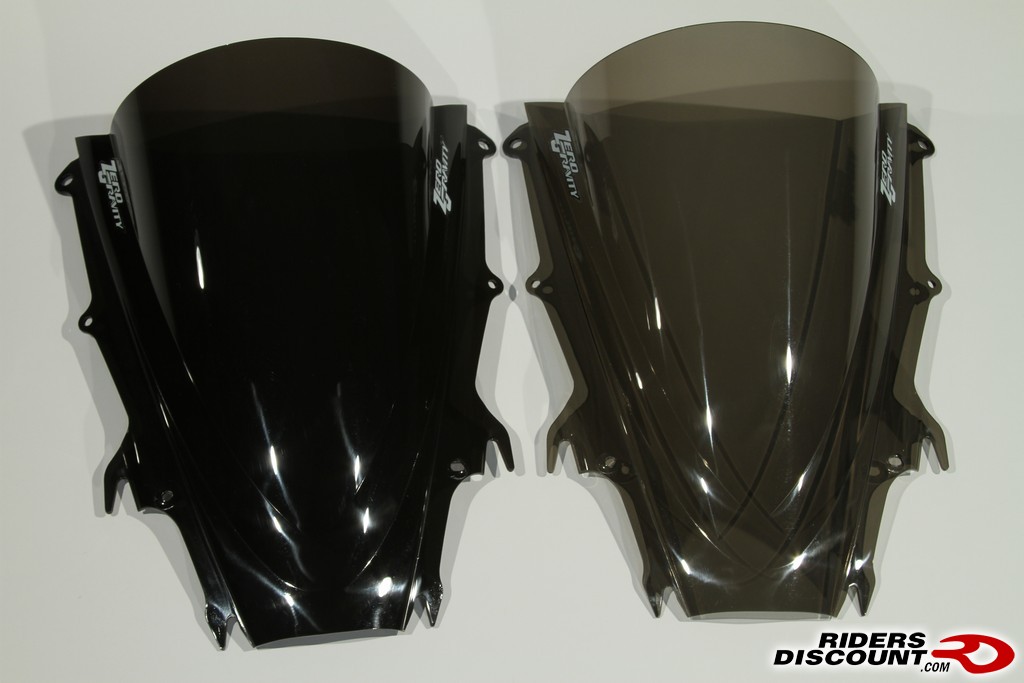 Triumph Daytona 675 windscreens from Zero Gravity.