Winter is right around the corner and unfortunately for most of us in the US this means we'll have to put away our toys for hibernation. But what is actually involved in preparing a motorcycle for winter storage? Some people are okay with parking their bikes for the winter just as they left it after their last ride and while that may work for some of the warmer climates, it's not recommended for those of us in the frozen north. There seems to be a lot of confusion as to what is actually involved in getting a bike ready for winter storage with varying opinions from every rider. In this thread you'll find a general idea of what is required to get your bike through the winter and out on the other side as good as you left it.
We're going to highlight some of the best winter prep products here, all of which are available from Riders Discount. If there is something you don't see here but want for your winterization needs, contact our expert sales staff by giving
TJ
a call at 866.931.6644 ext.
817
. Prefer email? No problem, send us a message through this forum with the products you're looking for or write to us at FORUM at RIDERSDISCOUNT dot COM, and we'll get back to you right away!
So what are some of the key winter storage products available to prep your bike for the cold season?
Stands to prevent your tires from flat spotting, anti-freeze for coolant, fuel stabilizer to prevent your gas from breaking down, fogging oil to prevent cylinder corrosion, battery tender to keep your battery fresh, and a bike cover to keep your bike warm. Just kidding, a bike cover will help keep your bike clean and partially dust free throughout winter.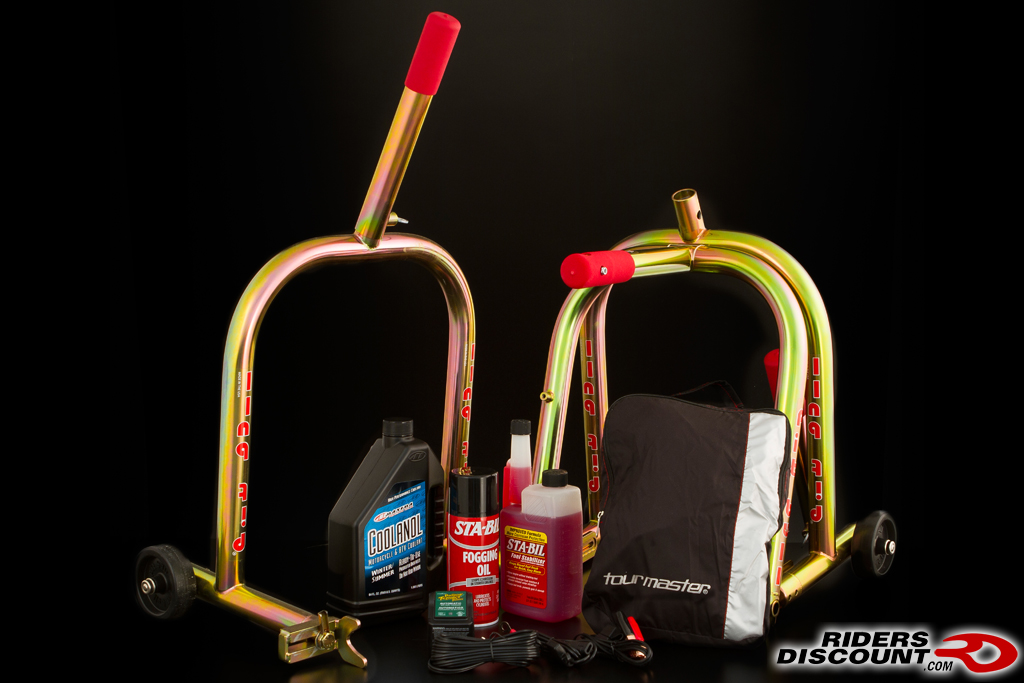 One thing not pictured are muffler and intake plugs to keep pests out, although a couple paper towels stuffed in your exhaust and intake should suffice.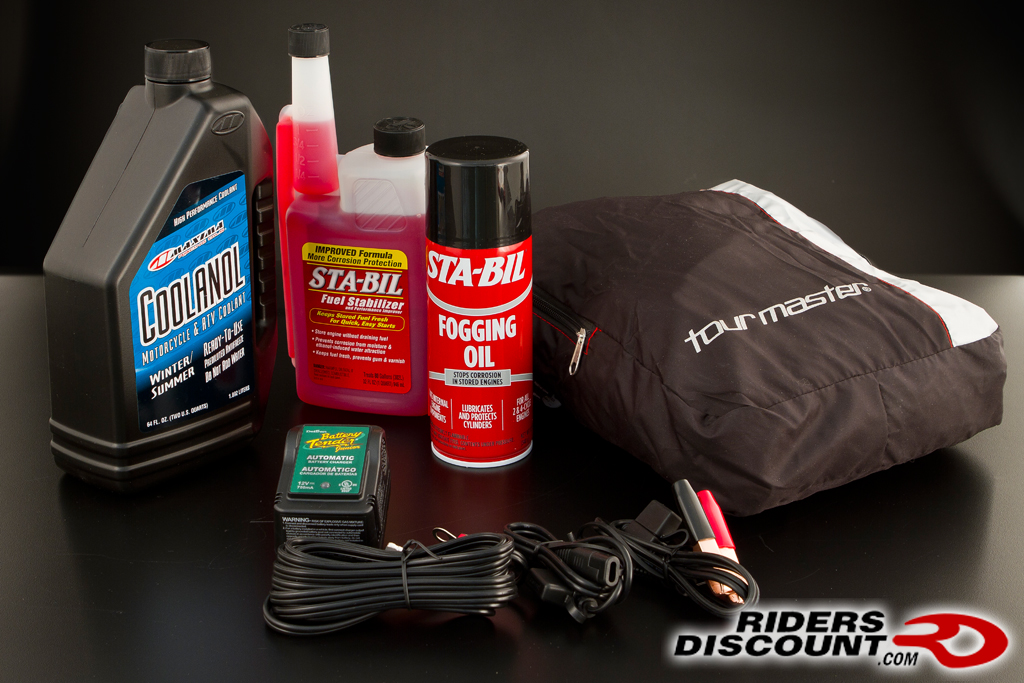 Street riders likely already have anti-freeze coolant but it never hurts to give your bike a good flush and refill every year. If you have ran any kind of track time this year, there's a good chance you don't have anti-freeze properties in your coolant and getting it changed out is a necessity. There are numerous options available for anti-freeze and we sell them all. Pictured here is Maxima Coolanol. Engine Ice is also common and available from Riders Discount as well.
Fuel stabilizer is recommended if you plan on storing your bike for longer periods of time.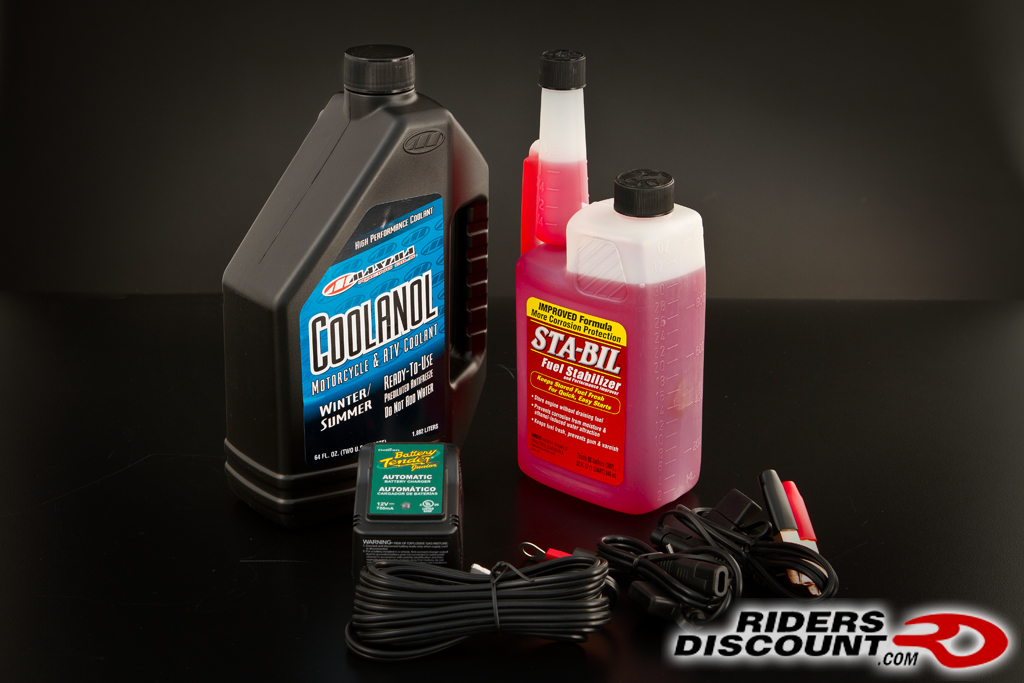 Now, regarding batteries, if you have a lithium ion battery, remove it, bring it inside, and store it in a closet. These shouldn't need a charge, however if you think it may, go ahead and give us a call and we'll get one on the way for you. If you have an OE style acid battery, plug in the Battery Tender and leave it. That's it. You don't need to remove it from the bike if you don't want to.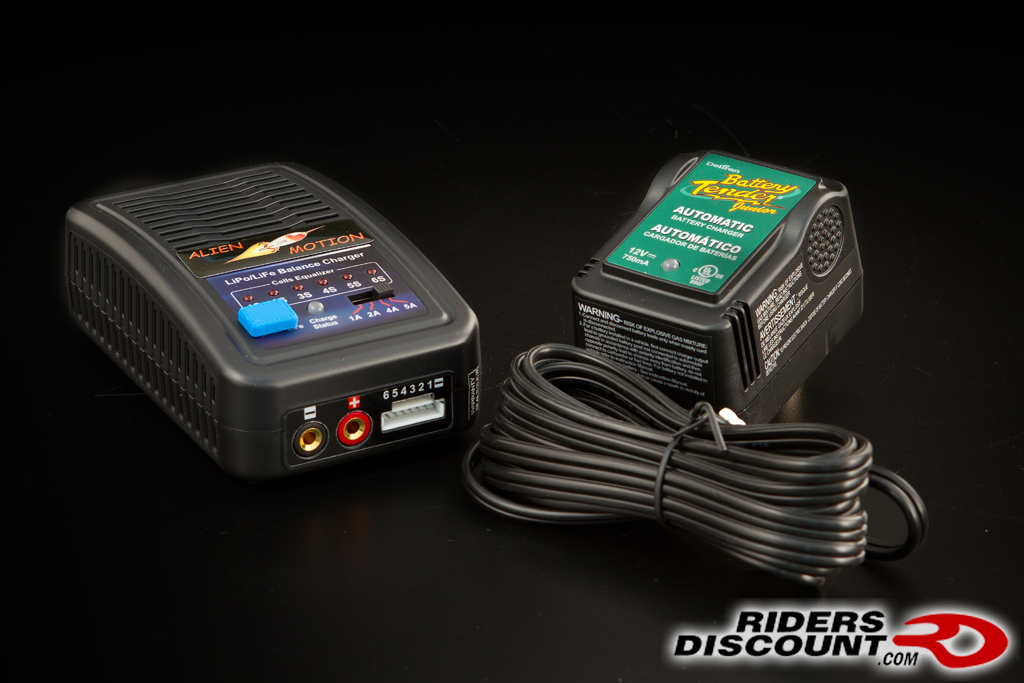 One last thing, a common misconception we've seen is to start your bike periodically through the off-season and get it up to temp. You can look at it from time to time but you really don't need to start it up. Just let it sit and fire it up come spring time.
So what do you guys and gals do to get ready for winter? (Be prepared for California riders to post up a witty remark about them continuing to ride...)