Discussion Starter
·
#1
·
Hello,
My name is a Chip Spalding and I am one of the owners of Ballistic Performance Components (
www.ballisticparts.com
) and I also manage KWS Motorsports (
www.kwsmotorsports.com
) and we are a new advertiser here!
KWS Motorsports is a full service customer race shop that has been in the business of building race bikes since 1994. We have also run a professional race team since 1999. In 2001 we won the FUSA Unlimited Superbike National Championship, in 2003 we won the Top Privateer Award in AMA Superbike, and in 2009 we ran the Factory Aprilia AMA Daytona SportBike team with riders Chaz Davies and Aaron Gobert.
In our quest to get weight out of our 2009 Aprilia RSV1000R race bikes we started researching lightweight battery technology. We used some existing vendors but were not happy with the product so we started to develop our own. In an effort to make this technology available to our customers we formed Ballistic Performance Components with our long term partners, Millennium Technologies. This combination of KWS Motorsports extensive hands on professional racing experience and Millennium Technologies industry leading manufacturing capabilities lead to what we believe is one of the best powersports products on the market today, the Ballistic Performance Components EVO 2 Battery.
The new EVO 2 battery is the sum of over 16 months of building, testing, and developing batteries for our own race bikes and feed back from our customers. The EVO 2 uses custom made proprietary cells, cases, and connectors that are made specifically for the purpose of starting motorcycles. This is not a collection of commercially available generic parts wrapped in shrink wrap and assembled in somebody's garage or imported from China. This is a purpose built product designed and engineered by an American company with over 20 years of racing and manufacturing experience.
Product Highlights:
- Up to 80% smaller than the stock battery
- Up to 10lbs Lighter than the stock battery
- Service Life of over 2000 cycles
- EVO 2 Batteries use hard mounted brass terminals for a direct replacement installation
- Completely "Dry" technology so batteries can be mounted on their side or even upside-down.
- Completely non-toxic, recyclable, and can be air shipped
- Applications for bikes from 50cc - 1800cc
- Tested extensively by professional race teams
- Impact and water resistant
- 90 day free replacement warranty
- No special charger required.
- No trickle charger required, loses only 10% of charge over a year of static use.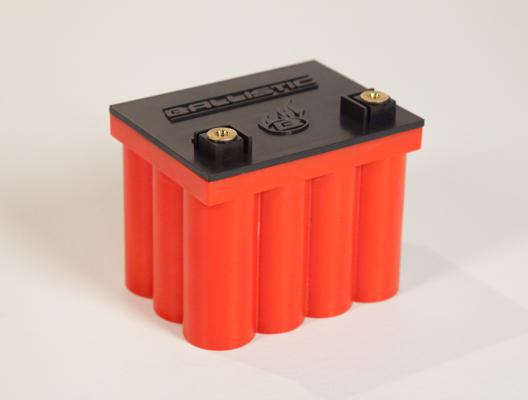 If you have any questions please let me know!
[email protected]

or

[email protected]