Synto Adjustable Brake and Clutch levers are a race-proven design that will have other gear-savvy riders jealous when they see them installed on your bike. Made from billet aluminum stock that is precision CNC-machined to fit your Triumph perfectly, these levers are available in both short (~5cm shorter than OEM) and long (~2cm shorter than OEM) versions. You may choose from six different colors for BOTH the levers and the six-point adjuster tab - all of which are bound to your motorcycle with a black adaptor base.
Fabricated in Germany, these aftermarket motorcycle levers take into account lessons learned in MotoGP with an "airbox" machined into the lever near the tip which prevents wind from slightly applying the front brake while at speed - if you happen to travel that fast. While Synto brake and clutch levers are non-folding units, a break-away tab is machined into each lever that is designed to fail in the event of an unfortunate crash, possibly sparing damage to your bike's brake and clutch perches.
These levers can be ordered as a complete brake and clutch set, or individually. Call TJ at 866.931.6644 ext 817 to orders yours today. If you have any questions, please send him an email - TJ at RIDERSDISCOUNT dot COM with SYNTO LEVERS in the subject line.
Levers and tabs are available in and combination of: silver, gold, red, blue, black and titanium. Shown here are titanium levers with black adjusters.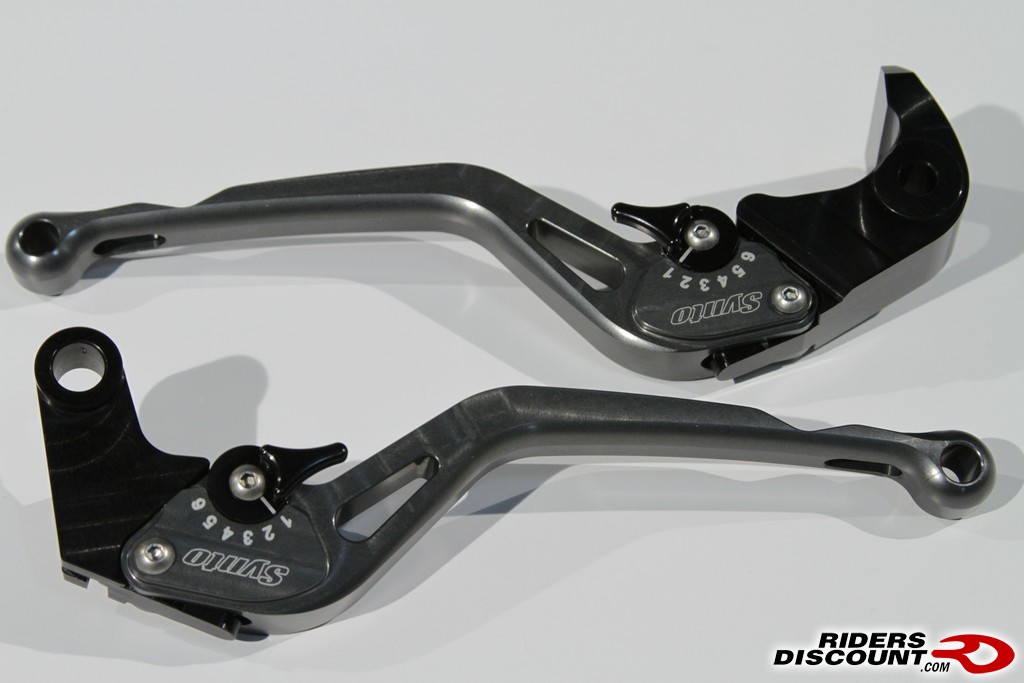 The levers have an excellent finish that is free of burrs and rough spots.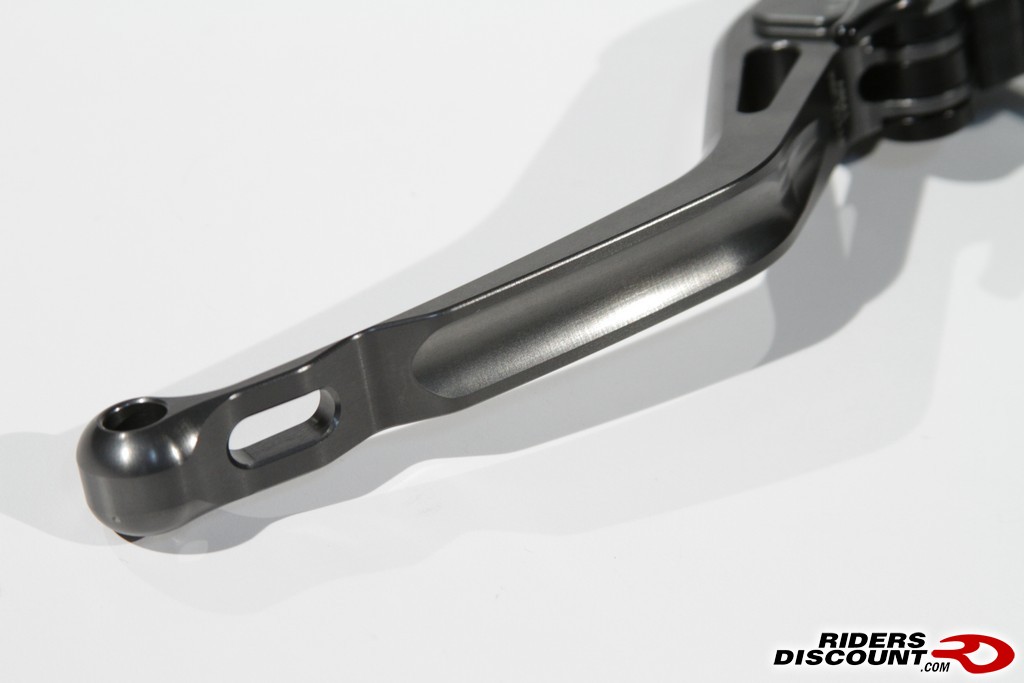 Simple adjuster tabs are easily operated with your hands on the bars.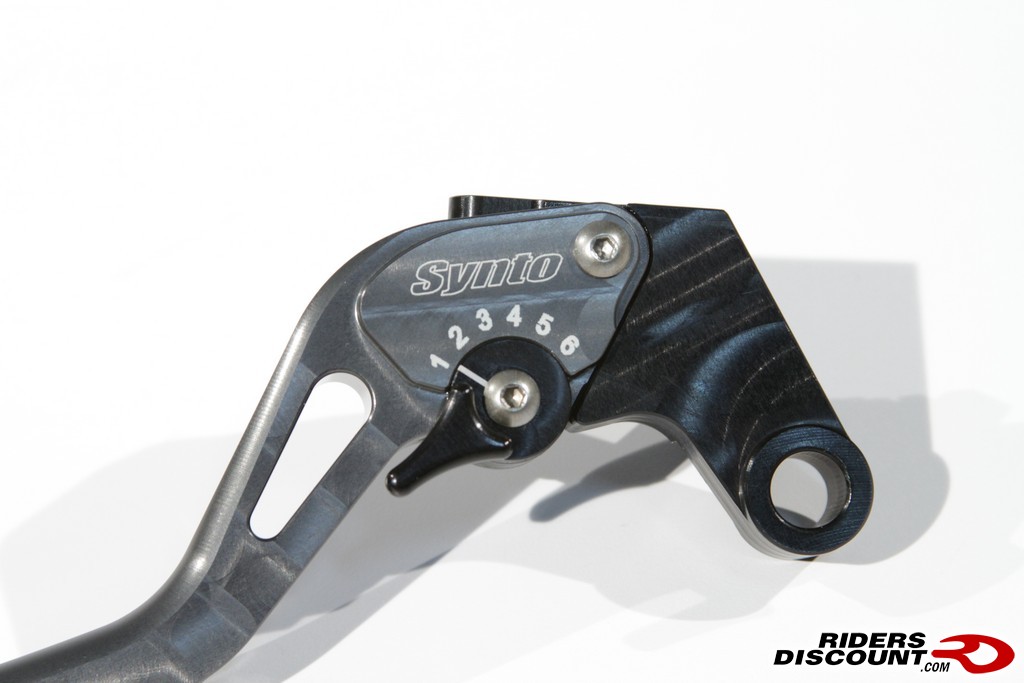 Fail points are machined into each lever to reduce the likelihood of damage to your clutch perch or brake master cylinder in the event of a crash.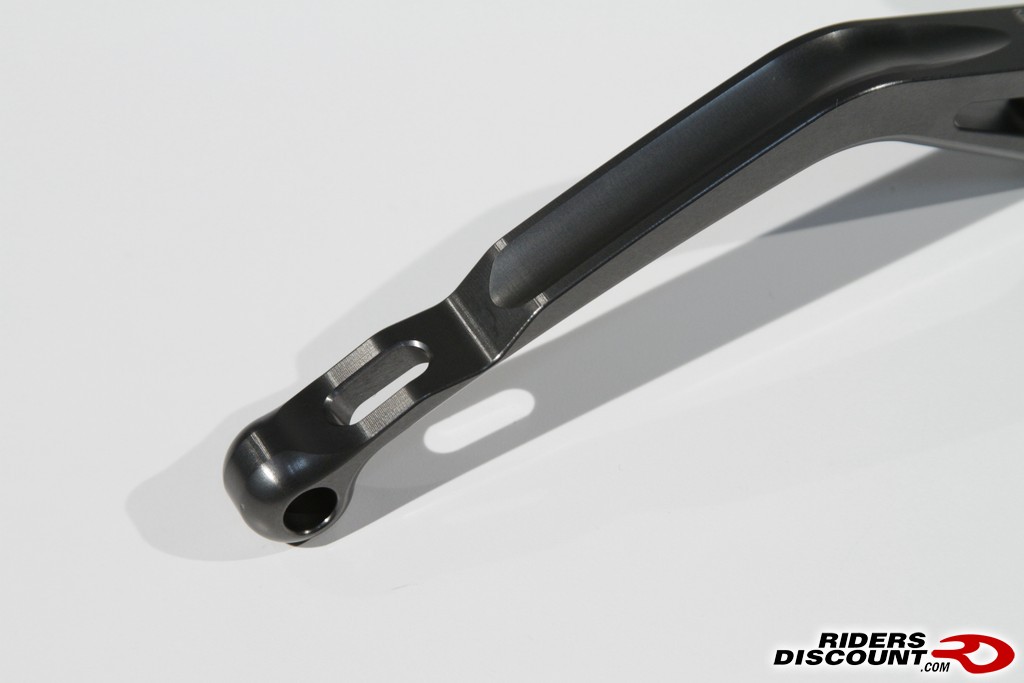 High-quality hardware is used in the assembly of these levers.