We've been a big believer in Renthal Road Racing Clip-On handlebars ever since they became available in the USA last summer. Just like their excellent motocross handlebars, the alignment marks were a very helpful touch for setting up everything the controls on our bikes. But, when we were installing out first set of 50mm clip-ons, we noticed a little something that was overlooked in their design - the fact that, unless you had a bike with a narrow section around the outer, upper triple clamp, it was difficult to see exactly where the alignment marks were located. While this wasn't a huge issue, it was something we thought should be addressed. So, after a phone call and an email, Renthal reported back to us that they were going to integrate our idea into their next run of Road Racing Clip-Ons. Now that's customer service!
This second generation of Renthal Clip-Ons includes everything that the original version does: precision alignment marks on both the fork tube clamps and handlebars but, when you look closely at the fork tube clamps, an extra chamfer was machined into the upper portion with the alignment marks on it. Now, for those bikes with thicker material on the upper triple clamp surrounding the fork tube, you can have a look at the clip-ons from the side, instead of through the pinch bolt area, to see exactly where your clip-ons on are lined up. This greatly sped-up the alignment process!
Renthal clip-ons are not yet available on our website, and this new design is only available on 50mm kits for the time being. Order a set by calling TJ at 866.931.6644 ext 817 for same day shipping! If you have any questions on specific fitment, please send an email to FORUM at RIDERSDISCOUNT dot COM with RENTHAL CLIP-ONS in the subject line, along with the model and year of the bike you ride and you can expect a very timely response.
Renthal clip-ons have alignment marks smartly placed for a perfect, repeatable setup. With fork clamps machined from 7075-T6 series aluminum and handlebar tubes made with 7010 aluminum, the clip-ons are strong, lightweight and treated for good looks and corrosion resistance. Pictured below, you can see the original clip-on design without the extra chamfer on the fork tube clamp.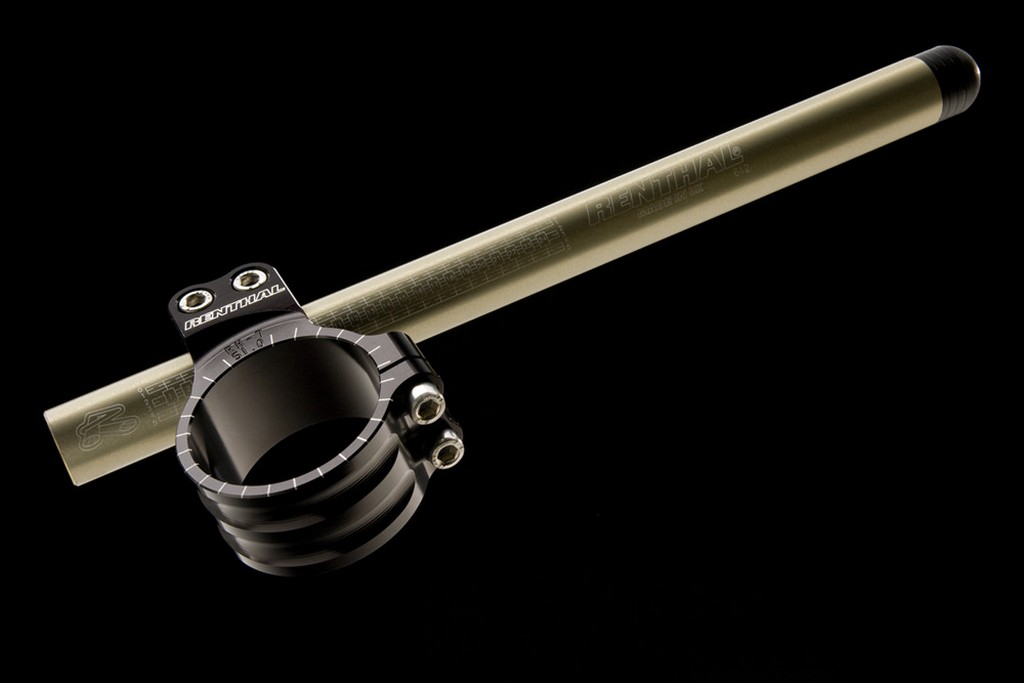 Here's the problem with the first generation design - you could only see the alignment marks through the pinch bolt area on most motorcycles.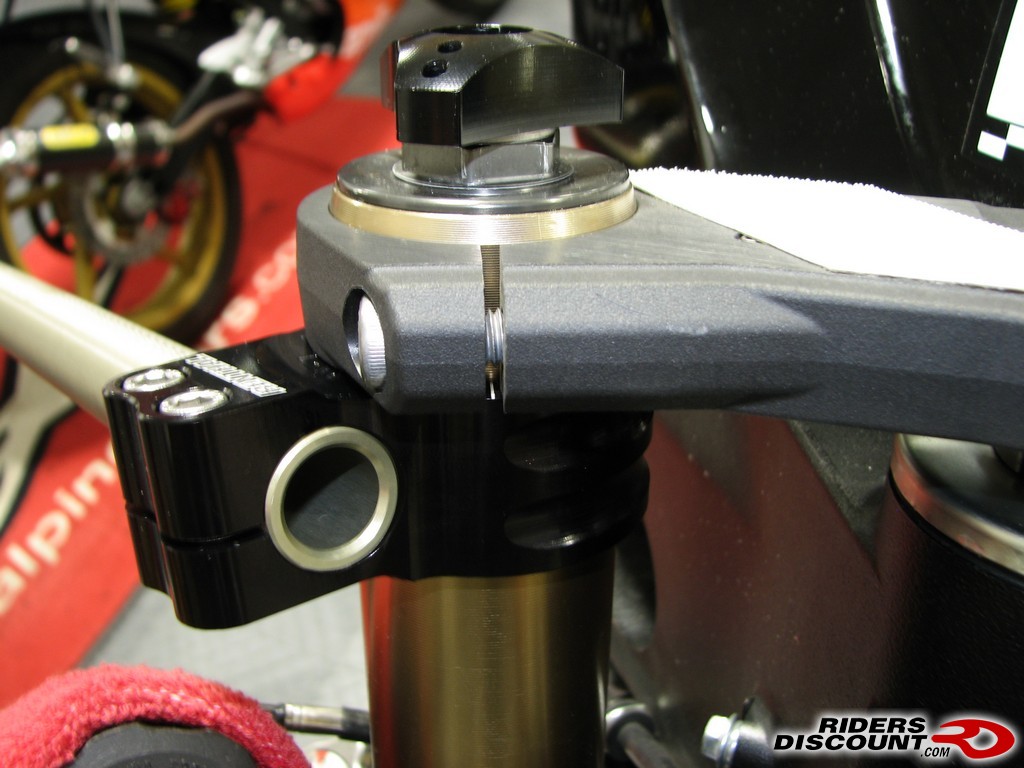 The second generation Renthal clip-on fork tube clamp on the left, the first generation on the right. You can easily see the advantage of the new design.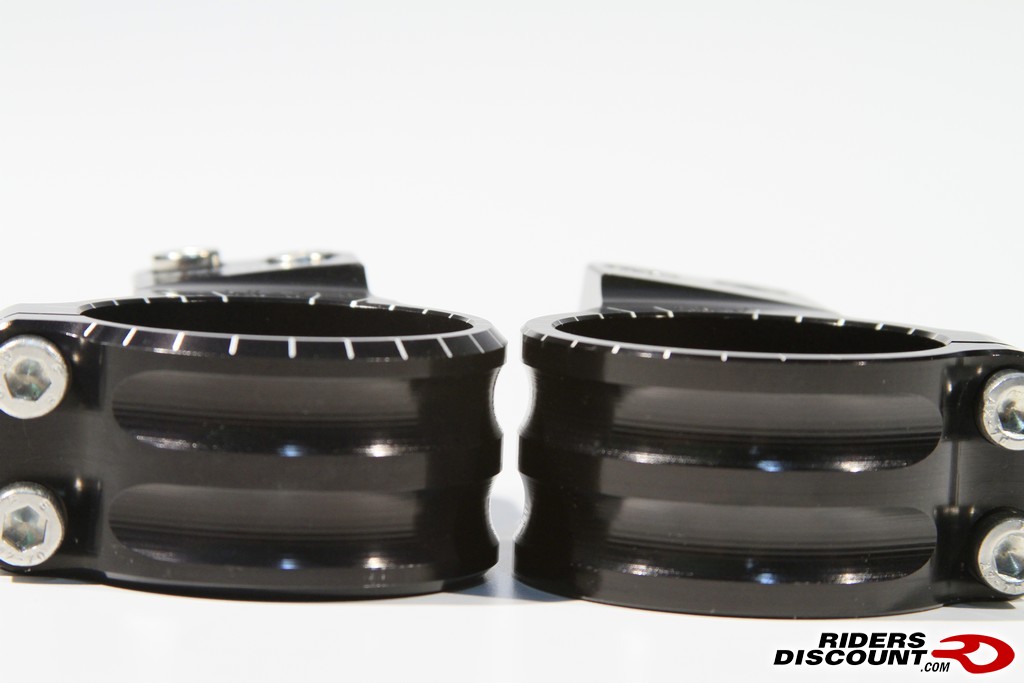 While Renthal clip-ons are available for 48mm, 50mm, 51mm, 52mm and 53mm diameter fork tubes, currently only 50mm kits have the new chamfer machined into the clamp design.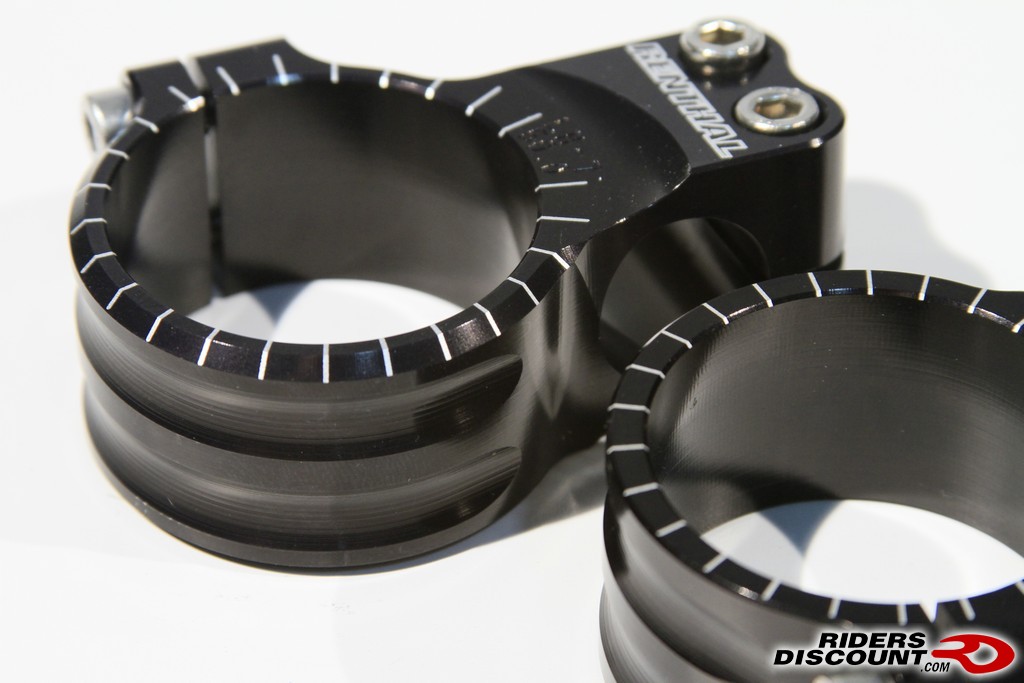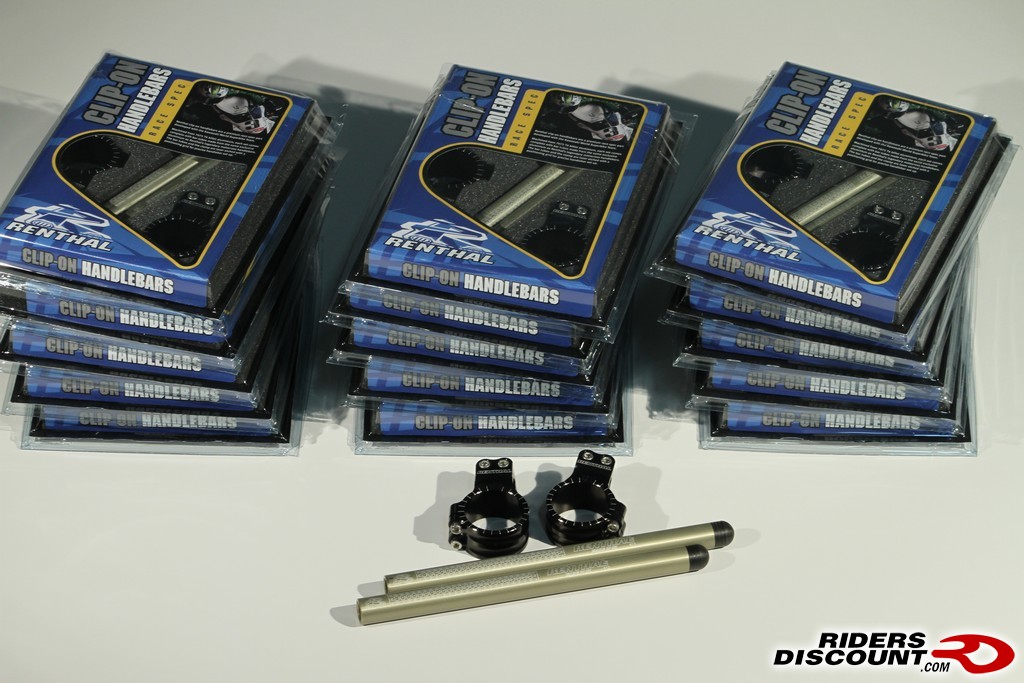 Get these clip-ons by calling TJ at 866-931-6644 ext 817 and be sure to mention you're a Triump forum member. He can tell you exactly what size your bike needs. We always answer our emails - send those to - TJ at ridersdiscount dot com with the subject line 675 CLIP-ONS where you can send us your phone number and TJ will ring you back.