Now you can use the same tire warmers that AMA factory teams use with a set of Pro Line Tire Warmers from Chicken Hawk Racing. These USA-made tire warmers are the premier warmers from the New York-based company and provide consistent, degree-perfect warmth for your motorcycle tires. By investing in tire warmers, you'll save money in the long run with fewer crashes as a result of cold tires and you'll avoid damaging your tires through cold tearing as they warm up to temperature when you're out on track. In other words, these reduce the likelihood expensive motorcycle parts damage and longer life from your tires. As an added bonus, you'll be able to go full throttle from the first turn, maximizing your time on the track!.
Because we are an authorized Chicken Hawk Racer Support Center, with the purchase of Pro Line tire warmers, you'll get a free set of Chicken Hawk Racing mechanic's gloves, a set of durable, long-lasting knee sliders and a digital controller stand made by Pit Bull motorcycle stands.
Pro Line tire warmers are controlled with a pair of the included solid state microprocessors which have digital displays allowing you to easily set tire temperature based on brand, track conditions as well as other variables. Not only can you set temps individually for the front and rear tires, but you're also able to view actual tire temperature while the warmer is on. Tire temperatures can be set over a range of up to 212° F which is more than adequate for motorcycle tire applications.
Chicken Hawk Racing tire warmers have proven to be so accurate, the company has garnered the attention of businesses outside of the motorcycle industry and now makes warmers for industrial applications where precise temperature control is mandatory. This is a testament to the quality of these warmers.
These tire warmers are not yet available on our website. For more information, call TJ at 866.931.6644 ext 817 or send an email to FORUM at RIDERSDISCOUNT dot COM with CHICKENHAWK RACER SUPPORT in the subject line and we'll get back to you right away.
Chicken Hawk Pro Line tire warmers come with everything you see here plus a set of mechanic's gloves and knee sliders.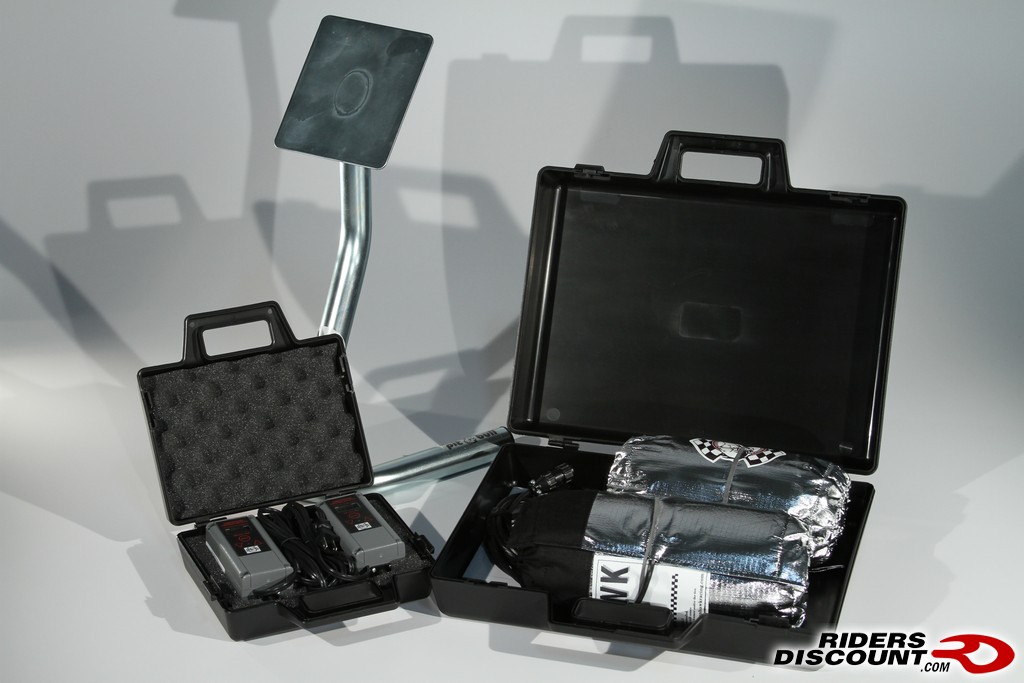 Digital controllers allow you to set higher temps to get heat into the tire before your first session of the day. Then use lower temps to save heat cycles between sessions on the track. They also allow you to safely heat rain tires to your tire manufacturer's recommended temperature.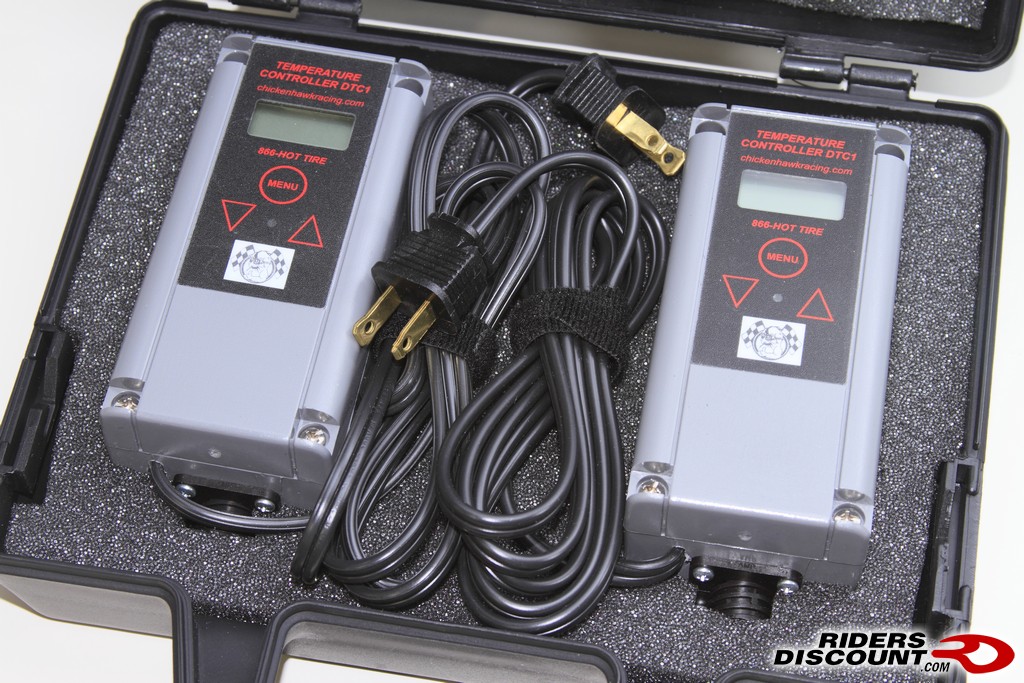 Tire Warmers are constructed with a combination of Nomex and other fabrics designed to withstand the test of time. The warmers themselves are also insulated to improve efficiency as well as provide a more consistent, even heating around the entire surface of the tire from the center section all the way to the rims. The tire-facing side of each element is made with a heat sensitive dye that easily allows you to determine if and where any hot spots are occurring.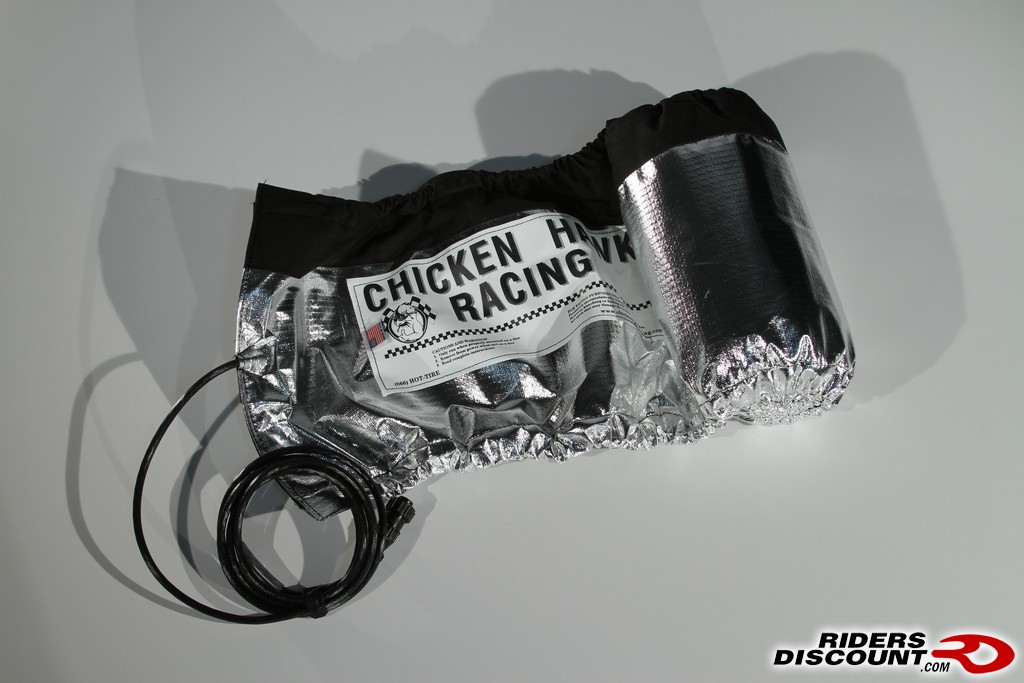 Digital controller stand allows you to easily view tire temperatures from across the pit.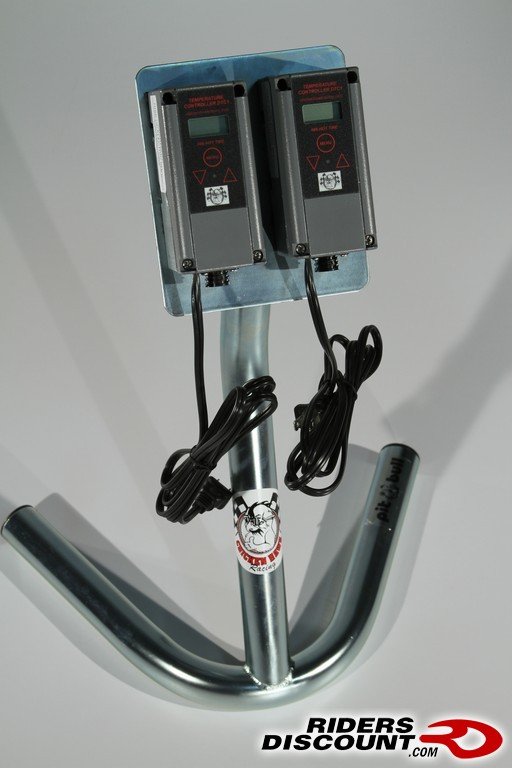 The choice of many top AMA Pro factory teams.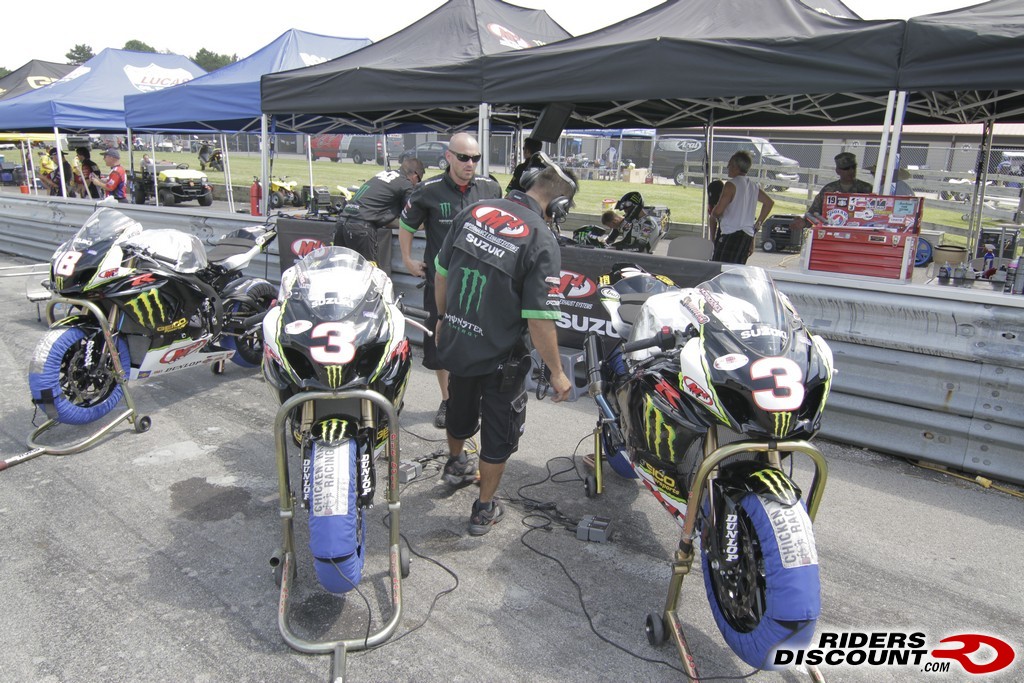 Knee sliders …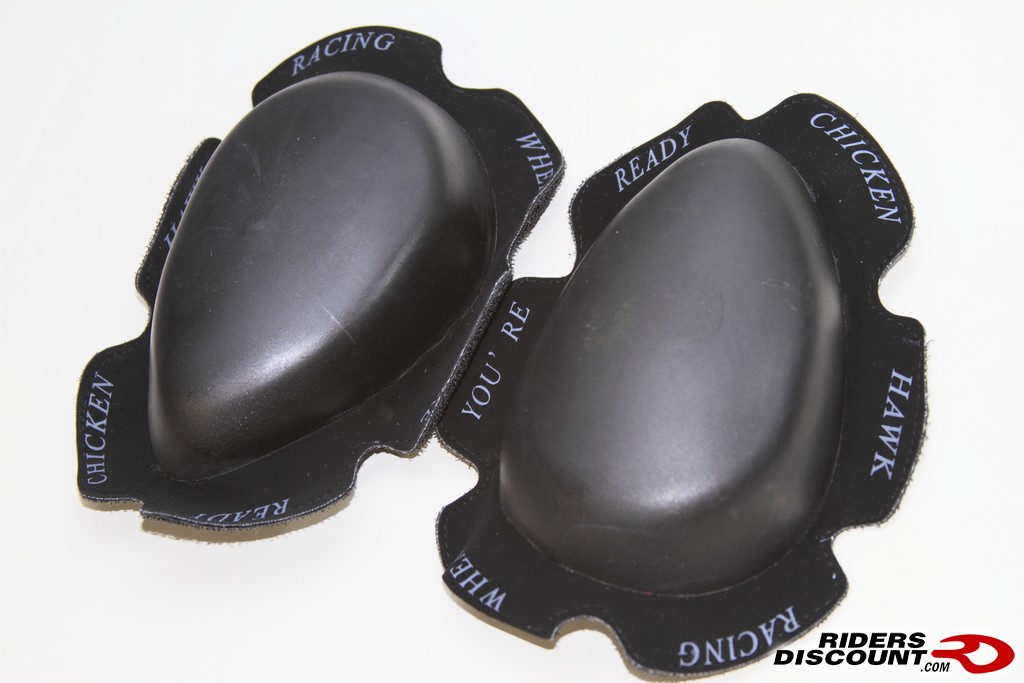 … and gloves provided at no additional charge.