·
Mod & "Resident Baller"...
Well, as some of the old timers around here know may know, I started racing with Willow Springs Motorcycle Club (WSMC) in January, 2008 on an 07 Triumph Daytona 675.
In 2009, I switched to racing an SV650, I'm now beginning my 4th year on the grid. I race for WestCoast GPCycles, a team based out of a race shop in Los Angeles.
January 16th, 2011. It's an amazing Southern California winter's day, with temps in the high 60's. We are racing at Willow Springs International Raceway, which is a very fast, sweeping Track. A total of 9 Turns. It's known as "The Fastest Road in the West."
I'm signed up for Race 1: 550 Superbike, Race 6: 650 TwinsGP and Race 14: Formula Twins Lightweight.
Since last years 650 champ moved to the East Coast in the off season, I came to the first round with aspirations of taking one or more class championships this year. Unfortunately, several of the other 650 guys seem to have shown up with the same idea. Many have been working on their bikes over the winter and it shows. Practice times seem to be quicker than last year. On Saturday prior to the race, a lot of us had gotten together over beers and chatted about who we thought the pre-season favorites were. My money was on my friend Jason, who was riding well last season and showed up this month with a newly built motor. Others thought I might be able to keep up, but given that I still have a "stockish" motor I wasn't so sure. One thing for sure, we all unanimously thought we were in for a fun season.
Race 1
: Race 1 runs in 3 waves: Wave 1 is Formula Twins Heavyweight, consisting of big Ducati's, KTM's Aprilias and whatnot.
Wave 2 is550 Superbike, Kawi650's and and SV650's with a few FZR400's and Honda VFR400's for color.
Wave 3 is Novice Formula Twins Heavyweight.
I'm gridded on the 2nd Wave pole based on last season's points (I took second overall in 2010, and last year's champ isn't defending). Jason is gridded next to me in P2. As the flag drops, I think I'm getting a decent start, only to get swallowed up by others going into Turn 1. Andy Palmer (WestCoast GPCycles owner and former SV lap record holder) takes the holeshot with Jason and another guy named Sean, whom I had never met before, in tow.
I start making my way though traffic while Andy, Jason and Sean are getting away clean. By the end of the first lap, Andy has a several second lead on Jason and Sean. I give chase. One by one I start picking a few guys off without drama until I by the end of the second lap I find myself myself in 4th place. Unfortunately, I've dug myself a pretty deep hole as Sean and Jason are about 4 seconds ahead of me. It's about that time when I start to see Andy drop off the pace. Andy fights off Jason and Sean for a bit but by the 3rd lap, Andy's slowed down enough that I catch up to him on the straight. Andy looks back at me and then waves me on. Of course, I don't refuse and continue on to give chase.
I try to catch up to the other guys, and I am starting to gain a little ground. I'm thinking I can make it, but by the 5th lap I start catching a few of the slower Ducati riders from the 1st wave. Unfortunately, I catch one of them just as we head into Turn 3. Turn 3 and 4 is a really bad place to pass someone if you don't know them well enough to understand what the rider's line will be. And the guy with the big Ducati that I am now behind is going at a pace about 5 seconds a lap slower than me. But at this point, I figure I need to be patient rather than try something crazy. So I just held back. Unfortunately, that was the end of my charge. Jason and Sean managed to keep me at bay with a 4 second gap. Jason and Sean have a huge drag to the line. It was too close to call from the sidelines I am told. But timing and scoring gave the race to Sean by .005 seconds.
I ended up in 3rd. It was a great start to the season. And a bright spot was that I realized that I may have something for Jason and Sean in the later races.
After the race, I asked Andy why he let me pass him. Turns out he went into the race not realizing he had a bent front rotor until he got into Turn 3 and realized his front brakes weren't working!! As a result, he wasn't going to try keeping up the pace with the leaders. But he still such a great rider that he managed to finish in 4th place overall. Unfortunately, his day was done. That left me the sole WCGPC rider for the rest of the day.
Race 6:
For Race 6, I am gridded at pole again with Jason right by my side again. As the flag goes, I get a much better start, but I'm still 5th as we go into Turn 1. But I'm much closer overall to the action, so I manage to dispatch two riders in front of me by the time I get to Turn 3. This leaves Jason and Sean ahead of me. Again.
This time, however, Jason is only about 1 second ahead of me. Sean has gotten about a 1 second lead on Jason.
Through the first lap, Sean leads. I quickly catch up to Jason, but stay behind him. I stay behind to see where Jason is stronger or weaker, I also don't want to get into a dog fight with him and let Sean get away. So we work together, and by the end of 2 lap, we are less than a tenth behind each other. At this point Sean realizes we are there, and works hard to try to check out. But Jason and I have him draped. As we head into Turn 8, the fastest part of the track, Sean leads, with Jason in tow and me right behind. Just as Sean is about to "apex" turn 8, he checks up just slightly, which causes Jason to just chop slightly as well. That's when I slip out of the draft and make a double pass on both Jason and Sean at about 125mph. I get the race lead for the first time going down the straight.
I hold the lead for a lap, but then in lap 4 I get passed by Sean coming out of Turn 1. Jason is still behind me. I follow Sean through for most of the lap, hoping to figure out where he's weak. Turns out Turn 9 is a weak point for him, so as he goes into 9 a bit early, I wait a bit then Late apex 9, which sets me on the gas earlier. Jason has followed me through, and with Jason weighing 90 pounds less than me, we both go dragging side by side up the straight. We are both about to split Sean, when Sean starts weaving left to right at full speed right down the straight into Turn 1, trying to block us from passing. It was just nutty. Jason backs off a bit, but I take the bait, I stick on him like glue through the whole lap, and try the same pass again in lap 5. But he blocks me again by weaving back and forth! At this point, I'm pissed. We're on the last lap now, and I'm on fire. We go into Turn 1, then right into Turn 2, Sean's got a lead, but I gain on him. Going into Turn 3, I'm almost side by side on the inside of him, when he starts to initiate his turn. I brake to try to avoid hitting him but we make contact. I hit his rear tire. He was fine. I went sideways. Somehow, the bike managed to recover itself and I managed to stay on track. But I had lost 2nd place as Jason was right behind.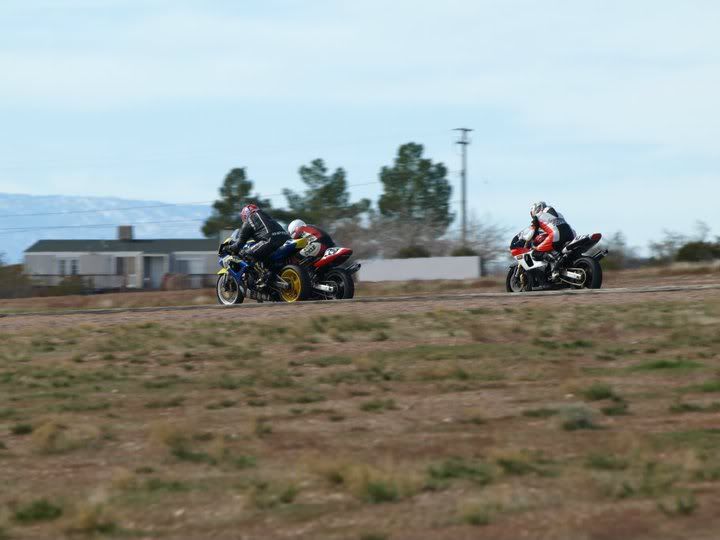 Funny thing too.... I recall when he initiated his turn-in, everything went into complete slo-mo for me. I remember thinking: "Oh man, no not yet, too soon" "Oh crap, here it comes." "This isn't gonna end well...." "Brake, Brake, Brake...." "Bump!!!"
"Crap ....tankslapper...Release front brake...." "Tap the rear brake and get ready to accept my fate...." "Gravel coming.... Wait...front stopped slapping!!!" "Grab front brake, turn... Dang, there's JZ' go get him..." I made chase and hauled the mail through Turn 8. But it was too late.
I tried. This time it was another photo finish, with Jason winning this time. I crossed the line in 3rd, about .5 seconds behind Sean. However, Sean was DQ'ed for the weaving moves. So I ended up with 2nd.
During the race, I was pissed because I felt Sean had made a bad move in Turn 3. But then as I got off the bike I gave it thought and realized it was me that was the cause of the contact. He was ahead of me, he had the line. I shouldn't have expected him to give it up.
He came by after he was DQ'ed to apologize for the weaving. He didn't realize he couldn't defend his position that way. I apologized for bumping him. Its all good, we're gonna get beers after the races next month.
Race 14
was Formula Twins Lightweight. Again this race is mostly SV's and Kawi's with a few odd bikes thrown in.
Again, I'm in pole and Jason right next to me in P2. As the flag drops, I get my best start of the day. As we get out of Turn 1, I'm in 3rd. By Turn 2 I'm in 2nd, with Jason less than a second ahead. As we go into Turn 3, I make an inside move on Jason and make the pass. At this point, I just put my head down and go. I don't look back even once, as I assume the rest of the guys are behind me. My heart is pounding and I am almost hyperventilating as I go from corner to corner. I've never won a race outright. I've gotten a few 2nd last year, and even more 3rds, and I was consistent enough to take 2nd overall in two classes. But I but never won a race. So I want this bad. So I just try to contain myself and ride my own race. Man, that was hard.
In the end, put down some good laps, because at the end of the race I had a 12 second gap! I had won my first race EVER in 3 years of trying!!!
Big thanks to WestCoast GPCycles for all their hard work and bike prep. Big thanks to Pirelli and Driven sprockets for keeping me on the tarmac and moving forward. Super cool thanks to Stephen at Group 22. And a big thanks to Sidi even though they don't sponsor me. They make kick ass boots!