Discussion Starter
·
#1
·
If you store your bike outside or anywhere there are a lot of eyes on your wheels, you can't go wrong with this security chain from Kryptonite. The New York Legend Chain Lock System comes with your choice of either a three foot chain or a five foot chain to allow you plenty of reach to get through a wheel or between the frame and back so you can attach your bike to an anchor of your choice. This heavy duty motorcycle security chain is specifically engineering to resist attacks even by well-equipped thieves by making it difficult to cut the chain or defeat the locking mechanism. A reinforced, hardened steel chassis surrounds the locking cylinder which makes it difficult to access the shackle either by pulling or twisting it out and handily resists attempts to drill through the casing. Inside this lock housing, over 1 million different I-key variations are possible for added protection. For convenience, after you've registered your lock on Kryptonite's website, it's also possible to purchase additional keys directly from them should you lose yours or simply want extras on hand. As an added bonus, Kryptonite offers a $2,000 anti-theft protection policy should your motorcycle be stolen with this chain properly installed on your bike. Simply register your chain within 15 days of purchase to take advantage of this added insurance.
Kryptonite motorcycle security systems are not yet available on our website. To order yours, call TJ at 866.931.6644 ext 817 or simply email him with your questions: send those to FORUM at RIDERSDISCOUNT dot COM with KRYPTONITE MOTORCYCLE CHAIN in the subject line and he'll get back to you fast.
The Kryptonite New York Legend Chain Lock not only acts as a theft deterrent but some insurance companies may lower your premium if you can prove you own a good security system like this.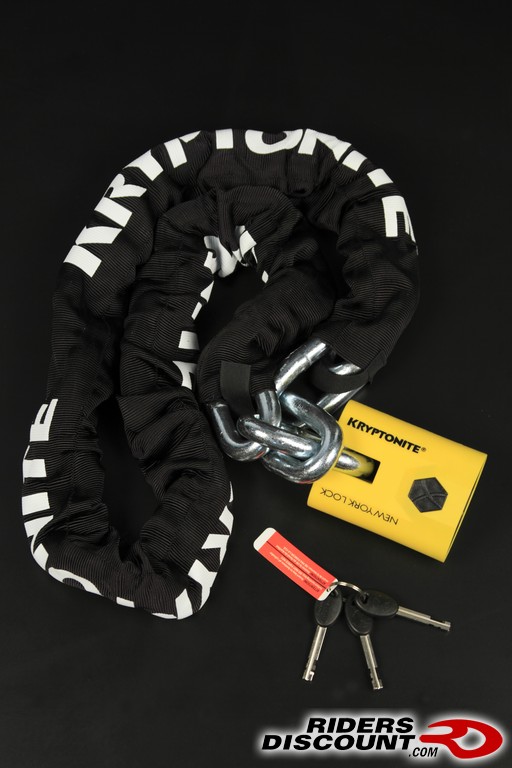 A sliding door is used to cover the key slot to keep dirt and debris out of the cylinder mechanism.
Each chain link is constructed from 3t hardened steel that's 15mm thick making penetration by force or cutting extremely difficult for all but the most dedicated criminals. To protect your motorcycle, the links are covered with a nylon surround that's Velcro'd in place to so it doesn't slip out of position.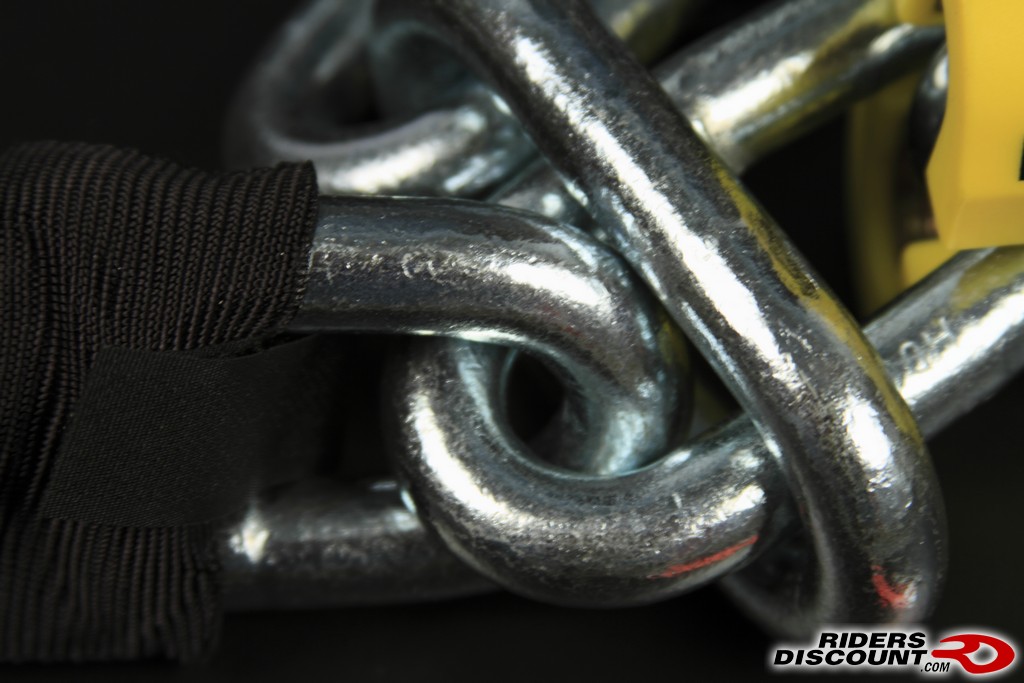 Inside, a double deadbolt lock mechanism features a 16mm MAX-Performance steel shackle that's buried between two towers to make it difficult to get at. Even with the right industrial tools, this design makes access time consuming, something thieves would prefer to avoid so as not to get caught.