RidersDiscount chooses Forcefield Armour for use by our staff and our sponsored racers. This motorcycle safety gear offers better protection than other brands on the market in an extremely comfortable design that virtually goes unnoticed under the leathers. The Race-Lite Chest Protector is no exception as it's built with comfort and safety in mind. And because it's available in three different sizes, we can provide you with a high-quality chest protector that doesn't feel bulky, nor will it inhibit safe control of the motorcycle.
For more information, call TJ at 866.931.6644 x 817 or send a note to FORUM at RIDERSDISCOUNT dot COM with FORCEFIELD CHEST PROTECTOR in the subject line and we'll get back to you right away.
The Race-Lite Chest Protector from Forcefield can be used as a stand-alone piece or as a compliment to a Forcefield back protector (or anything else on the market) like the
Pro L2
. It's also one of the most comfortable chest protectors we've ever seen and easily surpasses CE Level 1 certification that has independently-verified by a registered testing body.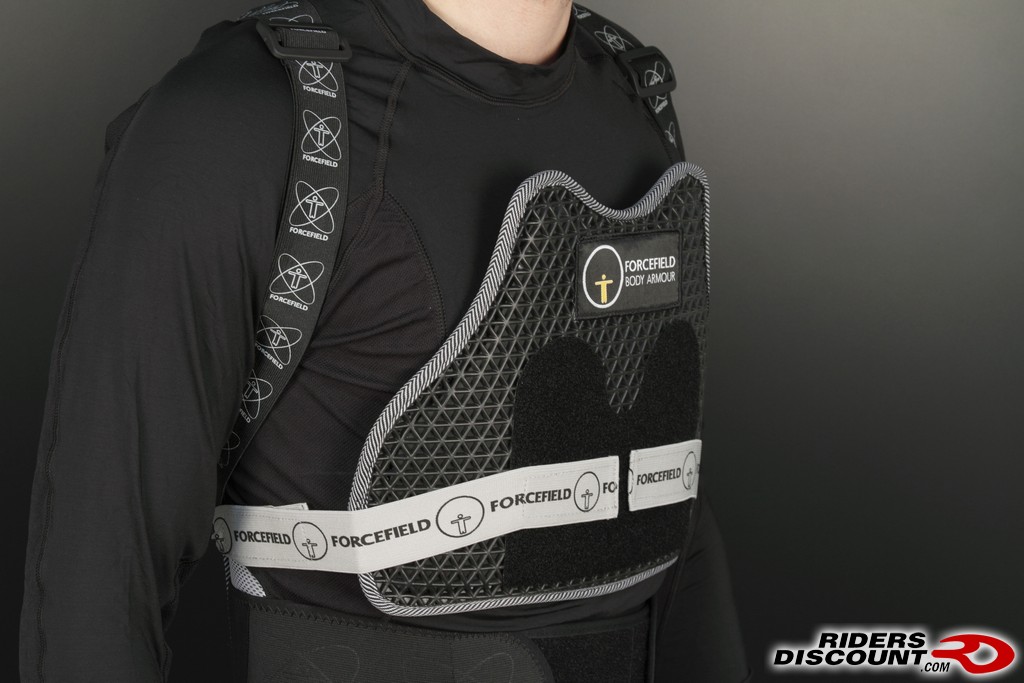 Made with T-Pro's familiar triangular Nitrex armor, this chest protector is extremely flexible so as not to inhibit normal movement of the rider. And for those of you looking to get maximum bang for your buck (let alone superior protection) this chest protector does not use any honeycomb or other crush material that can only be used once. Instead, it provides maximum protection performance over multiple uses, something not every piece of high-end chest armor can do!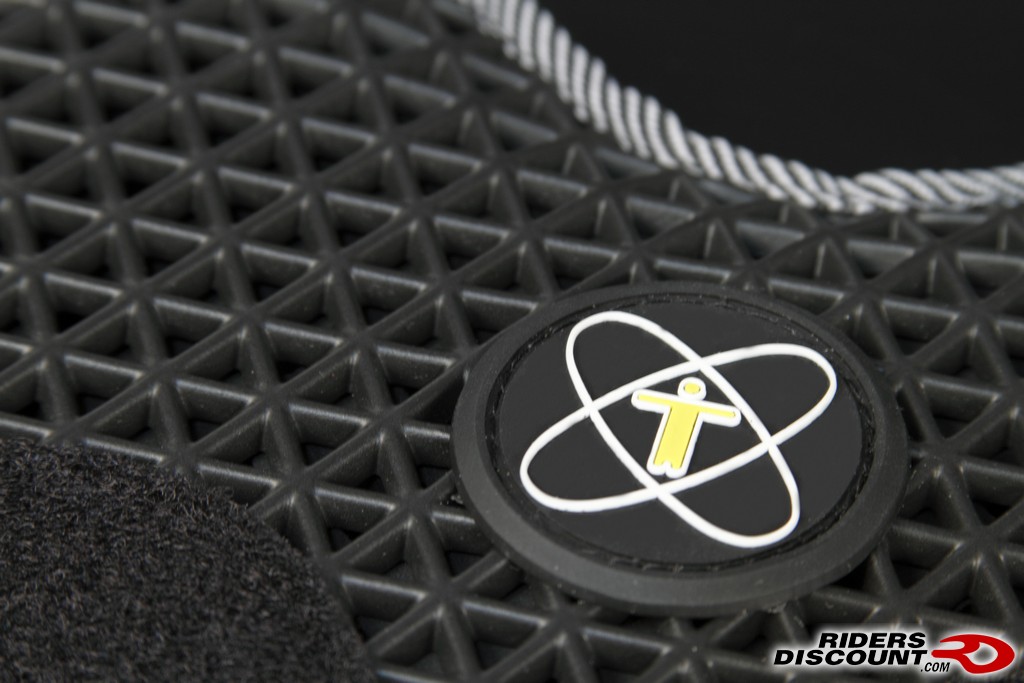 And unlike other high-end chest protectors on the market, the Race-Lite instantly molds itself to your torso, so getting into and out of your leathers shouldn't require a special dance. And as you can see, large channels molded into the armor provide plenty of breathability and additional cooling performance.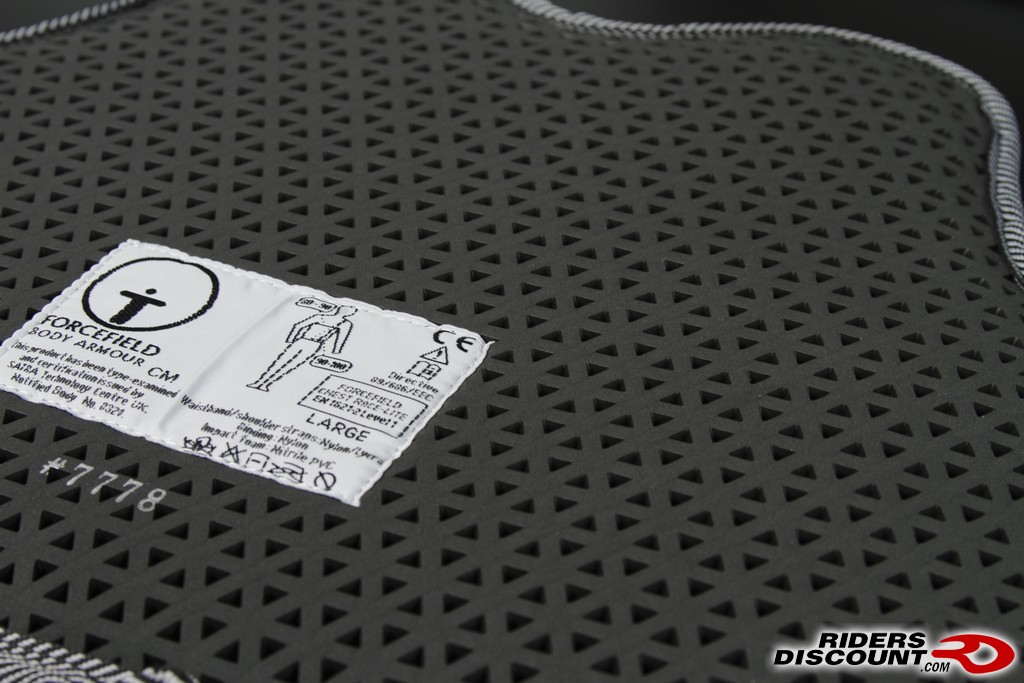 Every Race-Lite Chest Protector comes as a kit with an A-Frame harness for use with other brands of back protectors
and
straps for attaching it to another Forcefield back protector like the Pro Sub 4 or the Pro L2. There are no extra pieces to buy just so you can run it in either configuration! The large Velcro area on the chest protector itself provides a significant range of adjustment for the wearer. You can also just stuff it under your leathers if you feel it will stay in proper position.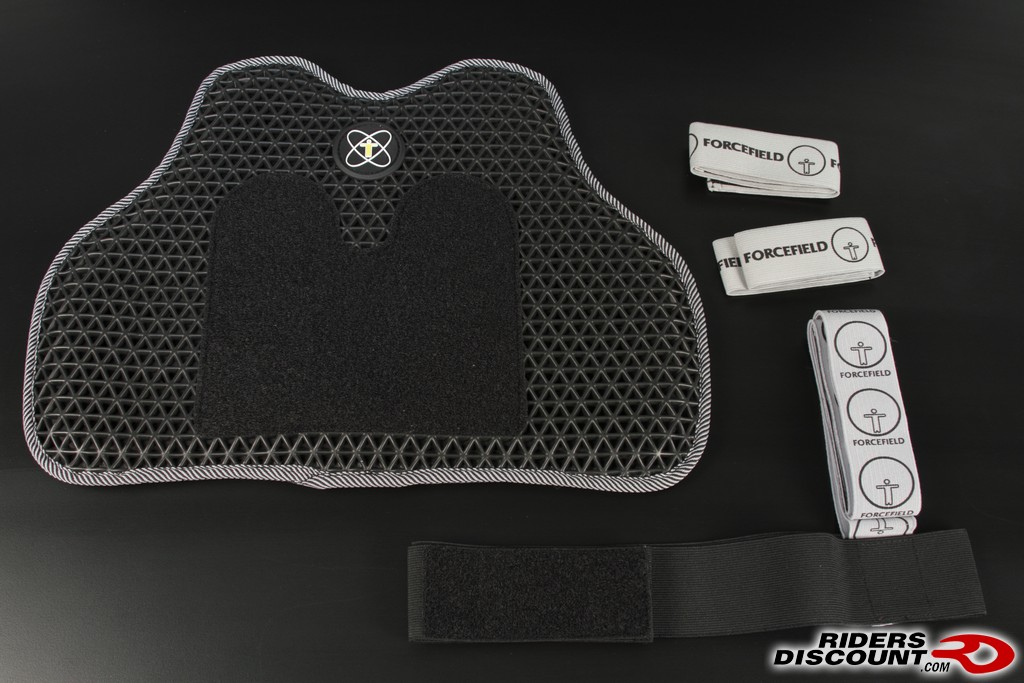 Chest protectors are designed to reduce the impact force felt by the rider in a belly-first crash. The Race-Lite chest protector adds even greater protection to the best back protector on the market shown above in a comfortable, form-fitting design. Best of all, it's available in three different sizes for a perfect fit on a wide range of rider shapes.