Riders Discount is pleased to now carry the Pro Sub 4 Back Protector from Forcefield Body Armour. While Forcefield is a relative newcomer in the impact protection arena, their top-of-the-line Pro Sub 4, offers a very high amount of impact protection. The Pro Sub 4 transmits an average of 3.38kN of force when subjected to the standard CE EN1621-2 test, the lowest score we've yet to see from a back protector subjected to this test. Amongst the medical community, 4kN of force is described as the maximum threshold that a healthy adult male's back and ribs can experience before severe trauma occurs. In fact, newer automobiles employ load-limiting seatbelts that are designed to "give" a little when the force exerted upon them in a crash exceeds 4kN, specifically to reduce injury. Studies have reinforced the concept that seatbelts equipped with 4kN limiters reduce incidences of serious or fatal injuries to the chest area by 80%.
So, why would you wear a back protector that transmits anything more than that?
Testing
EN 1621-2 certification requires that the PPE, in this case, the Pro Sub 4 Back Protector, be subjected to five impacts of 50 Joules each in the middle upper area of the back as it would be worn under normal conditions.
CE Level 1
armor will produce a mean transmission of no more than 18kN with a maximum single impact to transmit no more than 24kN of force.
CE Level 2
armor, when subjected to the same tests, is to transmit a mean no greater than 9kN of force while no single impact can exceed 12kN of transmitted force. In testing, the Forcefield Pro Sub 4 transmitted no greater than 3.45kN of force, with an average of 3.38kN over SEVEN separate impacts, more than the required five tests as directed be EN 1621-2. The narrow range of measured impact forces (as measured via EN 1621-2) both high, and low - to that of the average impact force is indicative of the quality that's built into the Sub Pro 4 Back Protector. For reference, another British protective armor company's top-of-the-line back protector transmits "only 6kN of energy" when subjected to the same tests, a significant difference. And remember, it is said that it only takes 4kN of force to induce serious injuries to the thorax.
Clearly, Level 2 certification is the superior mark to go for - and the Pro Sub 4 clears this hurdle with a large margin, but what exactly constitutes 50 Joules of energy? It's roughly the equivalent of a brick dropped from a height of two meters. And while that may not sound too bad, try dropping a brick on your forearm from one foot. Does that sound any less painful? This number, 50 Joules - was arrived at based upon the idea that it approximates the energy presented to the rider in a crash on a motorcycle and consequently, it is applied in EN 1621-2 testing.
What's Inside
Why would you buy an expensive back protector that only offers maximum protection with one crash? Unlike much of the armor produced by other companies, Forcefield's Pro Sub 4 Back Protector is good for more than just one use as it does NOT employ a plastic honeycomb impact-absorbing material. Instead, the Pro Sub 4 uses two separate sheets of flexible multi-layered, multi-density armor with Repeat Performance Technology. As indicated by the previously mentioned EN 1621-2 testing, multiple impacts do not reduce the Pro Sub 4's ability to absorb and reduce the transmission of forces to the wearer. Furthermore, the outermost facing side of the armor is covered with a flexible plastic shell. This outer shell does two things: 1). Spreads impact forces over a larger area and 2). Reduces the likelihood of an object (like a footpeg) from penetrating the back protector and causing additional serious trauma to the wearer. This is something the engineers at Forcefield worked very hard at since the latter benefit is hard to achieve in a back protector that's as flexible as the Pro Sub 4.
Comfort
Comfort and protection are often mutually exclusive attributes to motorcycle back protectors. The Pro Sub 4 happens to be both. Flexibility is obtained through the intelligent use of energy-absorbing materials like the multi-density armor found herein. And unlike many back protectors on the market, the inner armor isn't bonded to the outer sheath at its edges, which further aids in its ability to mold itself to your body. Furthermore, breathability is obtained by an outer cover that works with holes in the armor to keep your backside cool. User-adjustable shoulder straps and a kidney belt are fitted as standard, allowing the wearer to position the back protector to his or her needs which in turn, provides the greatest possible protection. Sizes of small to extra-larger are available to fit a wide range of shapes and sizes. The end result is a back protector that can be properly positioned with ease and will quickly molds itself to the body for an extremely comfortable fit. And because motorcycle riding often leads to perspiration, the inner armor can be easily removes so that the outer shell can be hand washed to keep it fresh.
Forcefield Armor is not yet available on our website. For more information, call TJ at 866.931.6644 ext 817 or send an email to FORUM at RIDERSDISCOUNT dot COM with FORCEFIELD PRO SUB 4 in the subject line and we'll get back to you right away.
The Forcefield Pro Sub 4 Back Protector offers the highest published impact absorption numbers we've yet to see from any manufacturer - less than 4kN of force is transmitted to the wearer in EN 1621-2 testing for CE certification.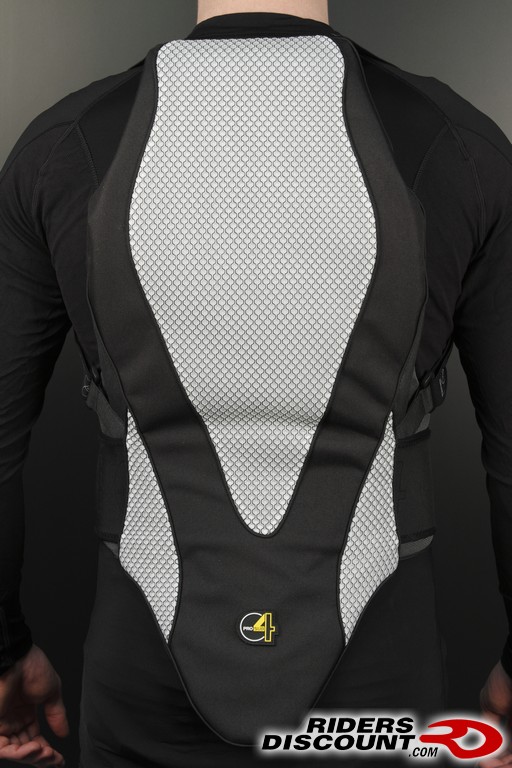 Adjustable shoulders straps and a two-stage kidney belt provide a comfortable, yet very secure placement of the back protector against the body.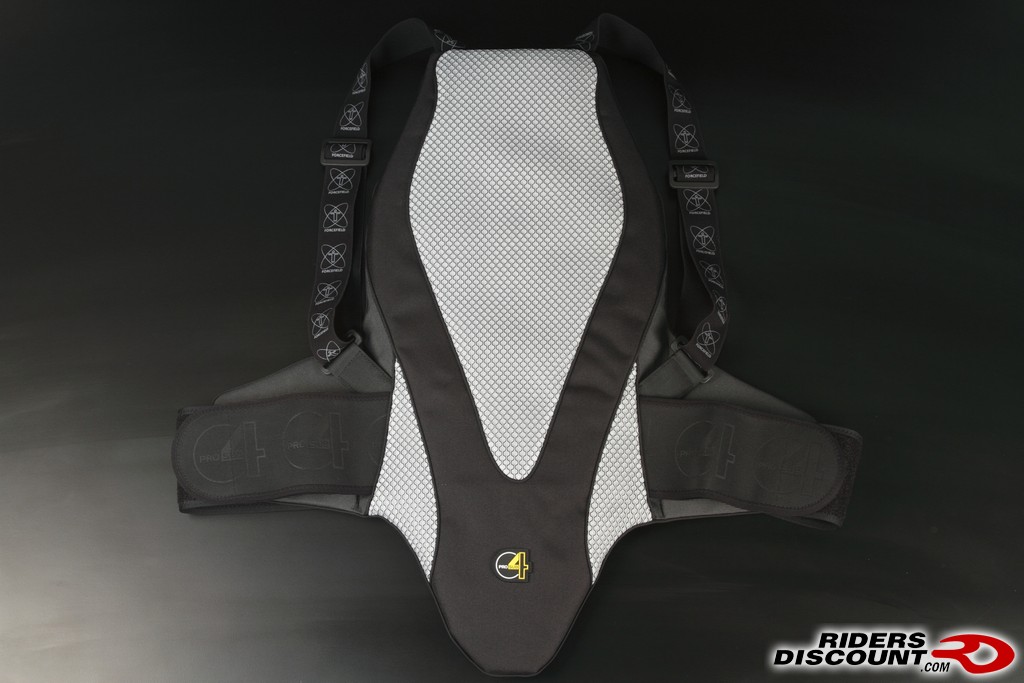 In addition to acting as a back protector, the Pro Sub 4 also features padded sides to cover the sides of the torso near the kidneys.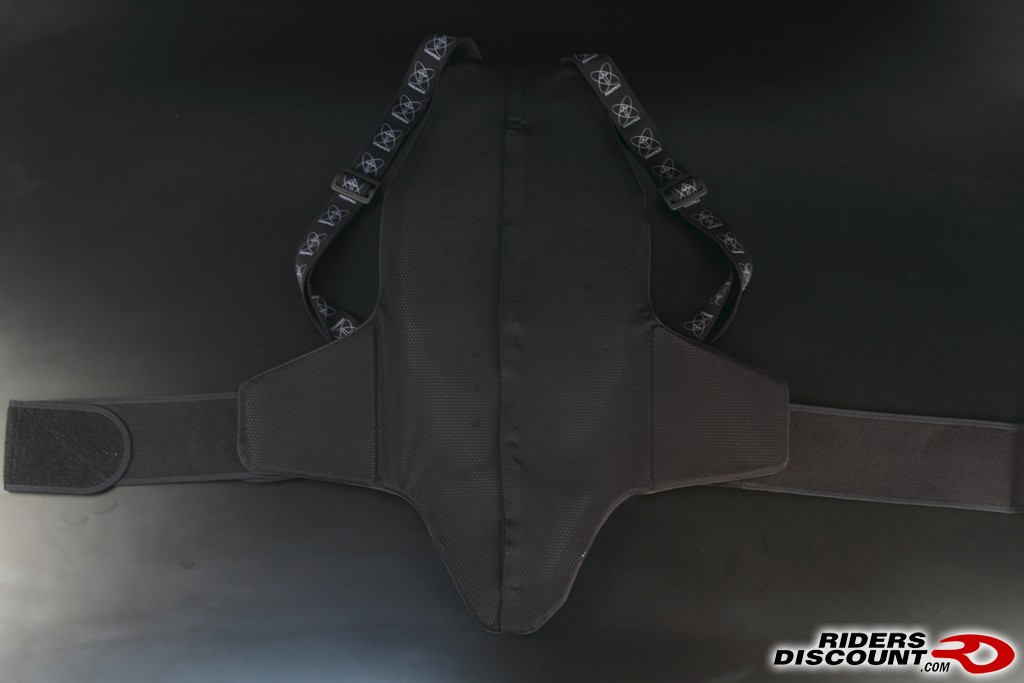 Internal armor is fully removable, allowing the user to hand wash the liner after extensive use, keeping everything fresh.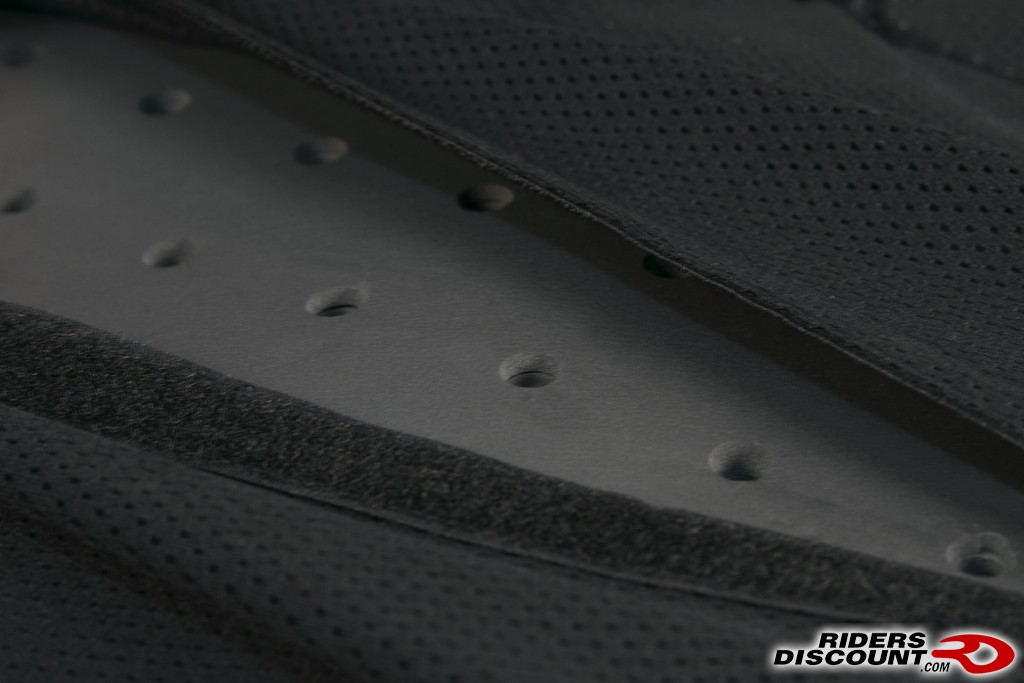 The large white sheet you see here is a plastic cover that helps prevent blunt force trauma from an impact with a footpeg, handlebar or other small, dense object. Still, the armor is surprisingly flexible.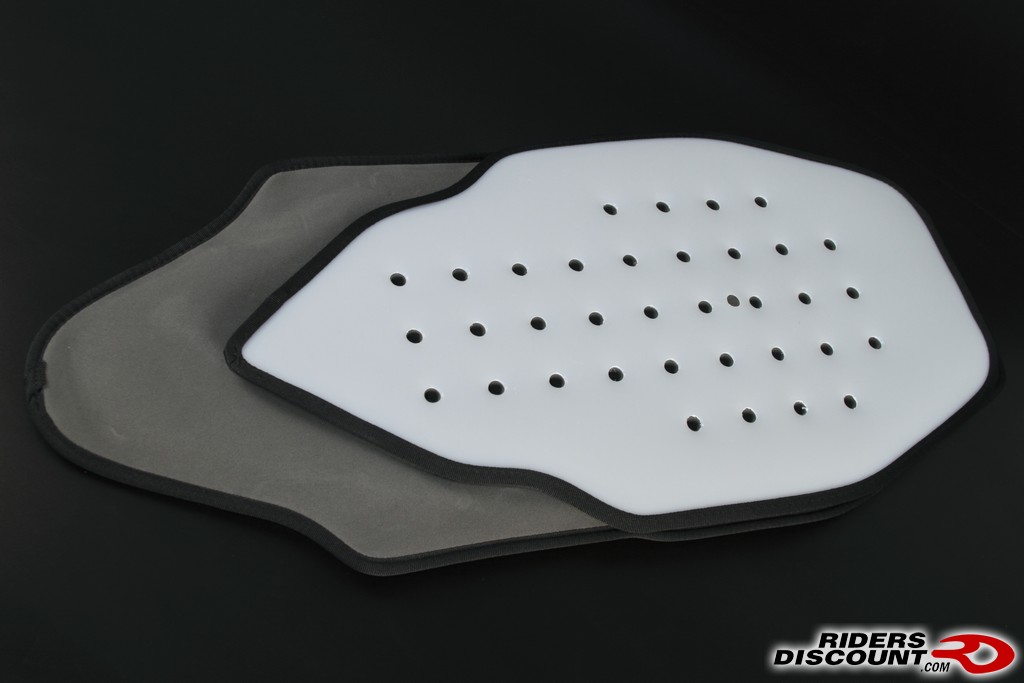 Instead of using one large piece of armor, Forcefield chooses instead to use two separate pieces to cover the wearer's back. In this manner, the unit can be made much more flexible (read comfortable) to the rider while at the same time providing substantial impact protection.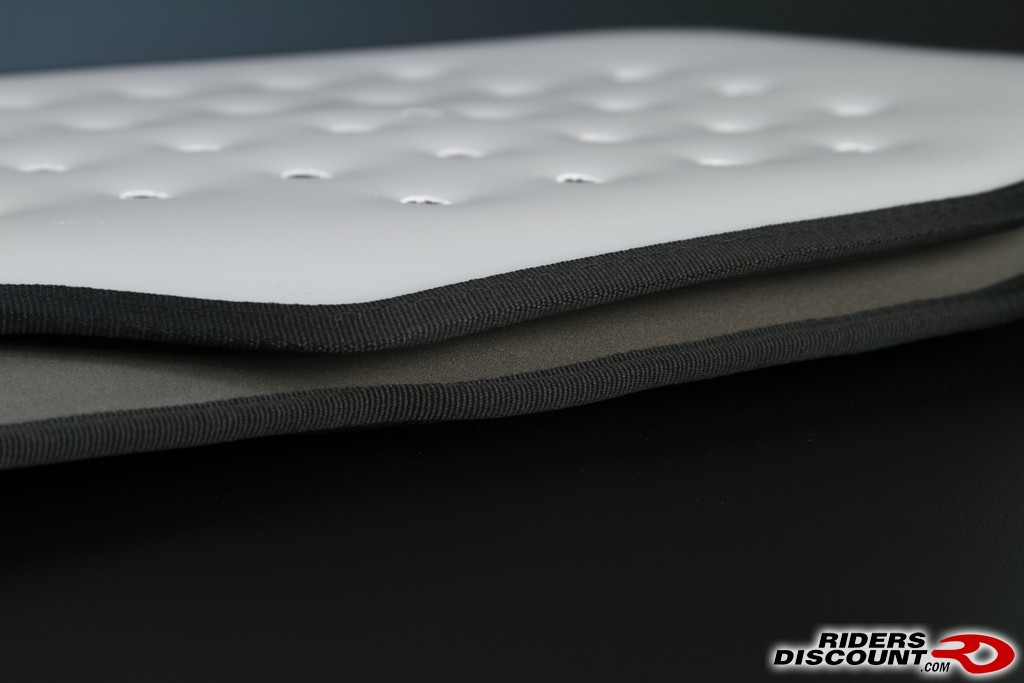 The rider-facing side of the back protector is covered with a soft, comfortable mesh liner. Even if you're not wearing any sort of riding underwear, it's comfortable against the skin.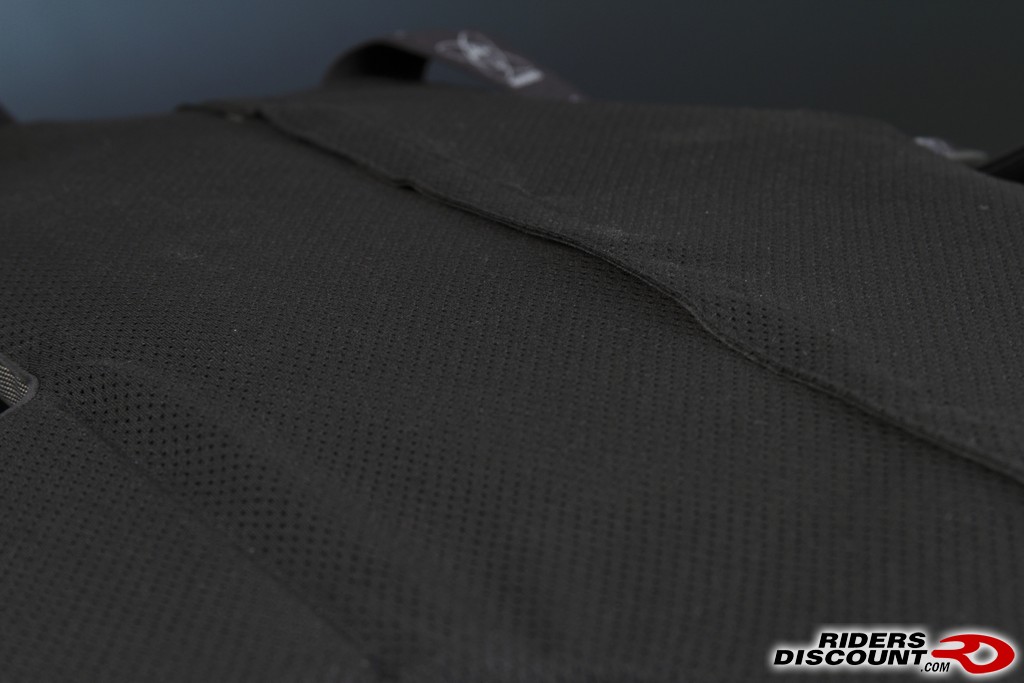 What good is a back protector if it makes you sweat so badly that you don't want to wear it? Forcefield addresses this concern with a series of ventilation holes molded into the armor that, when combined with the back protector's outer shell, provide a significant degree of ventilation.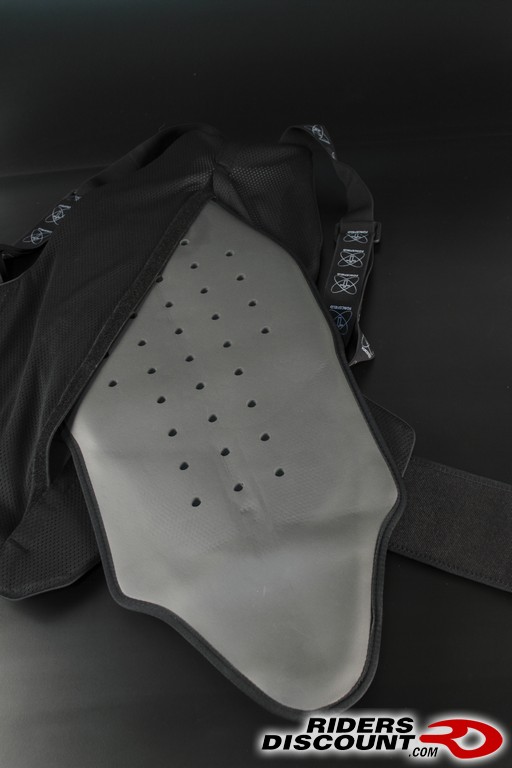 This photo was taken less than a minute after the back protector was put on. Notice that there are no large gaps between the wearer's back and the Pro Sub 4 - it quickly molds itself to your body's contours for a comfortable fit and maximum protection.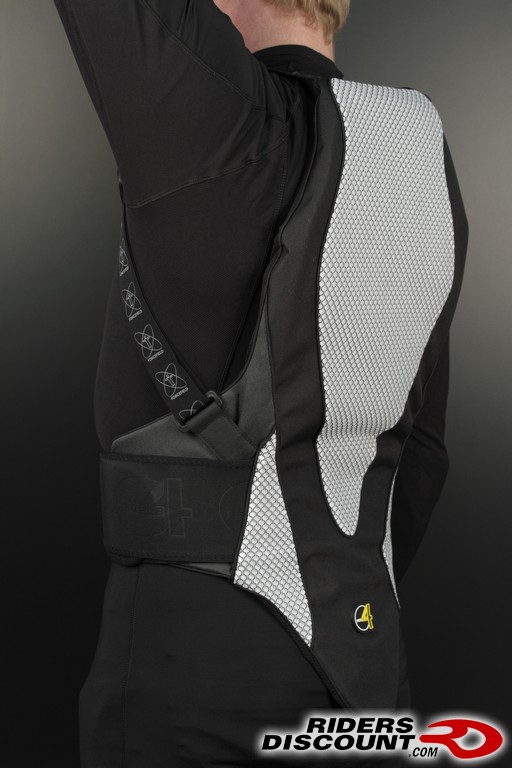 The suit-facing side of the Forcefield back protector is covered with a low-friction fabric allowing you to easily put your suit on over the armor. Unlike other back protectors, there are no large rubber logos or rubber piping to catch and pull at your leathers which, in turn, requires you to do a little dance just to get your suit on!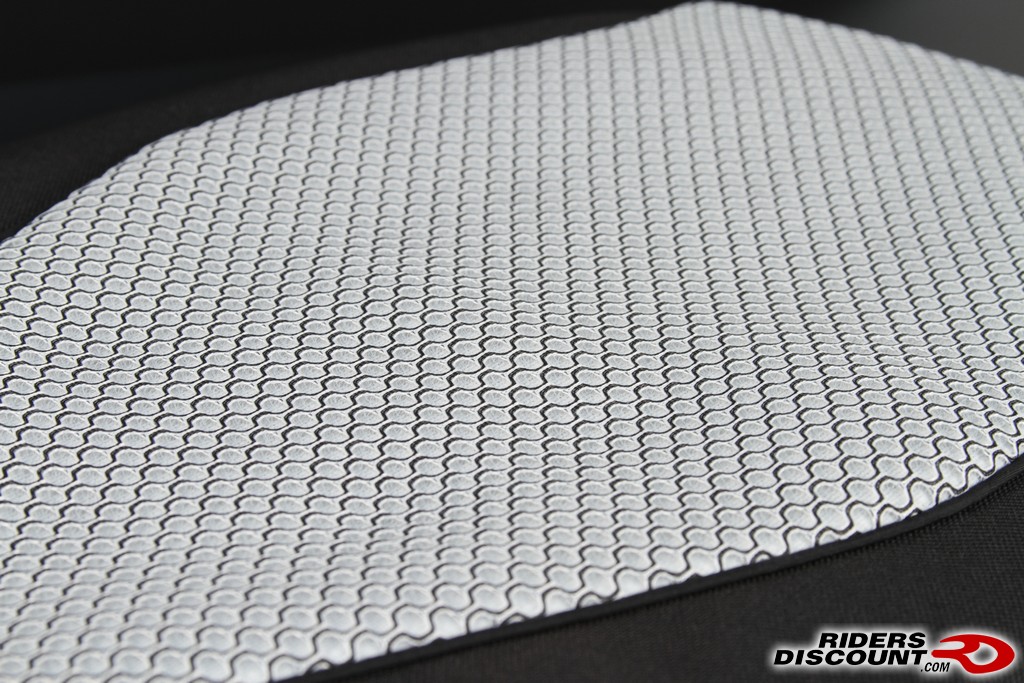 No other back protector we've seen offers the amount of high protection and comfort that you get from a Pro Sub 4. This will be the choice of RD staff riders for 2011.