If anyone can attest, qualitatively, to the protectiveness of Alpinestars' Supertech R Boots, it's Cal Crash … er, Crutchlow. The British rider, aside from being one of the fastest humans on two wheels, certainly wouldn't short himself on looking after his feet and, fortunately, has sustained little, if any injury, while wearing these boots in one of his many get-offs over the last few seasons.
This top-of-the-line riding boot not only offers CE-certified protection, but also - supreme comfort thanks to its two part design that utilizes an inner bootie, mainly for rigidity, and an outer shell for abrasion and impact resistance.
Built using a combination of fiberglass-reinforced polyamide hinges set on the outside of a breathable mesh lining, the internal bio-mechanical ankle brace works with the outer structure of the allows free movement of the foot, on or off the bike. The double-hinged inner and outer torsion bars give greater impact protection to the ankle by progressively absorbing flex and rotation stress, reducing pressure and hyper-extension injury to the lower leg joints in the event of a hard hit to the ground. You simply put this on before slipping your foot into the boot.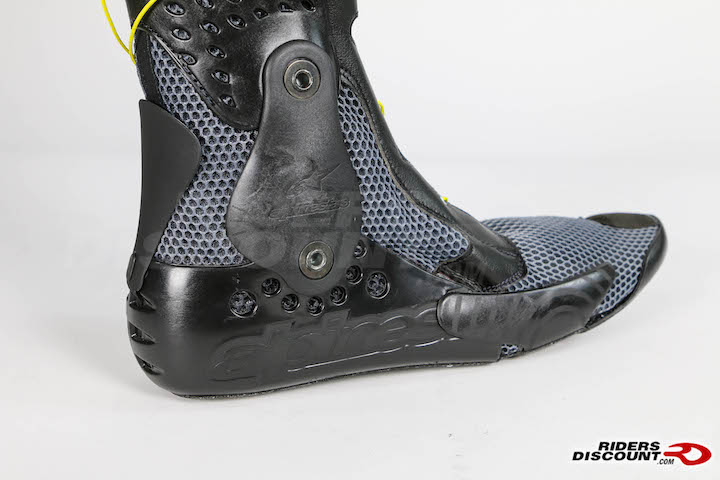 The outer shell employs shields of TPU material on the shin and heel. These ergonomically-shaped parts wrap around to outer calf and heel to dissipate impact energy across a larger part of the boot, and the foot within, these mitigate the force of impact when everything goes wrong. Ventilated swatches of Alpinestars-formulated microfiber cover the spaces in between and, at the toe-end of things, are capped off by a set of replaceable TPU/Aluminium toe sliders. These sliders use an easy screw fixing scheme that protects the outer toe box structure from abrasion.
Take advantage of expert sizing advice by giving
TJ
a call on 866.931.6644 ext
817
. Or, just send a note to
[email protected]
with ALPINESTARS SUPERTECH CRUTCHLOW BOOTS in the subject line and we'll get back to you right away.