You know where to get your Alpinestars gear - RidersDiscount.com! Call TJ at 866.931.6644 ext 817 so he can get you fitted from our in-stock selection of Alpinestars MX-1 leather suits! This MX-1 combines many of the features riders want like CE-certified impact armor, a large aerodynamic hump and a durable 1.2-1.4mm cowhide chassis for maximum protection. Every aspect of the Alpinestars MX1 suit is designed for comfort and safety. We have MX-1 suits available in a wide range of sizes and colors for you to choose from, but don't wait too long because supplies are limited!
Expert suit fitting help is just a phone call away. Ring TJ at 866.931.6644 ext 817 or just send an email to FORUM at RIDERSDISCOUNT dot COM with ALPINESTARS MX1 SUIT in the subject line and he'll get back to you shortly.
Alpinestars MX-1 leather suit in red.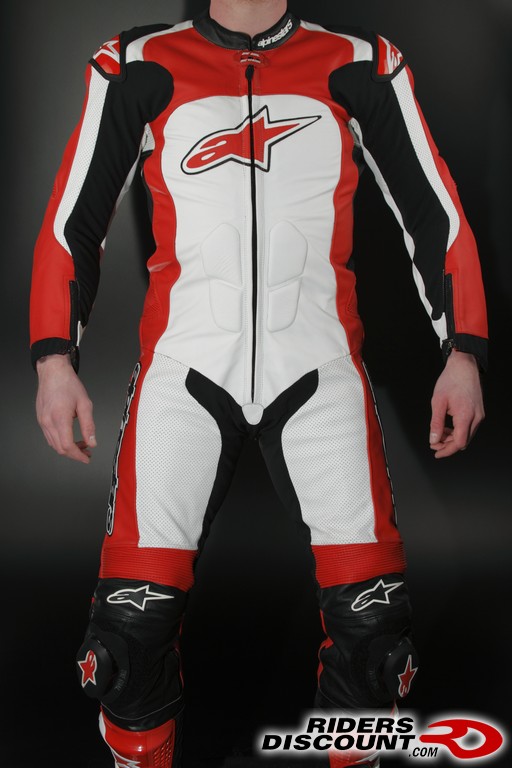 We also have these suits in blue …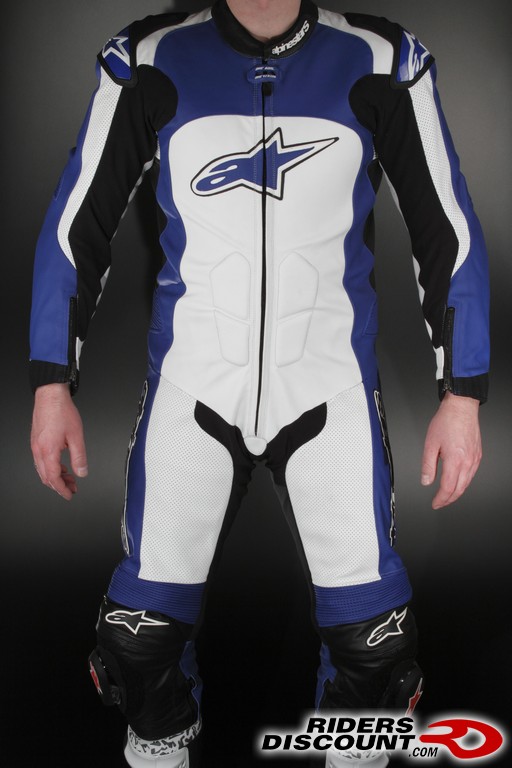 … and black in stock and ready to ship.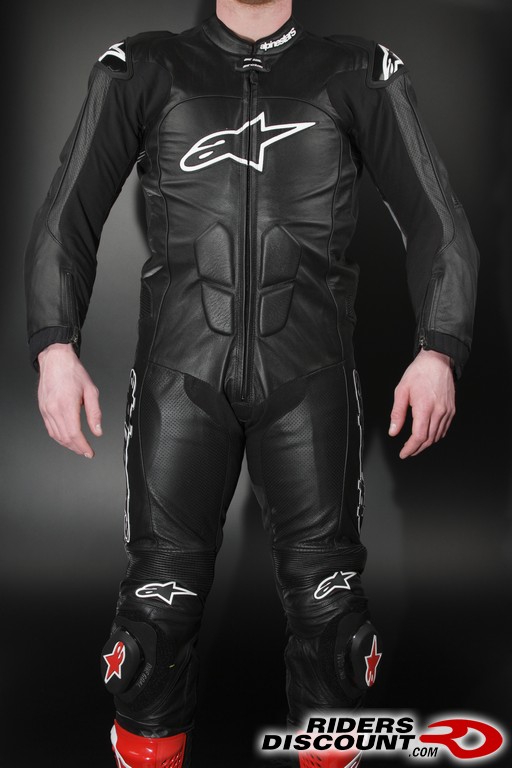 Shoulders have always been a difficult area of the suit to effectively cover and compromises between abrasion resistance (safety) and movement (comfort) must be taken into consideration. Alpinestars effectively addresses this with their patented high-modulus thermoplastic shoulder protectors. Now, because the shoulder is well protected, designers are free to stitch the area below in the way they want for maximum flexibility and enhanced comfort. Furthermore, these covers not only improve abrasion resistance, but they also help dissipate impact energy over a larger area making crashes less traumatic for the surrounding tissues.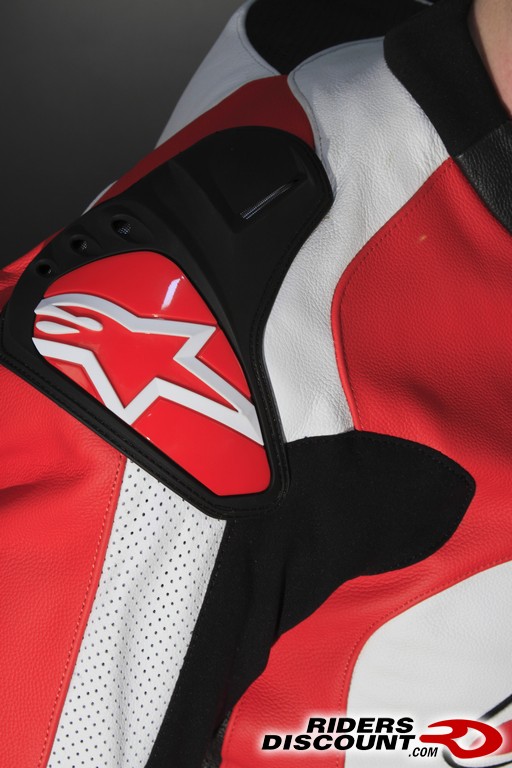 Best of all, in the comfort department at least, these shoulder protectors allow a high degree of ventilation to occur where it would otherwise be totally unsafe.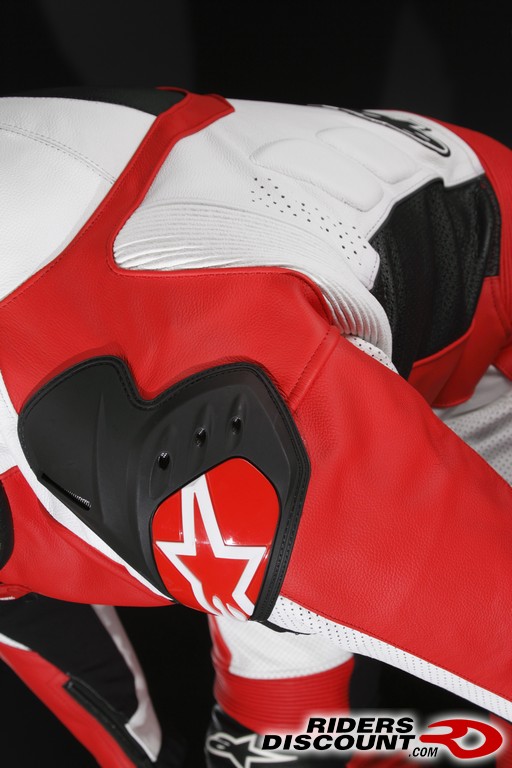 The main seams within the suit are assembled using Alpinestars multiple-stitch construction techniques. This method works in two ways; first more rows of stitching provide increased seam strength and second, most of the stitching is hidden away from the area that would be exposed to the pavement in a sliding crash. Both of these properties increase the suit's (and the riders!) survivability. The seam in the center of this picture is located just below the accordion stretch panel on the lower back.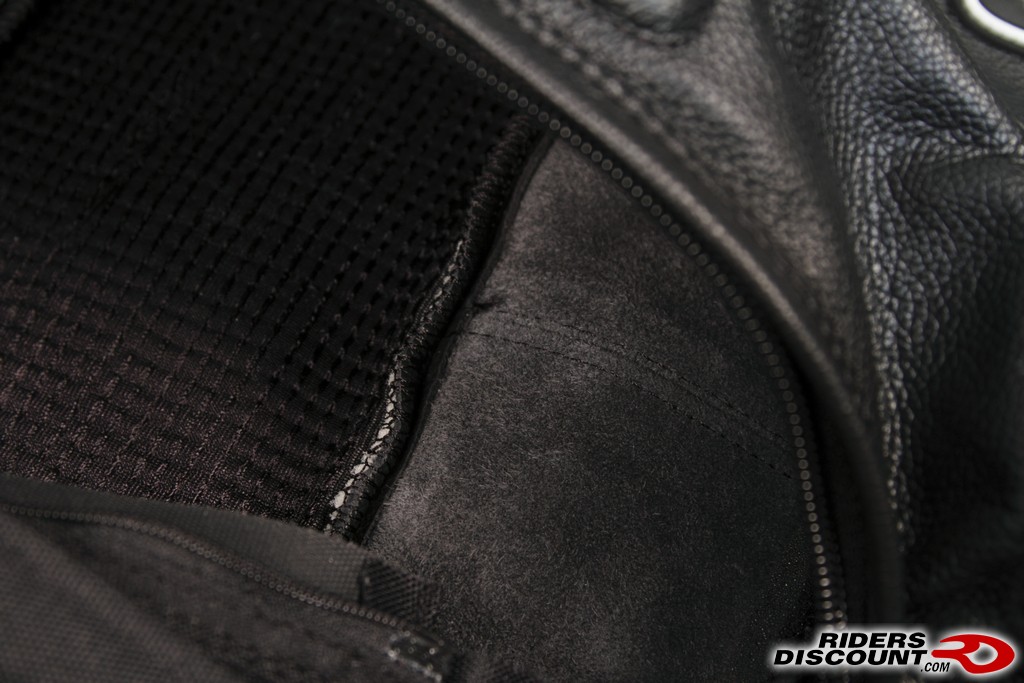 Specially-sewn leather accordion stretch panels are built into the suit behind the shoulders, at the lower back, above the kneecaps and just above the elbows allowing almost total freedom of movement on the bike or in the paddock.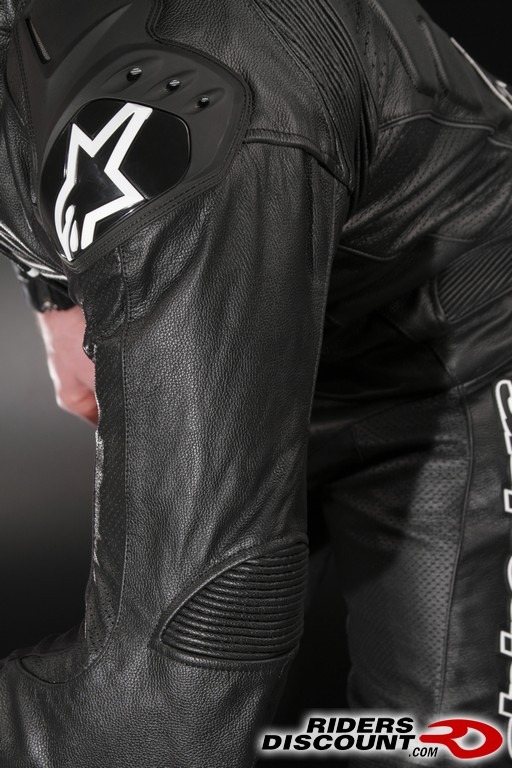 The knees articulate well thanks to the accordion leather design allowing you to move around on the bike uninhibited by the suit.