When the pics of the '15 Street Triple RX came out I really wanted one (minus the red wheels). Since I already had the quickshift installed, I began seeking information on what was required to make the transformation. SEARCH turned up
mcarnold's daytona tail fairing thread.
I PM'd him and he not only answered all of my questions, but even went as far as gave me part #'s and even found them on this forum and ebay. Really cool. Thanks mcarnold for all of your help.
So below is my conversion. It's a 2013 Matte Graphite Street Triple R.
Parts required are:

Complete '13-'14 Daytona rear fairing. l/r side, under pan, top plate. (The brake light is the same) rear seat and or seat cowl and driver's seat.
I found a comfort seat on ebay.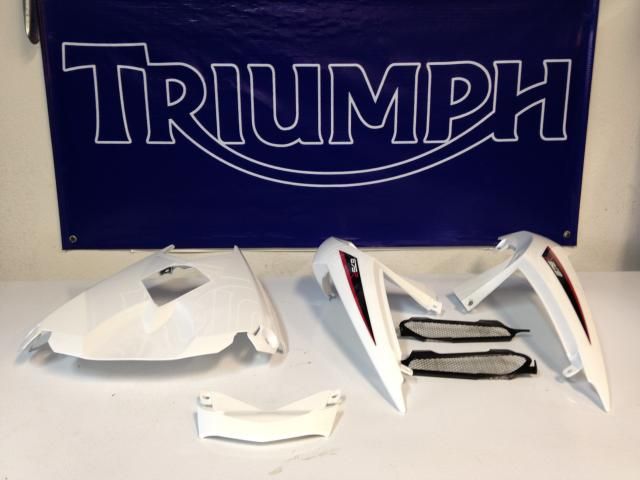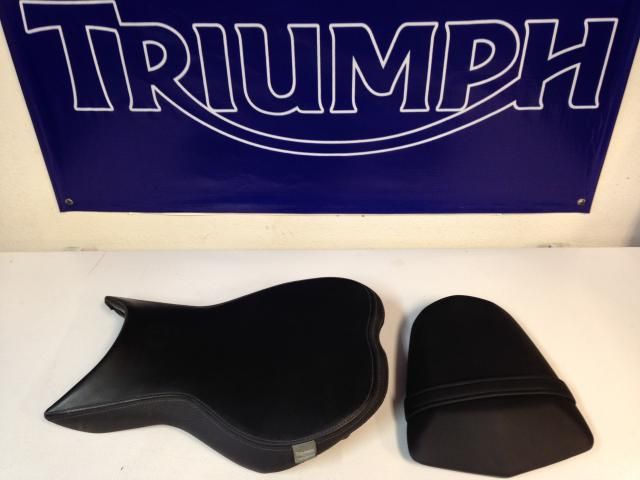 (1) Front Bridge: Part # T2070164
(4) Rubber Foot 4mm deep: Part # T2307369
(4) M6X16 screws: Part # T3330334
(2) M6X15 bolts for the driver seat: Part # T3330858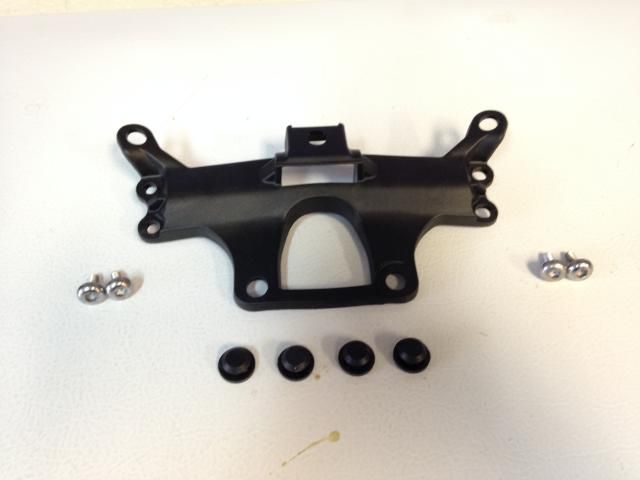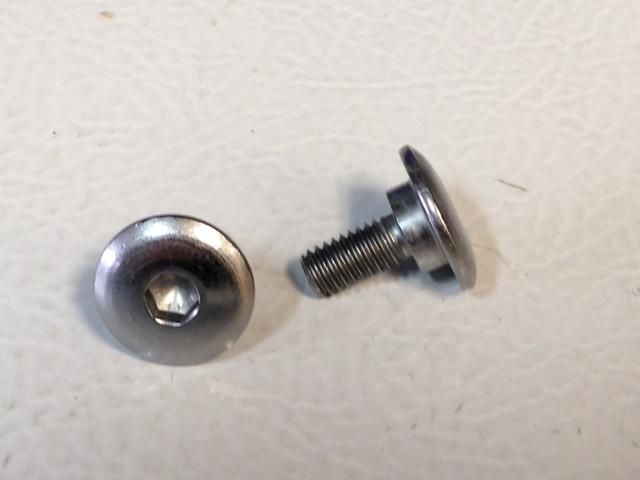 2013-14 Daytona seat lock bracket and cable.
I found mine on ebay.
Tools needed:
#9 Drill bit for 6mm hole
I got the set below from Harbor Freight for like $20 I believe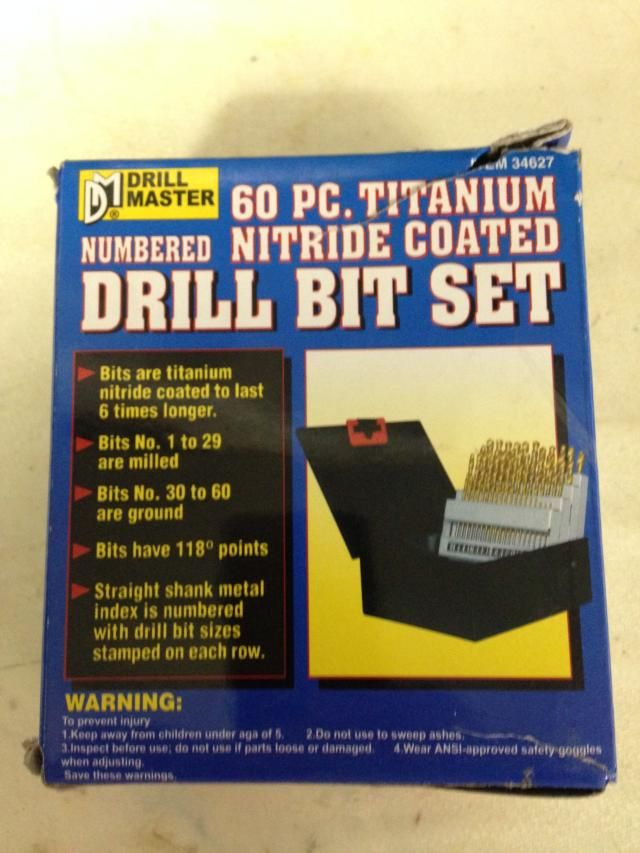 M6 Tap
. This tap works great as when it cuts it pulls all of the metal shavings out. No need to stop, backout and restart. Just one continuous turn.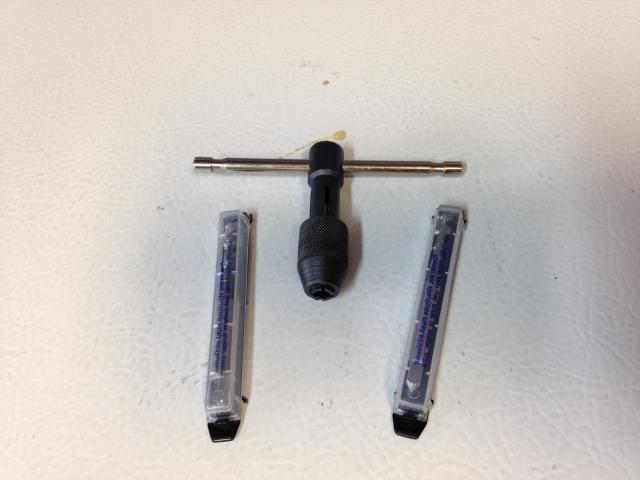 5mm and 6mm Allen head socket: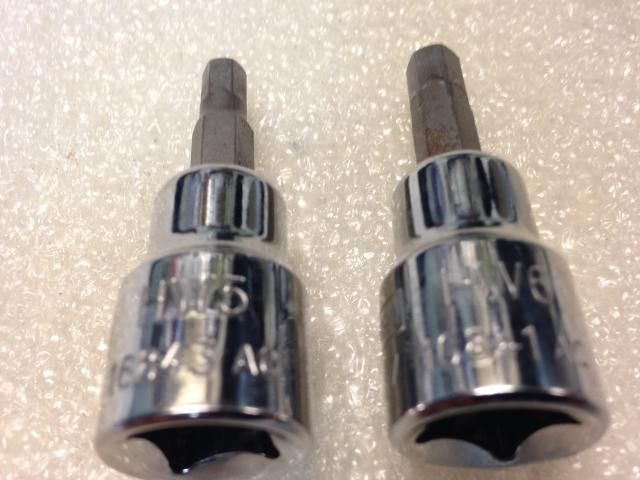 T30 Torx socket: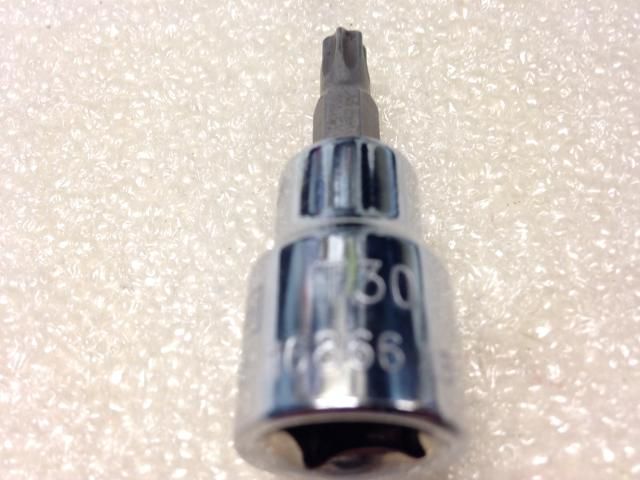 Step 1: Remove rear panels, brake light, bracket, tail tidy.
Step 2: Remove key assembly and cable from l side fairing.
Step 3: Test fit Daytona pieces: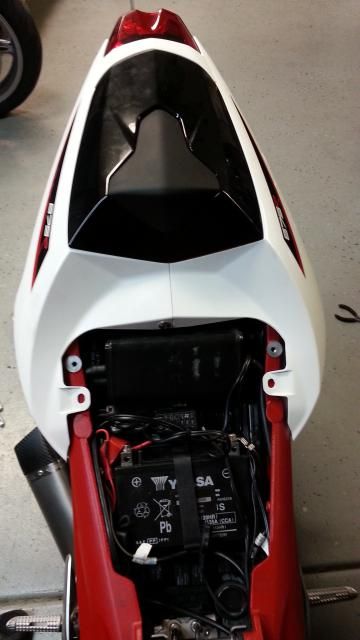 Step 4: Mark holes for front fairing
Step 5: Using the 9 Drill Bit. Make 4 holes for the bridge and 2 holes for the fairing.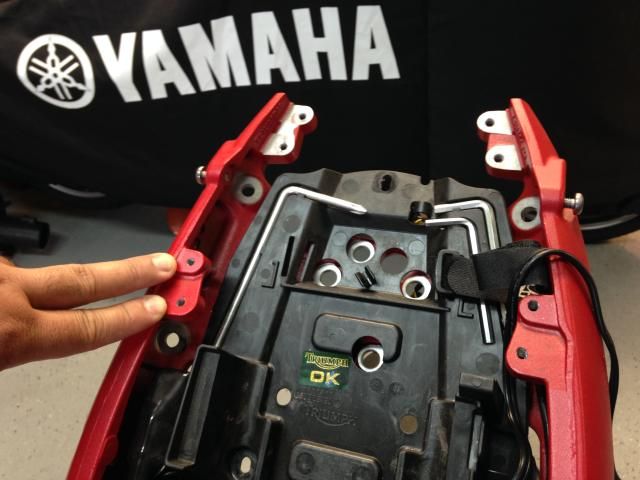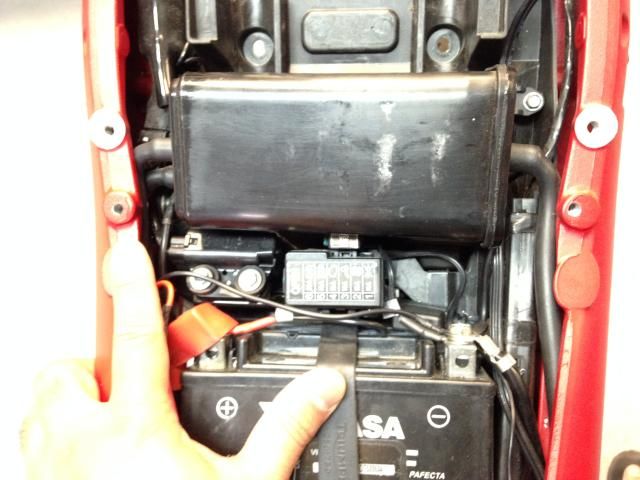 Step 6: Tap the holes with the M6 Tap.
Holes tapped and bridge mounted looks like this.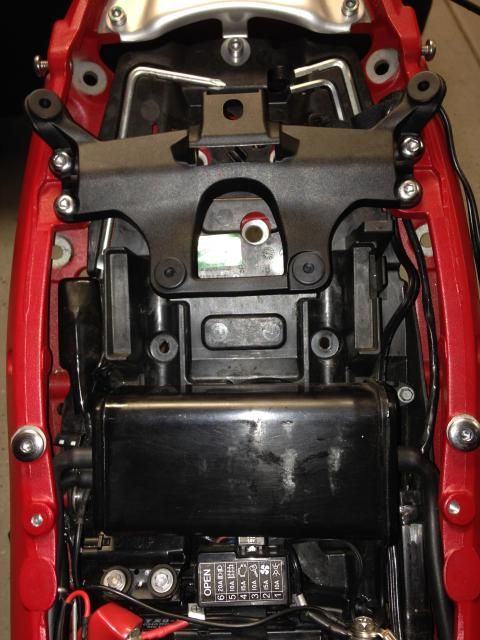 Step 7: Remove this spacer from beneath the canister to make clearance for the driver seat: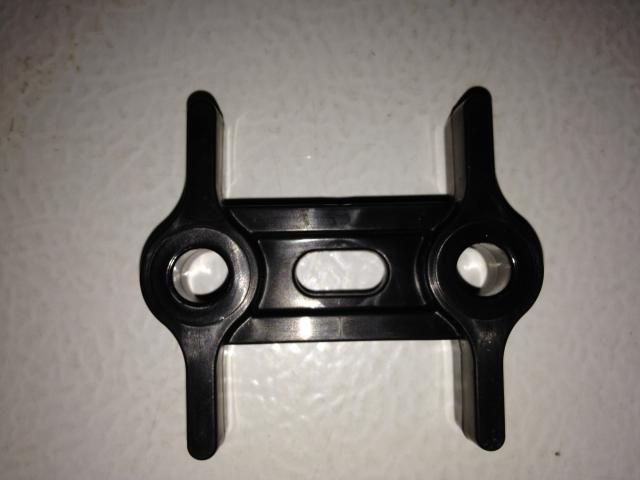 If you have a white Street Triple R, you should be good to go with the color as the Daytona pieces are already white and you can order a seat cowl in white. With mine being Matte Graphite I had to hunt down the color code and then send them to get painted. The formula below is from Axalta Coating Systems (Dupont) Tech Support. I was referred to them by Triumph.
1 Pint for Matte Graphite: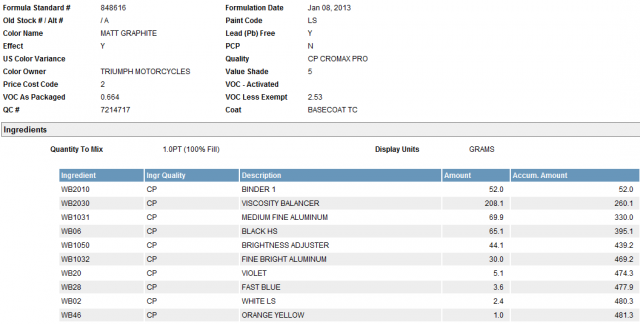 .5 Pint for Matte Graphite: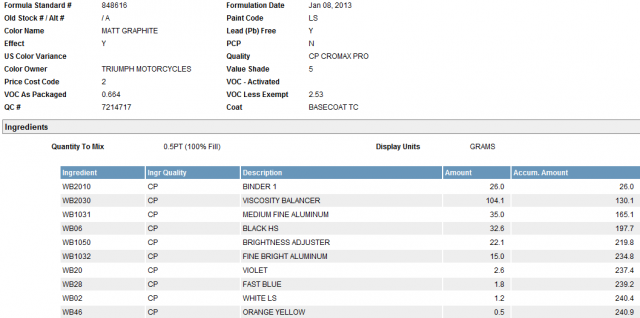 I painted the screen accents in red. When the parts returned from paint, they looked like this:
I had the underpan hydro dipped in the same carbon fiber pattern I did my rear hugger, chain guard and tank accents.
Reassembly:
Step 1: Feed rear cable of seat lock through L side fairing and mount.
Step 2: Mount rear seat lock bracket.
Step 3: Mount Rear brake light to underpan and mount underpan to bike.
Step 4: Mount tail tidy.
Step 5: Mount front bridge.
Step 6: Mount L side fairing.
Step 7: Mount R side fairing.
Step 8: Mount top bracket.
Step 9: Mount driver seat.
Step 10: Mount passenger seat or cowl.
Step 11: Take pics and admire how much better she looks!!!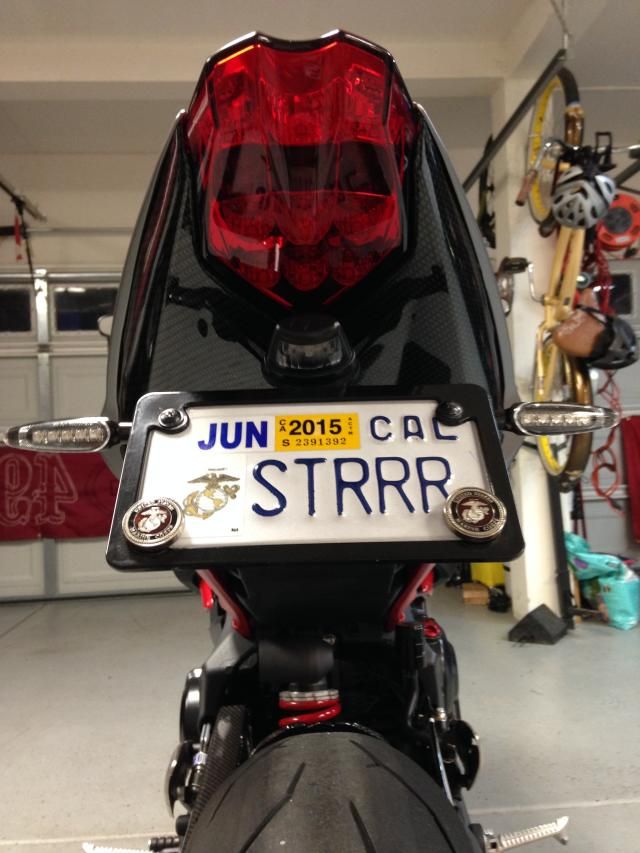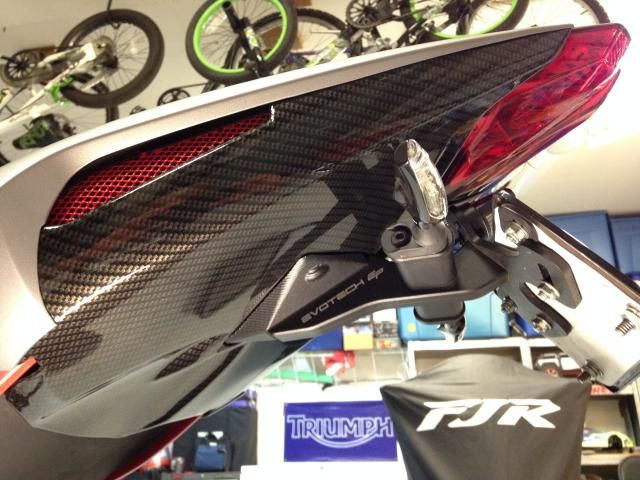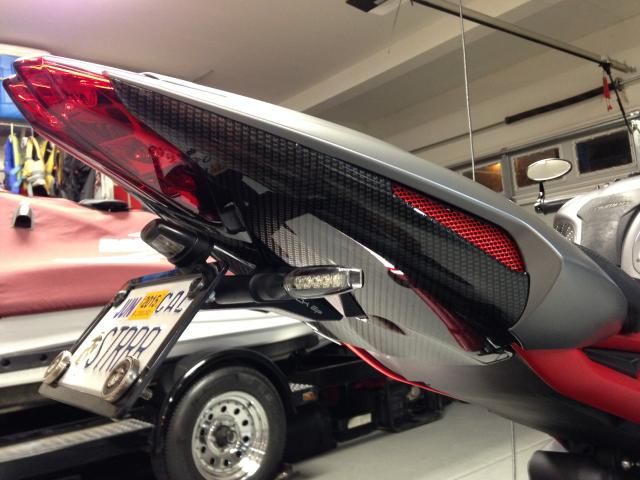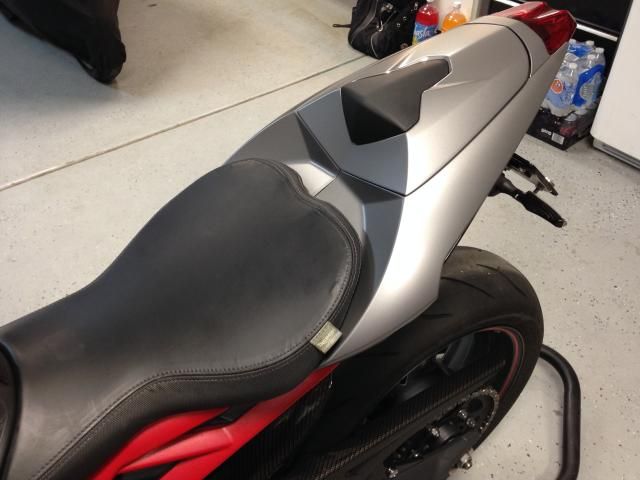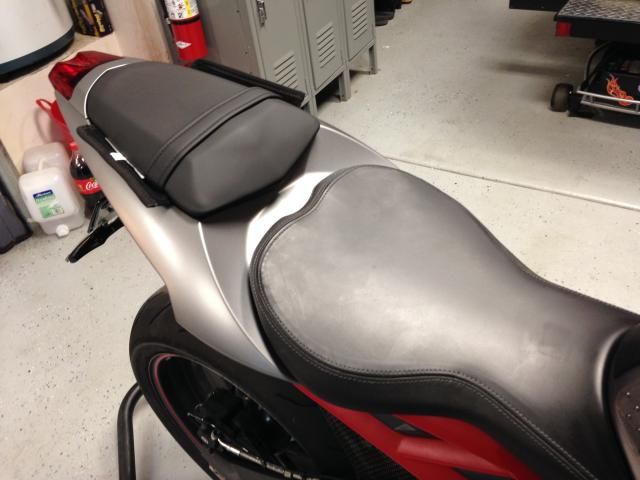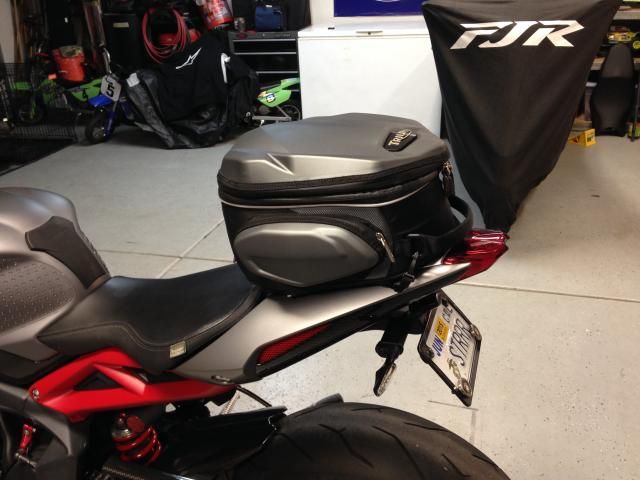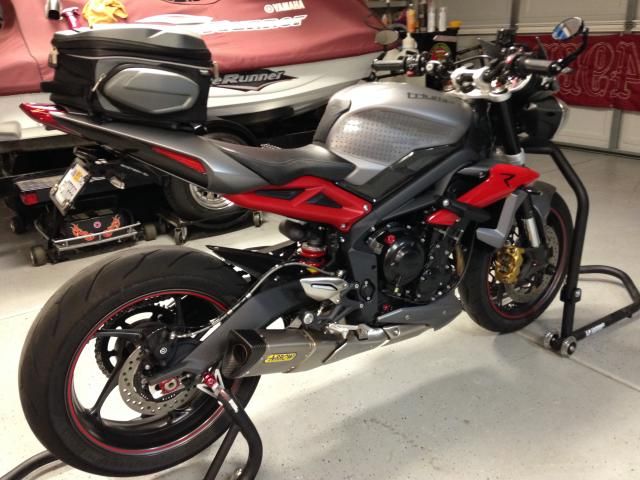 GOODIES:
Triumph - Arrow Slip On/ECU Tune
Triumph - Quick Shifter
Triumph - FlySreen
Triumph - Belly Pan
Triumph - Seat Cowl
Triumph - Heated Grips
Triumph - Frame Protectors
Triumph - LED Turn Signals
Triumph - Tail Pack
Triumph - Bar End Mirrors
Triumph - Black anodized F/R Brake Reservoirs
Triumph - Fork Protectors
Triumph - Tank Pad
Triumph - Red Chain Adjustment blocks
Triumph - Red Paddock Stand Bobbins
Triumph - Red Shifter Bracket
Triumph - Red Oil Fill Cap
Triumph - Red Dip Stick
Triumph - Chain Guard
Triumph - 2013 Daytona rear end conversion
Triumph - 2013 Daytona rear seat cowl
Triumph - 2013 Daytona comfort seat
Carbon Fiber dipped: Chain guard, rear hugger, tank fairings and undertail.
ASV - C5 Clutch and Brake Levers
EVOTECH - Tail Tidy
Powerlet - Outlet for GPS
Shkusbpowersocket
Cyclops LED Headlights