Discussion Starter
·
#1
·
2500$
Trying to sell my 2002 sv650s that is located in Dallas, Texas.
She has 14000 miles, very well maintained, and comes with a bunch of extras:
Rear hugger
fairing lowers
custom seats
anodized levers
puiig double bubble windscreen tinted
aftermarket turn indicators, front and rear
kawasaki 636 rear spring
racetech gold emulators
progressive fork springs .7 I believe
goodridge stainless braided front brake lines
pirelli diabolo supercorsa SC3 front and rear tires 75% tread
ART stainless exhaust
HID headlights
aftermarket mirrors
home made license plate bracket.. looks good to, not shitty
DID 525 gold chain maybe 500 miles
new front and rear sprockets.. forgot the new gearing, but i think it was just up 2 teeth in the back also 500 miles
Fork oil changed very receintly with new fork seals
swingarm spools
CLEAN title
Front and rear T-Rex stands (front mounts to the triple, so you can change the front tire too.)
A bunch of random tools including a speed bleeder for brakes
Some of the original parts
Joe rocket phoenix 4.0 textile jacket with liner, used one season but in new condition, size large)
and an HJC CL-SP helmet, size large
Fake carbon fiber bar ends... they look stupid, but painted black would look nice.
Bike runs very well, and has no mechanical problems. There are a few light scratches on the upper right fairing where I dropped it on gravel doing maybe 2 miles an hour. The scratches go up and down, not front to back so its obviously a low speed drop. Plus its just the clear coat, not the paint. Im trying to sell it to get a little extra cash and get the bike out of my parent's garage, so if it sells for the price im asking cool, if not Im keeping it. My step dad takes it out once every two weeks for a ride to keep everything mechanically sound. It doesnt just sit. I will be back in texas on leave for 6 days from this sunday the 30th to february 6th. if you want to come see, feel free to email me. Ill always have it up for sale and my step dad can take care of selling it once i move on to Korea.
2500$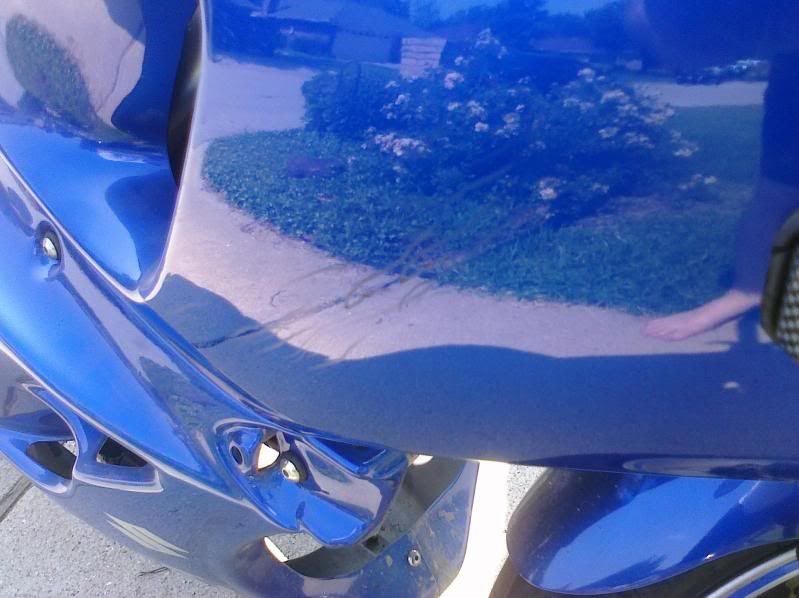 This isnt from 2007... I have a POS camera, a fujifilm that i bought in 2001 when digital cameras first came out... 250$ and it advertised an amazing 3 megapixels and 3x zoom!!