BOTM Winner
Join Date: Feb 2006
Location: Sleaford, Lincolnshire
Posts: 1,861
Thanks: 0
Thanked 0 Times in 0 Posts
Round 1 Brands Hatch - Spoiler
---
Woohoo, what a start Youngy has made to qualifying. The man is 40 years old and has just knocked 0.4 seconds off his pb to stick himself bang on the front row in fourth place and just 0.1s behind pole.
Should be a great race tomorrow. In all honesty, I don't see the Came Yamaha boys of Billy McConnell and Westy getting beat. They have qualified first and second and Skippy McConnell won last year so loves the place. Seperating those two from Youngy is Pauls good friend and former championship winner Glen Richards, so it is a hell of a front row.
Hot on Youngy's tail is his new team mate Jason O'Halloran just 47 hundredths behind. He beat Youngy in Q1 by 0.2 seconds and then Youngy pulled his pb out to beat him. One of the things Paul said he was looking forward to this season was a team mate that could really push him. It always gives extra motivation.
With a quarter of the 38 starters on 675's there will sure be plenty of guys to cheer on this year. A shout out to David Jones on the Clwyd Racing 675. He has qualified 18th overall, but 1st in class (the supersport cup) so best of luck to him as well as all the other Triumph riders.
I will be there tomorrow, so will post up some pics tomorrow night along with the results, if no-one else has already done so. The British Supersport race starts at 15:30 GMT and is live on British Eurosport. Anyone stateside can watch the live timings here
http://www.tsl-timing.com/?loc=major...eventid=101304
if you can't get long on to any internet streaming. Just scroll to the bottom of the page and click on the live timings button.
Junior Member
Join Date: Aug 2009
Location: Yorkshire uk
Posts: 42
Thanks: 0
Thanked 0 Times in 0 Posts
675s first and third in the superstock.
Member
Join Date: Dec 2005
Location: kent
Posts: 163
Thanks: 0
Thanked 0 Times in 0 Posts
Got back from a great day at Brands. Anyone know why John Simpson was disqualified from the superstock race. It was fantastic, definately the race of the day.
BOTM Winner
Threadstarter
Join Date: Feb 2006
Location: Sleaford, Lincolnshire
Posts: 1,861
Thanks: 0
Thanked 0 Times in 0 Posts
BOTM Winner
Threadstarter
Join Date: Feb 2006
Location: Sleaford, Lincolnshire
Posts: 1,861
Thanks: 0
Thanked 0 Times in 0 Posts
The superstock race was superb and it was brilliant to see Jimmy Hill on the Map Triumph take the win. Damn shame the John Simpson was disqualified, but such a great race.
With the full on British Supersport race, there were no less than SIX 675's finished in the points. With Glen Richards unfortunately high siding in the earlier superstock race and possible breaking three ribs, he was unable to start the superport race, so Youngy was starting 3rd and his teammate Jason O'Halloran was moved up on to the front row next to him.
Youngy got off to an absolute flyer at the start and took the lead in to turn 1. There he remained for the first 11 laps which was just awesome to see, but then he fell back as 19 year old Sam Lowes took to the front and stormed off to a great lead before ther red flag came out. The Triumphs ended as follows:
4th - Jason O'Halloran - Oxford TAG Triumph
6th - Dan Cooper - MAP Centurion Triumph Racing
7th - Paul Young - Oxford TAG Triumph
10th - Allan Jon Venter - MAP Centurion Triumph Racing
13th - Luke Mossey - LM Racing
15th - David Jones - Clwyd Heating Racing
David was also first in the Supersport Cup element so many congratulations to him. He unfortunately missed out on the fastest lap of the race in the cup by one 1,000th of a second!
Here are a few photos from today.
Part of the jovial Oxford TAG Triumph squad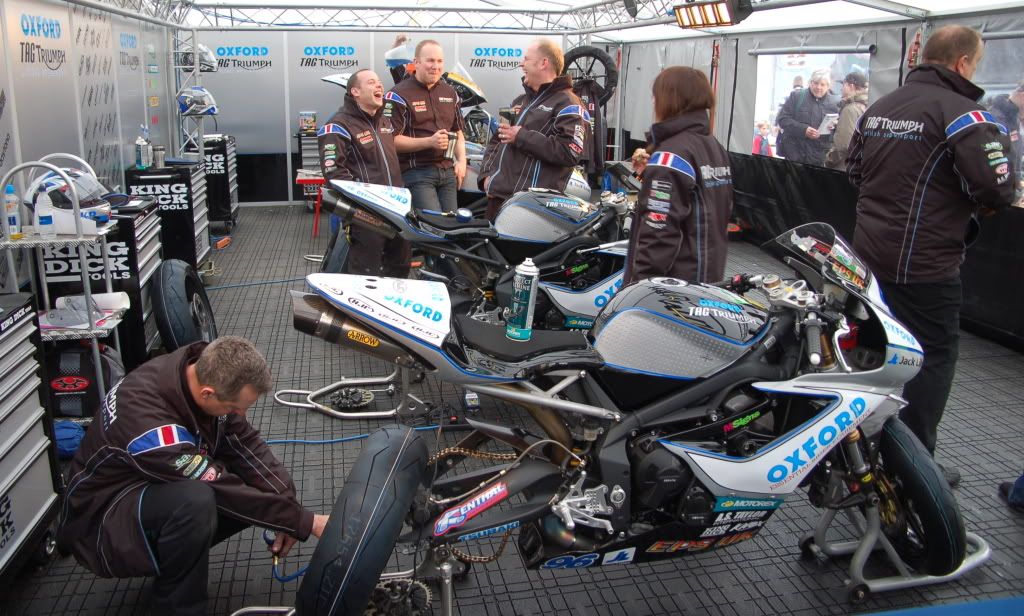 Oxford TAG Triumphs 5 bike team! (inc a 125)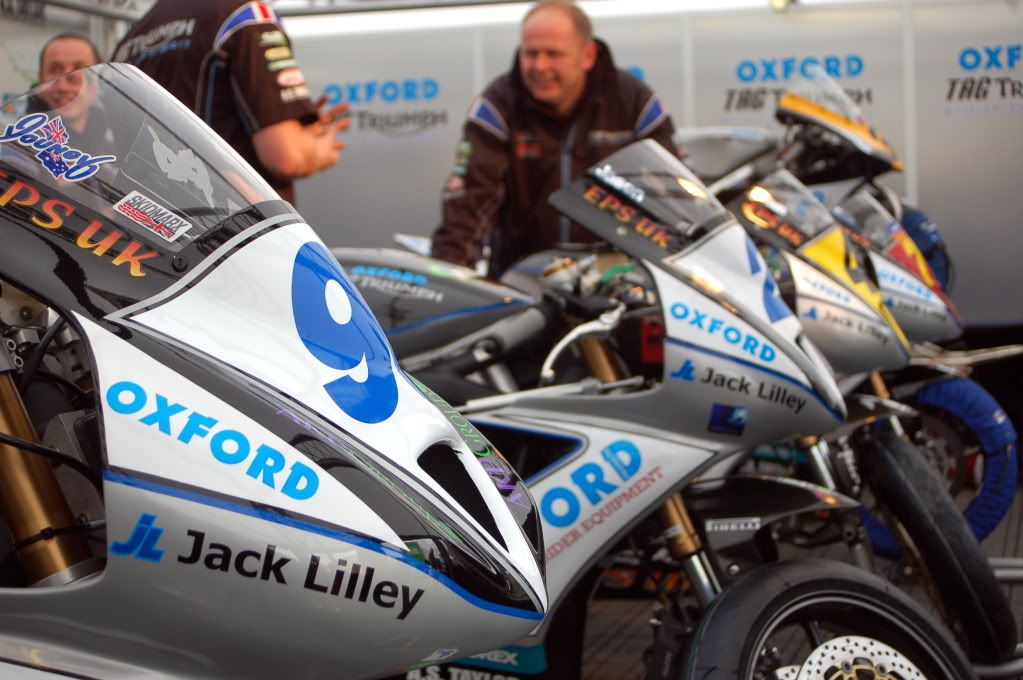 AJ Venter looking like he has already worn the arse out of his leathers and this is round 1!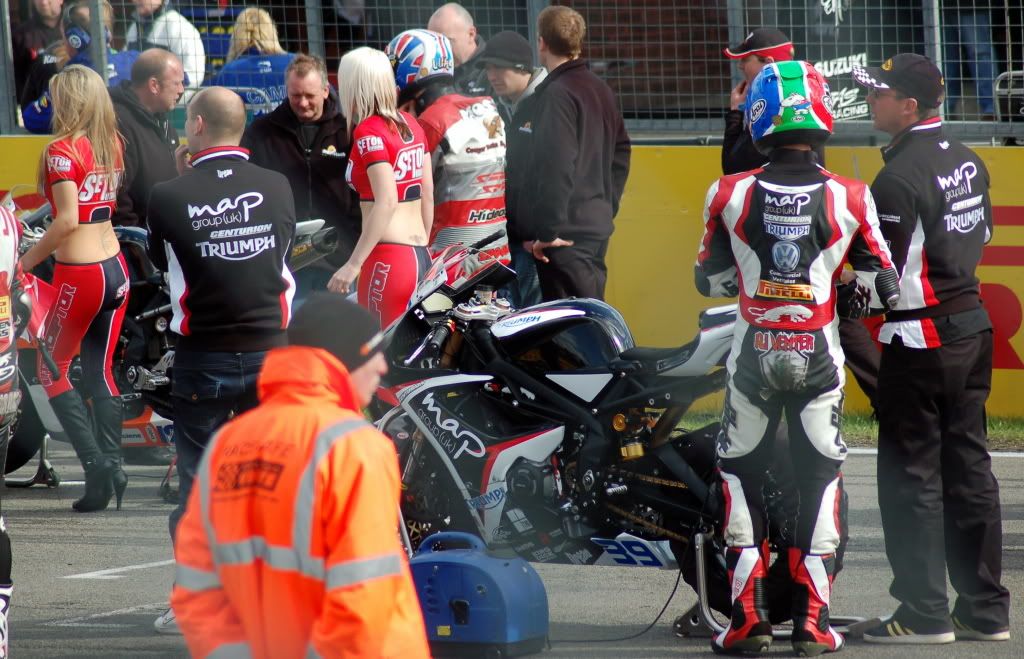 Not sure if Dan Cooper got dressed in the dark this morning. Check those boots out!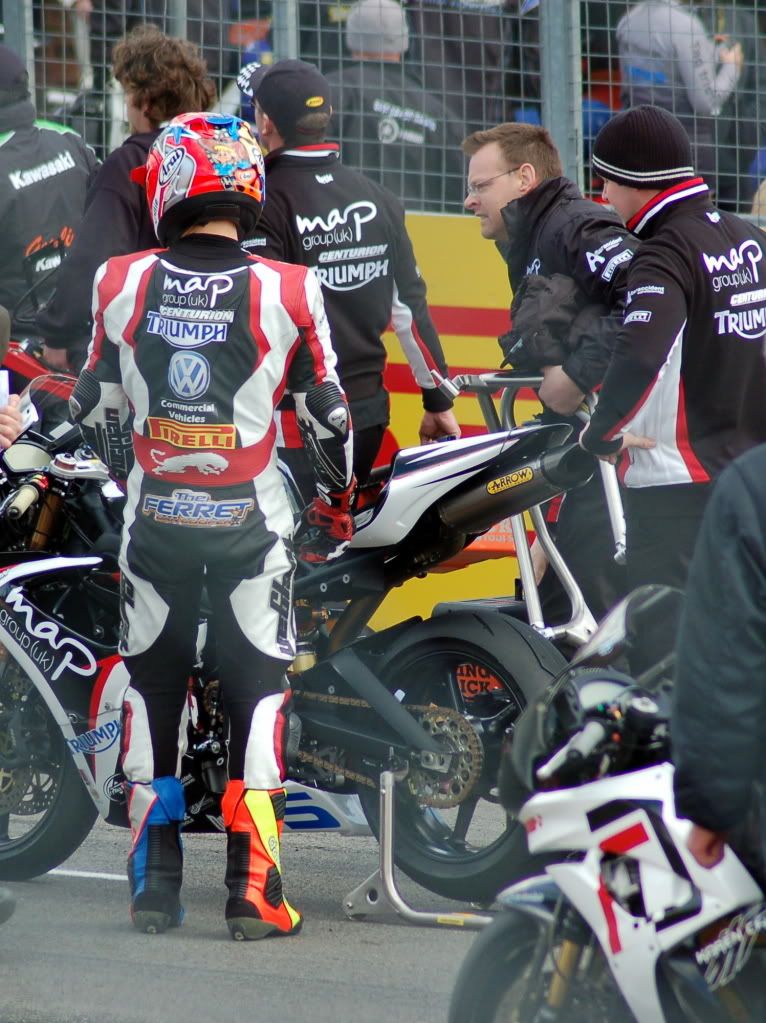 David Jones who finished first in the Supersport cup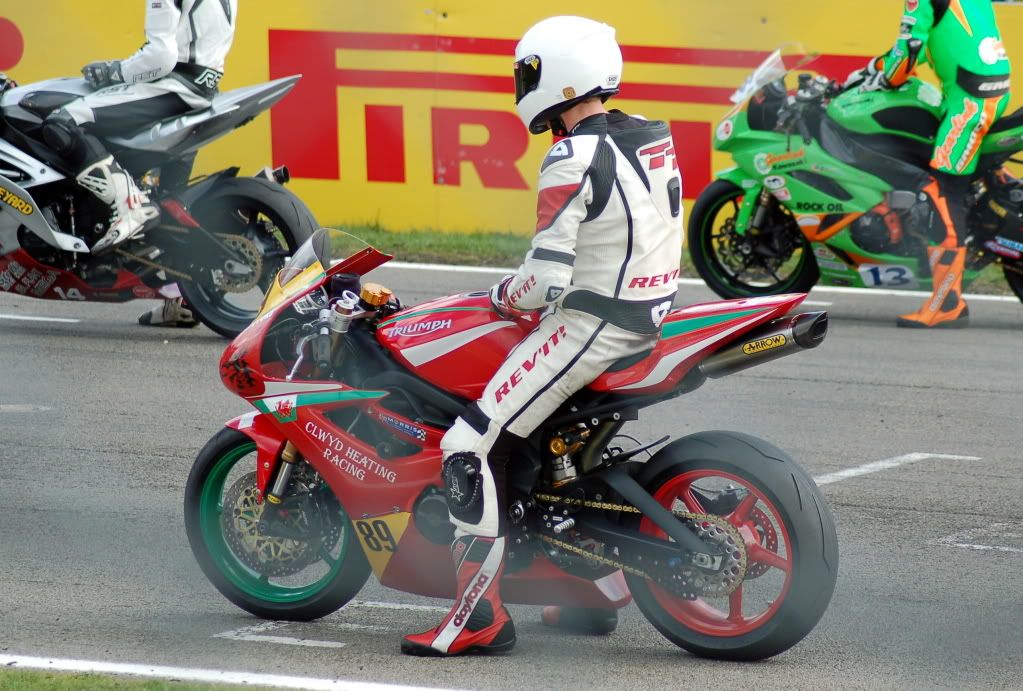 Youngy off to a flyer and showing the youngsters the way. In almost no time he had created this lead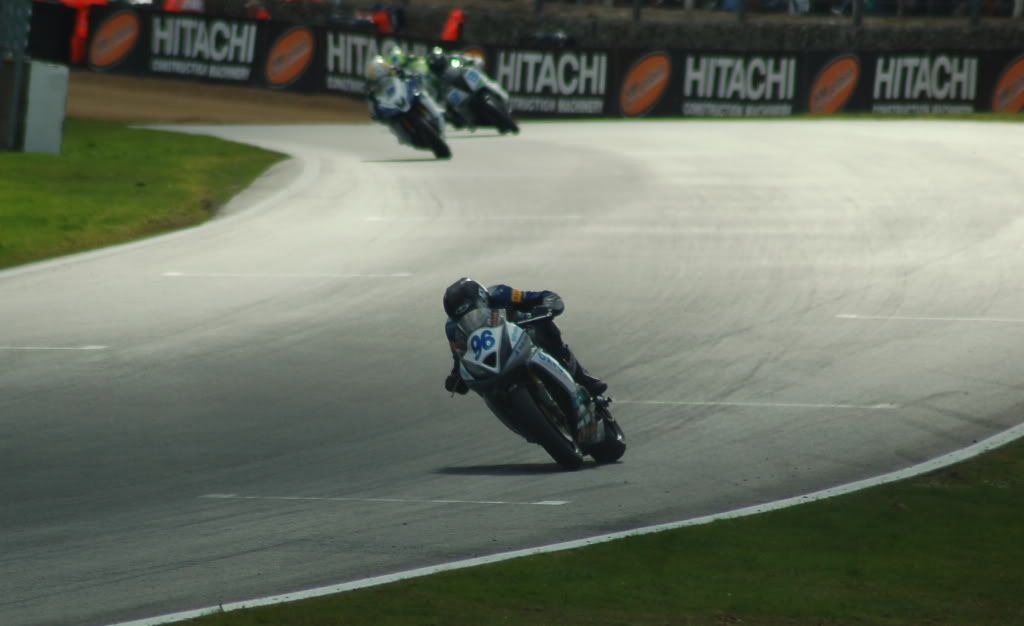 which I am guessing was around 1.2 seconds! lol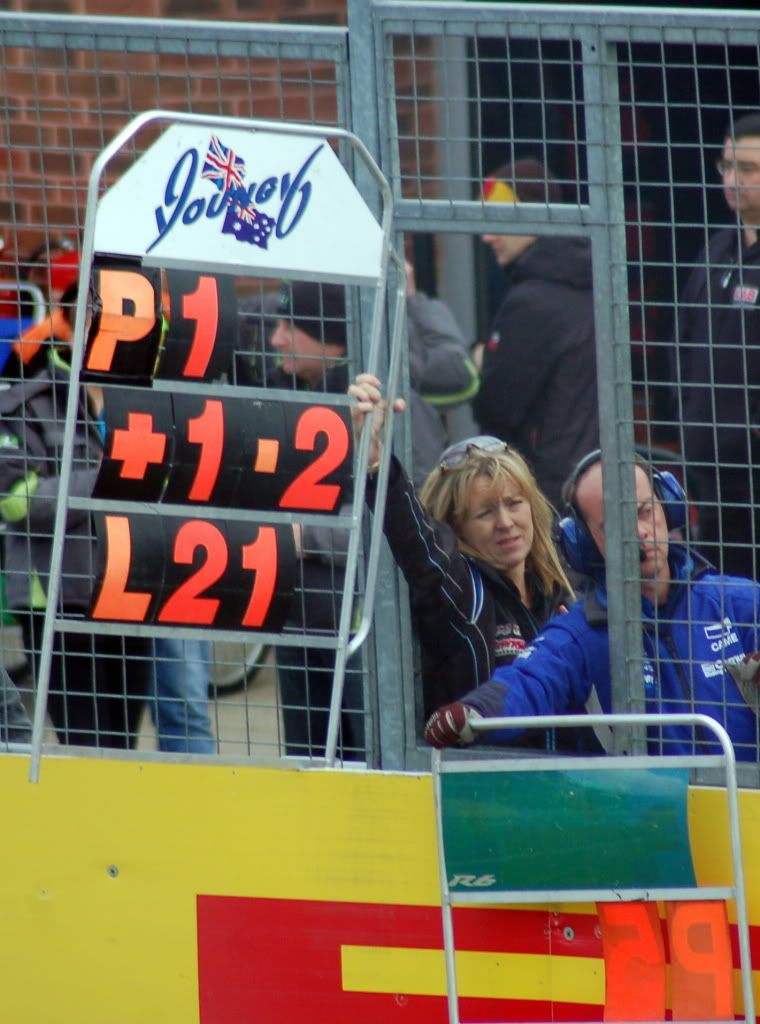 Westy tracking down Youngy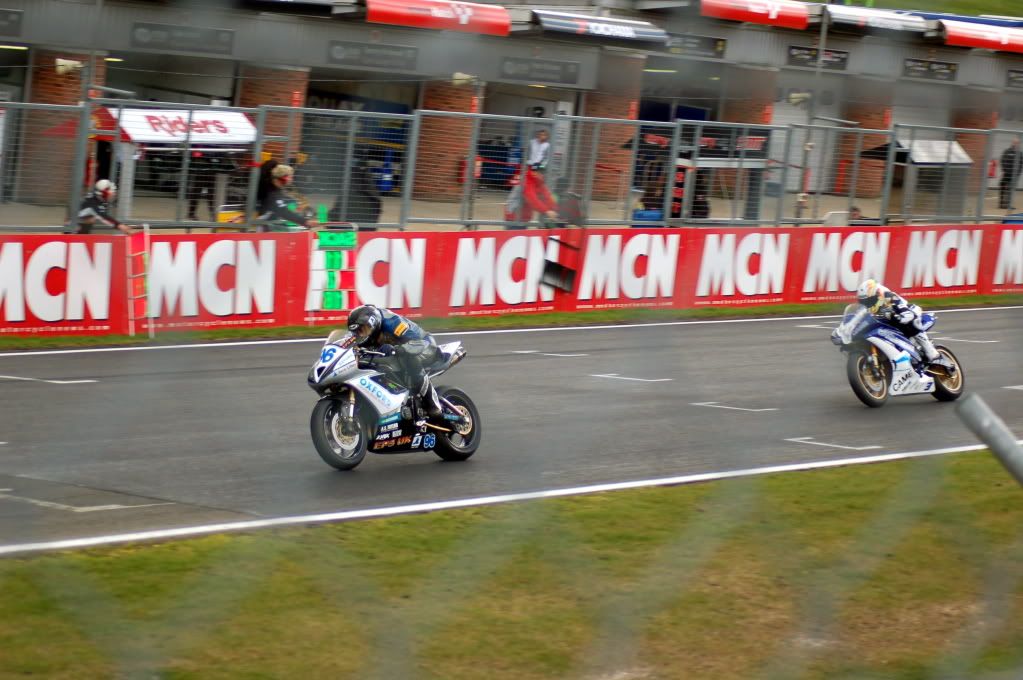 Before Sam Lowes does them all and clears off at the front. Brilliant maiden victory for him and he is a great lad. Need him on a Triumph next year! lol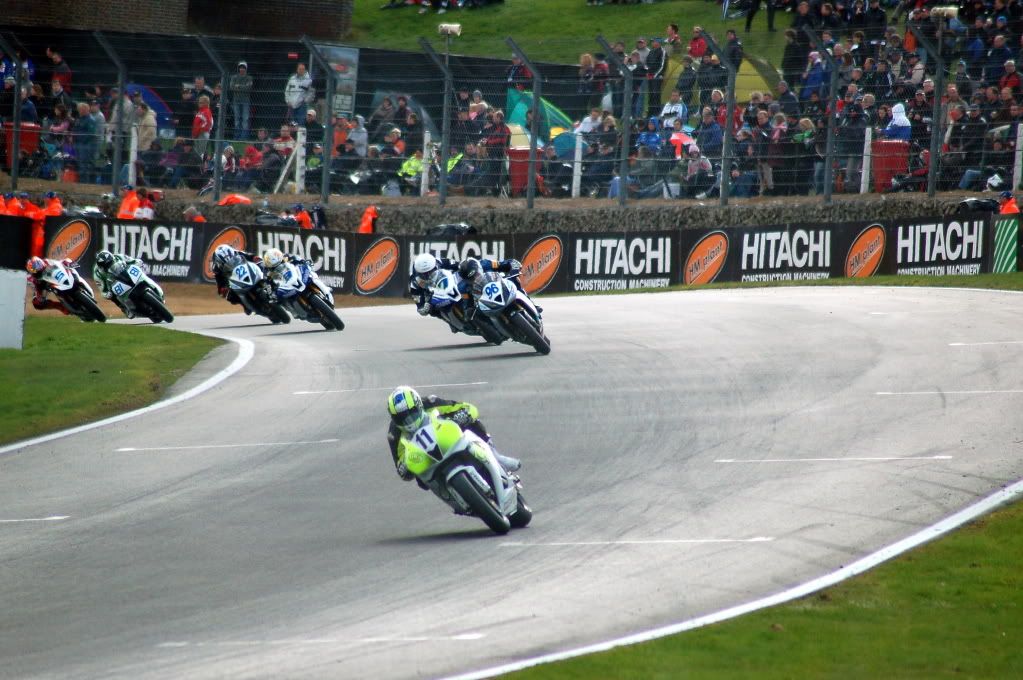 Senior Member
Join Date: Dec 2007
Location: NSW, AUSTRALIA on Vic Border
Posts: 1,801
Thanks: 0
Thanked 0 Times in 0 Posts
Awesome to see so many 675's in the field , thanks for posting rat race.

any more pics ????
---
Sitrucmit675
so many roads,twists and turns. Where do i start? I know , on a D 675

Hey Casey lets swap bikes ?
NAAH i think i like the honda better ????
Told you Valentino "no.1 for 2011" and you couldn't get a podium ??
Thought you were gunna tame the big duke
Posting Rules

You may post new threads

You may post replies

You may not post attachments

You may not edit your posts

---

HTML code is Off

---