Join Date: Mar 2009
Posts: 3
Thanks: 0
Thanked 0 Times in 0 Posts
O Mika com certeza deixará saudades
---
Pessoal, acabei de receber uma notícia que me deixou muito triste...
O nosso amigo Mickael, conhecido como Mika no forum https://www.triumph675.net/forum/member.php?u=6659
sofre um acidente de moto esta madrugada e infelizmente o acidente foi fatal. Não tenho informações sobre o ocorrido ainda.
Para os amigos deixo aqui o telefone da Norma, caso quei71ram saber como despedir do amigo... (11)5071-9949
Mas tenham cuidado pois a situação está muitou complicada...
Aqui uma foto do passeio que ele organizou, ele é o da direita, de jaqueta preta e vermelha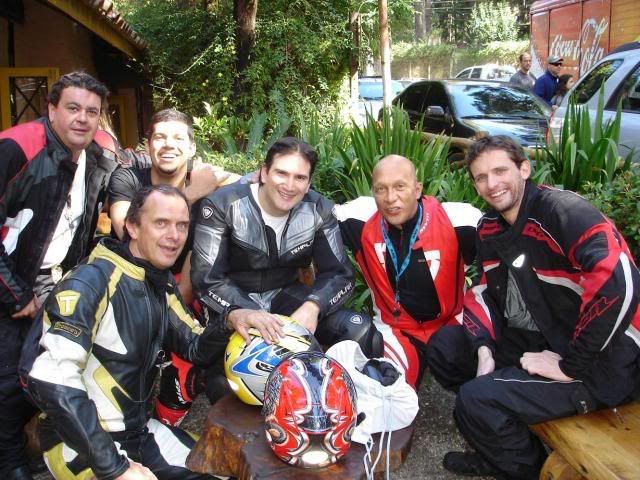 Que o amigo descanse em paz e tomem cuidado por aí pessoal.
Editado-------------------------------------------
Mika voltava da gol onde estava fazendo simulador... isto era por volta de 11 da noite na via Dutra.
Um carro que trafegava na via quebrou e o dono o estacionou no acostamento da pista, até aí tudo bem.
Porém o dono do carro atravessou a dutra e infelizmente justamente na frente do nosso amigo Mika que acabou atropelando o cidadão...
Como podemos imaginar no momento os dois devem ter tentado desviar, indo para um mesmo lado... ou algo do tipo e o resultado foi o falecimento dos dois...
Uma falta de atenção tremenda por parte do pedestre... já vi pessoas atravessando as rodovias muitas vezes, isto é um perigo tremendo para eles e para os outros...
e no caso para o nosso grande amigo, uma pessoa fantástica que com certeza vai deixar saudades à todos que o conheceram...
---------------------------
Abraço a todos
---
Last edited by Shinji; 06-05-09 at

15:31

.
I'm sorry to hear this sad news. My deepest heartfelt sympathies and condolences to his family and loved ones. RIP.
---
Senior Member
Join Date: Jul 2008
Location: Camas or the Bay Area
Posts: 1,777
Thanks: 1
Thanked 1 Time in 1 Post
Join Date: Dec 2007
Posts: 1,066
Thanks: 0
Thanked 0 Times in 0 Posts
Chiperator
Join Date: Mar 2007
Location: over here
Posts: 5,539
Thanks: 0
Thanked 5 Times in 3 Posts
Senior Member
Join Date: Mar 2008
Location: New England-USA
Posts: 2,329
Thanks: 0
Thanked 0 Times in 0 Posts
Junior Member
Join Date: Jan 2009
Location: Volos, Greece
Posts: 114
Thanks: 0
Thanked 0 Times in 0 Posts
R.I.P.
---
"Motor racing, mountain climbing and bull fighting are the only true sports.
All the rest are children's games played by adults."

- Ernest Hemingway -
Senior Member
Posting Rules

You may post new threads

You may post replies

You may not post attachments

You may not edit your posts

---

HTML code is Off

---