Won't idle dies 2008 675
---
All other issues from other thread have been solved . NOW the bike won't idle . Starts and as long as your giving it a little throttle it will keep running , As soon as your off the throttle it dies . Checked the Throttle Position Sensor on TUNEECU and it's reading 62v which is where is should be (believe 58-62 ) . Reset everything and adjustment settings . Loaded 3 different maps ....still the exact same thing no difference . Adjusted the throttle bodies correctly so they are closed perfectly . Don't know where to go from here . To be 100% honest I might just sell the dam thing whole or part it out....this is by far the WORST bike I have ever worked on/ owned . Went to a local bike shop and they said they don't want it in there shop . Said Triumph customer dealer support and dealerships for that matter are hands down the WORST in the industry . Did I make a mistake buying this bike ??
Super Moderator
Join Date: Sep 2008
Location: Seattle
Posts: 11,845
Thanks: 21
Thanked 391 Times in 333 Posts
Sorry you feel that way and your local dealer feels that way. It's definitely not true about the dealer network. They offer excellent support to honest dealers.

As for your ideal issue you have to put the bike into the bike into the idle stepper motor adjustment procedure in order to check the TPS setting. It sounds like you have a problem with the adjustment of the stepper motor or its adjustment. However it can also be fuel supply. Maybe a fuel pump. Another option is a vacuum leak. What are the map sensor readings?
Fuel pump is 100% good to go , no vacuum leaks just had that looked at . The stepper mode your talking about is in TUNE ECU where you adjust the ICVS or whatever correct ? If so , yes did that and it was at 62v steady and the it had me move the throttle to 72v which I did . Same results
BOTM Winner
Join Date: Jan 2009
Location: Jersey, Channel Islands
Posts: 2,539
Thanks: 0
Thanked 44 Times in 38 Posts
I had a similar problem. Turned out to be the inlet rubbers between injectors and head had perished.
---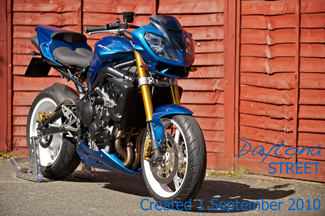 Well that's a new one !! Good to know though !! Will give them a solid look for sure thanks . How did you come about finding it ?
Member
Join Date: Apr 2016
Posts: 299
Thanks: 87
Thanked 14 Times in 14 Posts
You seem to know what you're doing. Try taking it back to stock and see what could be causing the issue? Triumph wouldn't touch my bike if it wasn't stock and only after correcting it stock did my issues go away after a retune and such.. I had my fair share of issues but I still love my Daytona.. Check if you got good octane gas in? idk
That's exactly what I did . Took the power commander off etc the only aftermarket part motor wise left on is the exhaust ...which I have tried 2 different tunes for that AS well as outing the stock tune back in just to see if it was causing issues (exhaust that is ) . My brother owns a Mobile Dyno for motorcycles . Took it to him , he go into the ECU and said everything looked correct. Hooked up the power commander and adjusted everything on that for a tune ....same results . Idk if switching to a manual idle tune would help or not but I'm getting deep into this bike money wise that is and don't know if I feel like continuing . Bikes are meant to be ridden and enjoyed, not constantly working on it bc of a error code, stops running out of now where etc ....im just kinda at my wits end with this thing
Junior Member
Join Date: Jan 2013
Location: san antonio
Posts: 39
Thanks: 0
Thanked 0 Times in 0 Posts
Did you find the problem? I have the exact same problem.
Junior Member
Join Date: Jun 2018
Posts: 13
Thanks: 0
Thanked 0 Times in 0 Posts
Quote:
Did you find the problem? I have the exact same problem.
Bit of a bump from the dead but I had a similar issue that I solved recently. Did a write up on how I solved it
Sent from my Nokia 7.1 using Tapatalk
Posting Rules

You may post new threads

You may post replies

You may not post attachments

You may not edit your posts

---

HTML code is Off

---