Your Riding Gear info (hopefuly) here.
---
I had an idea, I'm not sure if it will work. But I'll attempt it anyway.
I thought I would make this a thread where members can post some of the riding gear that they own or use regularly. The reason is that when someone is looking to buy some new boots, jacket etc they can look at this thread and see that member#1 has the boots that they're thinking about and members #2 and #3 have the jacket they want. That someone can then ask for opinions and advice about the gear from people who've actually used/tested the gear in the real world.
So I'll start.
I currently own the following,
Dainese Nox 1pc suit.
\/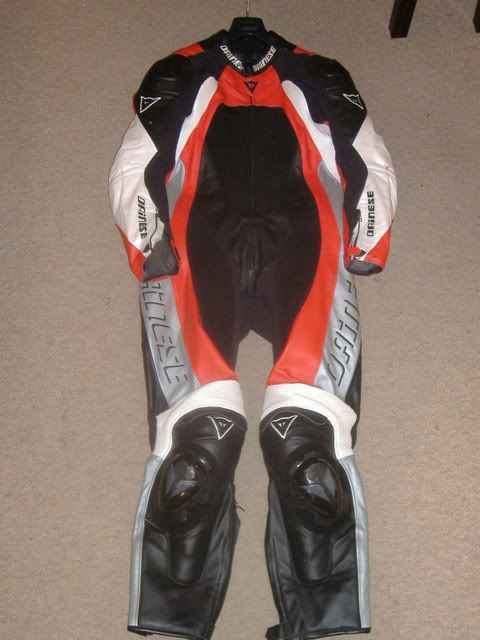 Dri-Rider Summit2 pants and jacket.
\/
Shoei TZR helmet.
Alpinestars TZ1 leather jacket.
Alpinestars GP-PRO gloves.
R-Jays H20 Gloves.
Dainese spine protector (I'm not sure exactly what model).
Sidi Strada Tepor boots.
\/
And in my GF's collection,
Joe Rocket Roxie leather jacket.
R-Jays GP1 helmet.
R-Jays leather gloves, of some sort :? .
Alpinestars Gore-tex boots. (that are really tough SOB's).
\/
I hope that this works and that we don't end up with more questions than answers. But I think something like this could be quite useful, particularly for those who haven't had the time or experience with a wider range of protective gear and are looking to buy a particular type of clothing for the first time.
---
Warning: Death may occur if taken seriously.
Retired Administrator
Join Date: Nov 2005
Location: Chattanooga, TN
Posts: 3,757
Thanks: 0
Thanked 3 Times in 2 Posts
Cool idea. I'll post up some pics, etc in about 2 weeks. Till then....I'll give your idea some help.
---
Quote:
chimkychink-- you bastards
chimkychink --we gave you america...you gave us a ****ing squirrel...that killed all the other ones
Member
Join Date: Jul 2006
Location: Bremen, Ga
Posts: 531
Thanks: 0
Thanked 0 Times in 0 Posts
Quote:
Originally Posted by AdamB
Cool idea. I'll post up some pics, etc in about 2 weeks. Till then....I'll give your idea some help.
Somebody has new gear coming to em......... :)
---
R.I.P Kris Fears 3.11.07
Mike Thompson 4.22.07
Meant to do this earlier but I'm a slack bastard.
Picked up the Axio Swift pack a few weeks ago as I wanted something functional yet stylish which complimented the bike. I believe I succeeded.
I couldn't find a site that had a photo of it near anything that gave it a good sense of scale so my biggest fear was that it was going to be a tad small for most cargo. I was kind of right and kind of wrong. As you can see it's actually pretty sizable.
Keep in mind that I'm 6'3", so I may make it look a bit smaller than it actually is.
The straps have a wide range of adjustment and each mount 2 rings and have various cloth clip points. It comes with a handy pouch seen here and the front shot above (you can see a bit of it in the side shot, too). It should fit most phones and many MP3 players made today (about 2 1/2 inches wide would be the max). It can be removed or moved to the other strap.
The top of the hardcase has a small inlet for a line to a music player or other such goodies. The downside is that it could let water in which would be a bad thing. Axio sells a water cover for the pack, though.
There is a pouch mounted on the inside by the inlet to put whatever electronic critter you are going to need a cord going to.
The downside is that this pack is mostly designed for items that are more flat than anything. Laptops seemed to get the nod for a primary use although an extra large widescreen one may be a bit much. The inside of the hump area is only accessible by a single zipper as seen on the right. This means that while the pack's volume is pretty decent you couldn't fit one item in it that would take up nearly all of it's space.
Still, it's a good pack, looks damn nice at speed, quite functional for medium size items, and wasn't hideously expensive.
Go here to see the Swift and Axio's other products. They make a bigger version named the Forza that isn't as streamlined but would certainly haul more.
http://www.axio-usa.com/
Kneedraggers has a decent price on them. About $120.
http://www.kneedraggers.com/details/...-58-AXI-1.html
I have a ton of gear...it's gonna take me a bit to show it all.
---
Retired Administrator
Join Date: Nov 2005
Location: Chattanooga, TN
Posts: 3,757
Thanks: 0
Thanked 3 Times in 2 Posts
Quote:
Originally Posted by Polozsmilin
Somebody has new gear coming to em......... :)
Yes I did :P :P
My really hot weather & short ride gear....
Alpinestars SMX-4 boots
Alpinestas summer gloves
HJC AC-12
Cortech HRX Jacket + Pants
crappy pic...
The gear I was waiting on....
Alpinestars Stage 2 piece
Oxtar TCS Evo RX boots
Alpinestars SP-1 gloves
Will be adding a nice new Arai helmet to this in about a month :P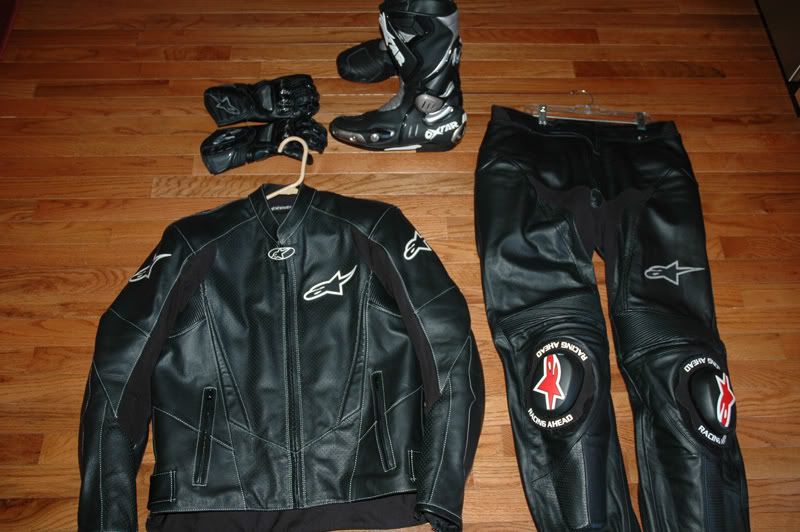 ---
Quote:
chimkychink-- you bastards
chimkychink --we gave you america...you gave us a ****ing squirrel...that killed all the other ones
Member
Join Date: Aug 2006
Location: Tulsa, OK
Posts: 195
Thanks: 0
Thanked 0 Times in 0 Posts
I mainly have two sets of riding gear

For around town:
sunglasses, corona t-shirt with sleeves cut off, cargo shorts and sandals

for the long rides:
sunglasses, black bandanna, black sleeve-less t-shirt w/ harley logo, jeans 2 sizes too small and black cowboy boots.
Super Moderator
Well, I finally got around to reorganizing my closet, so while I was doing that, I though I would take a few photos of the various pieces of gear I have. Funny how it all adds up after a while...
Starting with the helmets...
Arai Quantum f
Shoei RF 1000
Moving to the Jackets
First Gear Kilimanjaro Air with Removable Quilted Waterproof Liner
Hein Gericke Mesh with Removable Waterproof Liner
Triumph with Removable Quilted Liner
Moving to Pants
Hein Gericke Mesh Pants with Removable Waterproof Liner and Armoured Knees
Next up... Gloves
First Gear Gauntlet
Belstaff Kevlar Gauntlet
Held Goretex Rain Gloves
First Gear Cold Weather Gauntlet
Burton Glove Liners
Cold Weather Hoods
Under Armour Cold Gear Hood
Cold Killers Wind Stopper Hood
Riding Boots and Shoes
Oxtar Goretex Boots
Triumph Sport Riding Shoe
Now for the Track Wear or Twisty Road Wear
Teknic Lightning 2 pc Suit
Teknic Lightning Gloves
Teknic Violator 1 pc Suit
Teknic Violator Gloves
Sidi Vertigo Corsa Boots
and lastly...
Tourmaster Rain Covers for the Sidi's
All of this stuff gets used depending on the weather conditions or riding style I plan on employing on a particular ride. My next major project is to finish painting my track plastics and get a trailer puchased so I can organize all of this stuff in one nice neat package and be ready to travel on a moment's notice.
Here's hoping for an early spring in Indiana...
TripleThreat
---
NESBA "A" #719
STT "A" #719
On the Road Less Traveled...
...You Always Meet More Interesting People!
***NOTE: Special Thanks to ShnikeJSB for the kick ass Avitar - Josh, You Rock!***
BOTM Winner
Join Date: Dec 2006
Location: Independence MO (KC)
Posts: 840
Thanks: 0
Thanked 0 Times in 0 Posts
Took me a little bit but I got it all photo'd. It is amazing how this stuff will accumulate over time!!
Starting with jackets.
First is the latest addition I just got, Teknic Rage jacket:
First Gear jacket:
Joe Rocket Phoenix 2.0 Mesh jacket:
Hein Gericke Mesh jacket:
Buell Cold Weather/Touring Adventure jacket:
Now for pants.
Hein Gericke Leathers:
Road Gear Mesh (soft armoured) pants:
I just recently picked up an assortment of Nike & Reebok hot weather compression (under armour style) shirts. I also have a couple of the cold weather style but didn't get them photo'd:
Just got this Triumph deal, pretty cool, its the same compression material like the under armour stuff, but its a hollow tube that can be used in about 10 different ways (baclave, face mask, head band, skull cap etc, etc):
Gloves is where my downfall is. A new pair of gloves is next on the list. Currently looking at the Icon Pursuit gloves.
Answer Racing MX glove that work ok for quick ventilated slip ons. Wouldn't hold up for shit in a crash though:
Icon TiMax (mad-max :D) full guantlet gloves:
Teknic Violator boots:
Shark RSV helmet:
*Edit* Just added a new helmet. Shark RSR2 Foggy Legend in Black:
A nice sized midpack made by Outdoor gear:
Buell Sling bag backpack:
[/img]
Here's mine finally:
AGV Titech Rossi, Arai Quantum 2 Doohan, Arai Corsair Edwards, Suomy Spec 1R Toseland
Dainese Wave bp's. One of them has chest armor, the other fits into a track suit easier.
personalized Dainese Kirishimi jacket, with my name and blood type
Dainese Rossi Bora jacket, and Dainese Rossi gloves
Non ventilated Alpinestars jacket. Probably my favorite to wear.
Dainese Gator jacket, for chilly Washington rides.
MotoGP Mesh jacket.
Alpinestars riding pants for street riding.
Alpinestars GP Plus Gloves and Dainese Hellracers
Dainese Axial Race, Alpinestars GP Tech Doohan, Sidi B2
Dainese Axial Race Rossi
Dainse Bora Rossi suit
personalized Dainese Kirishimi suit with my name and blood type
Spidi Raptor Wind suit
Some mc attire.
---
Posting Rules

You may post new threads

You may post replies

You may not post attachments

You may not edit your posts

---

HTML code is Off

---