Platinum Site Sponsor
Join Date: Oct 2009
Location: Riders Discount
Posts: 13,166
Thanks: 90
Thanked 306 Times in 249 Posts
Attack Performance Suspension Linkage Kit for the Triumph 675
---
The Attack Performance suspension linkage kit for the Triumph 675 and 675R is now available, in stock, and ready to ship from Riders Discount!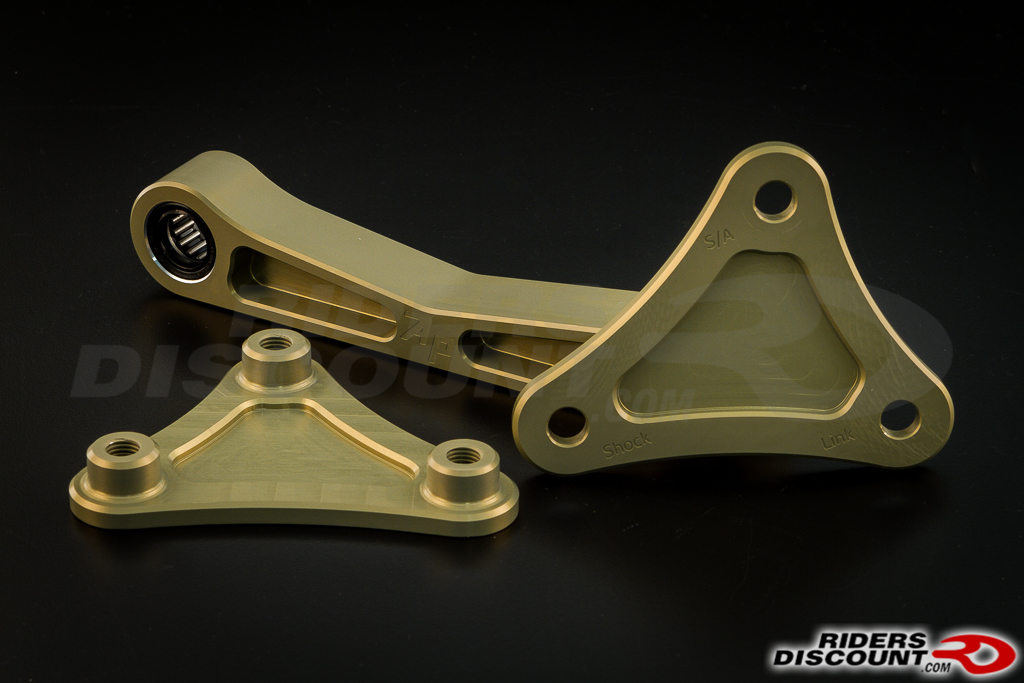 Not yet listed on our website, the Attack Performance suspension linkage can be ordered by calling
TJ
at 866.931.6644 ext.
817
or by sending us a private message through this forum. Is email more convenient? Write to us at FORUM at RIDERSDISCOUNT dot COM, and we'll get back to you right away!
Why should you buy a linkage kit? The problem with stock linkage on factory bikes is that it is designed to have a progressive rate so that the shock can handle both solo and two-up riding. This means that the amount of force to move the shock an inch at the bottom of the shock travel will be much greater than the amount of force required at the top of the shock travel. Needless to say, a progressive linkage is not ideal for aggressive canyon or track riding.
The Attack Performance linkage kit offers a linear suspension rate which will result in predictable feedback as well as more rear tire grip. This additional grip throughout the suspension travel will allow you to get a better drive off the edge of the tire.
What sets the Attack Performance linkage kits apart from the rest, aside from the amount of R&D into each item is the details. On the Attack Performance links you'll find integrated nuts CNC'd into the plate allowing for easier installation.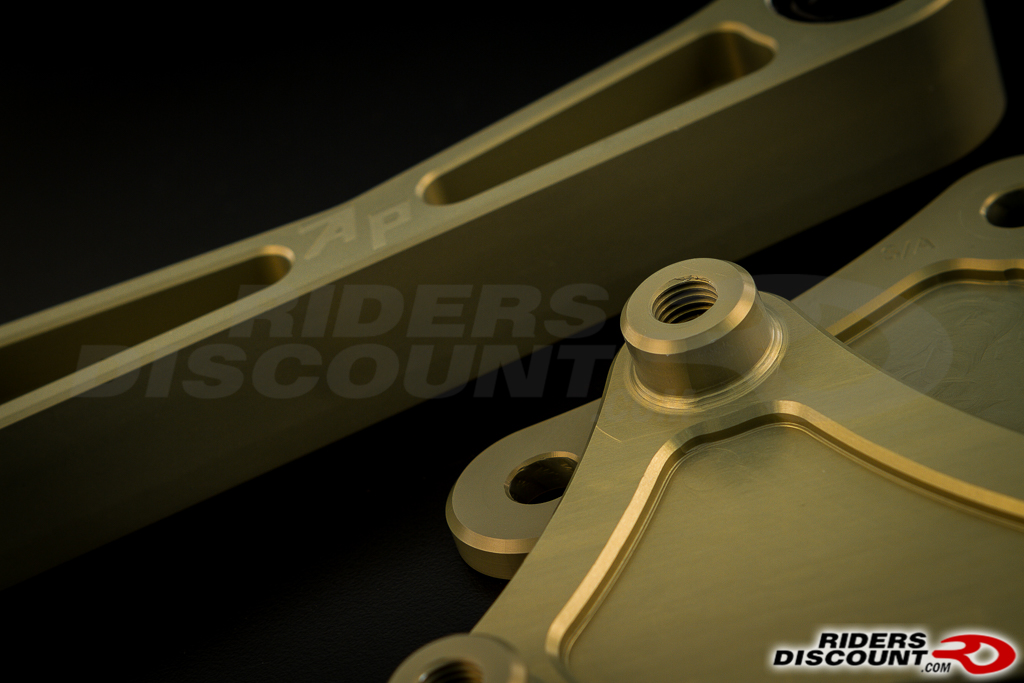 On the dog bone itself you'll notice a dip in the middle of the link for additional clearance without sacrificing any strength at the bearings. You will also notice on the side plate etched labels so you get the orientation of the link plates right the first time (unlike a link available on the market that installed upside down on the vendors bike)
CNC'd from 7075 T6 aerospace grade aluminum with a hard anodized gold finish, these link plates are currently only available in gold. The link plates are solid for additional durability. From the engineering knowledge of a MotoGP shop, these links are proven to help your track pace and highly recommended for the track rider ready to take their riding to the next level.
Give us a call to order your kit today!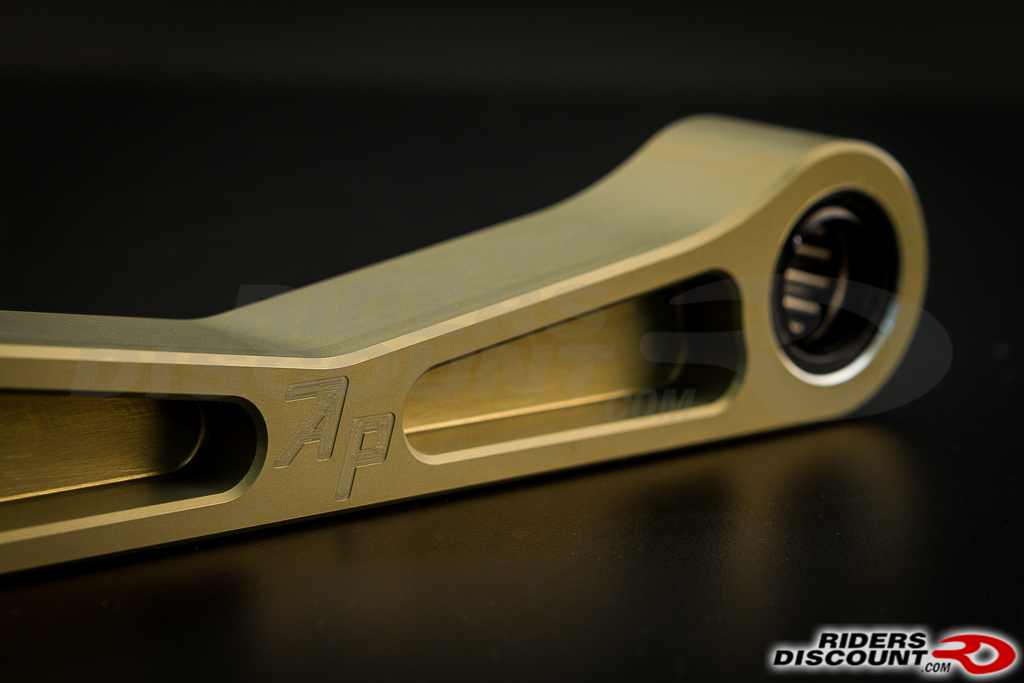 Price for complete linkage shipped to 96720 please.
Platinum Site Sponsor
Threadstarter
Join Date: Oct 2009
Location: Riders Discount
Posts: 13,166
Thanks: 90
Thanked 306 Times in 249 Posts
Senior Member
Join Date: Jun 2012
Location: IE, CA
Posts: 751
Thanks: 22
Thanked 33 Times in 27 Posts
Yesssss! Price for a 2012 to 91730, please.
---
Would also like a PM with pricing. Thank you!
Senior Member
Join Date: Jun 2013
Location: Stockholm
Posts: 1,002
Thanks: 21
Thanked 67 Times in 58 Posts
Does this kit fit on the 13+ aswell ?
Price shipped to Stockholm sweden please if that's the case.
---
Tww : Motorcycles are my guns, motorcycles are my Gods, and **** I love tits.
Senior Member
Join Date: Apr 2014
Posts: 832
Thanks: 103
Thanked 38 Times in 34 Posts
Price for 13+ to 07109 please.
Platinum Site Sponsor
Threadstarter
Join Date: Oct 2009
Location: Riders Discount
Posts: 13,166
Thanks: 90
Thanked 306 Times in 249 Posts
Noob Hazer
Join Date: Sep 2010
Location: KC,MO
Posts: 12,385
Thanks: 87
Thanked 269 Times in 208 Posts
Price for 2nd gen please
---
2010 TornadoRed D675 Trackbike
~
Platinum Site Sponsor
Threadstarter
Join Date: Oct 2009
Location: Riders Discount
Posts: 13,166
Thanks: 90
Thanked 306 Times in 249 Posts
Posting Rules

You may post new threads

You may post replies

You may not post attachments

You may not edit your posts

---

HTML code is Off

---