Senior Member
Join Date: Oct 2009
Location: Riders Discount
Posts: 12,417
Thanks: 62
Thanked 256 Times in 211 Posts
2012 Street Triple
---
One of our good friends brought his Street Triple by for a few new parts and I thought I would share the pics: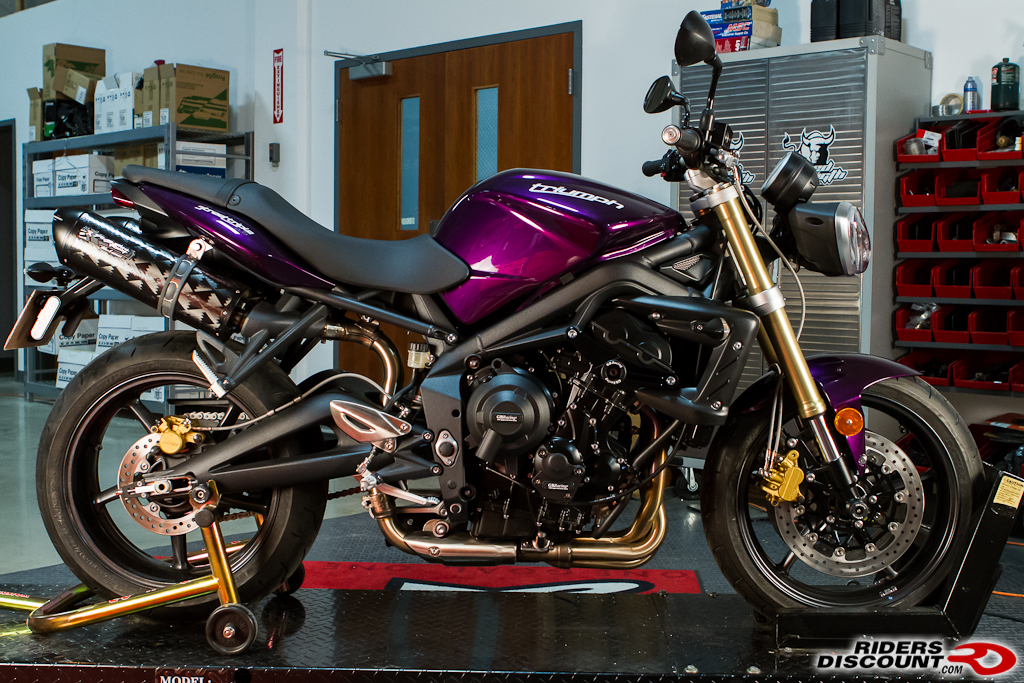 Cox Radiator Guard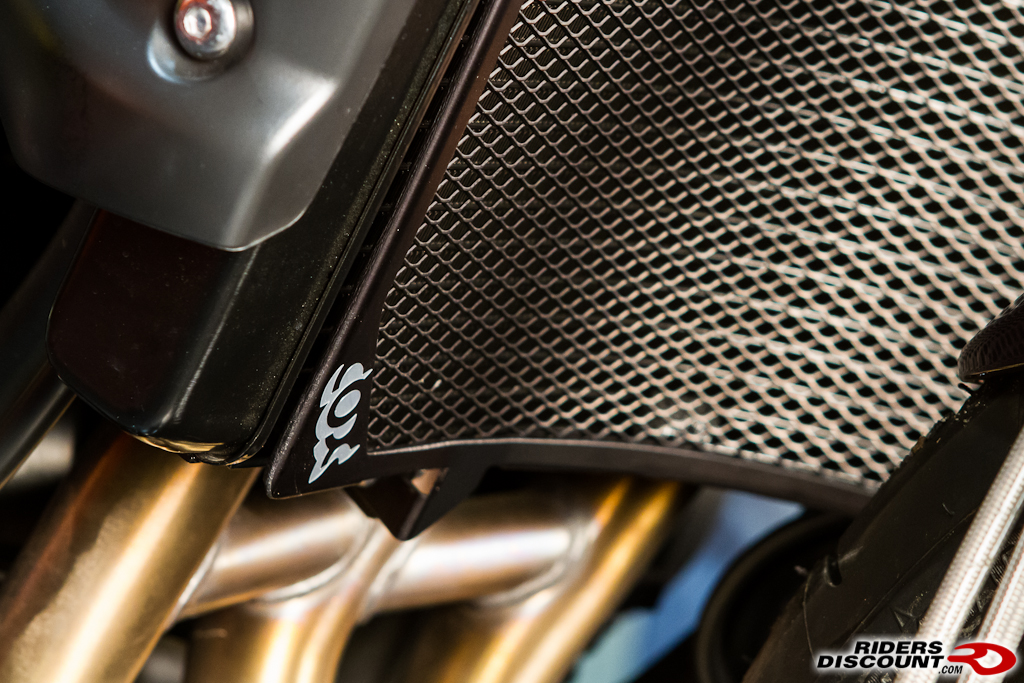 GB racing goodies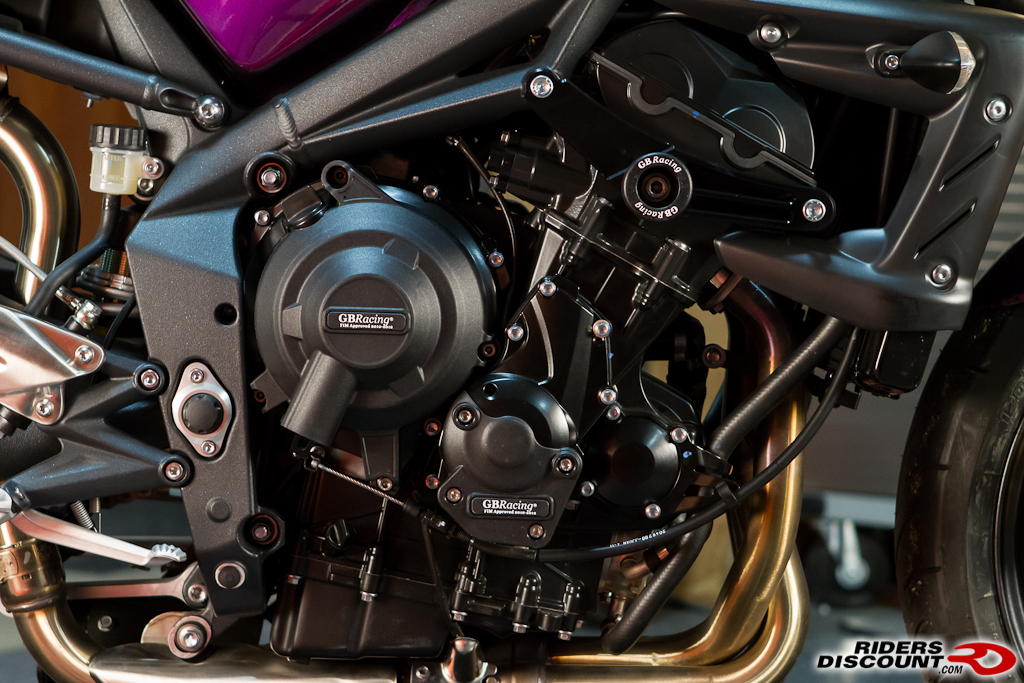 LIghTech adjusters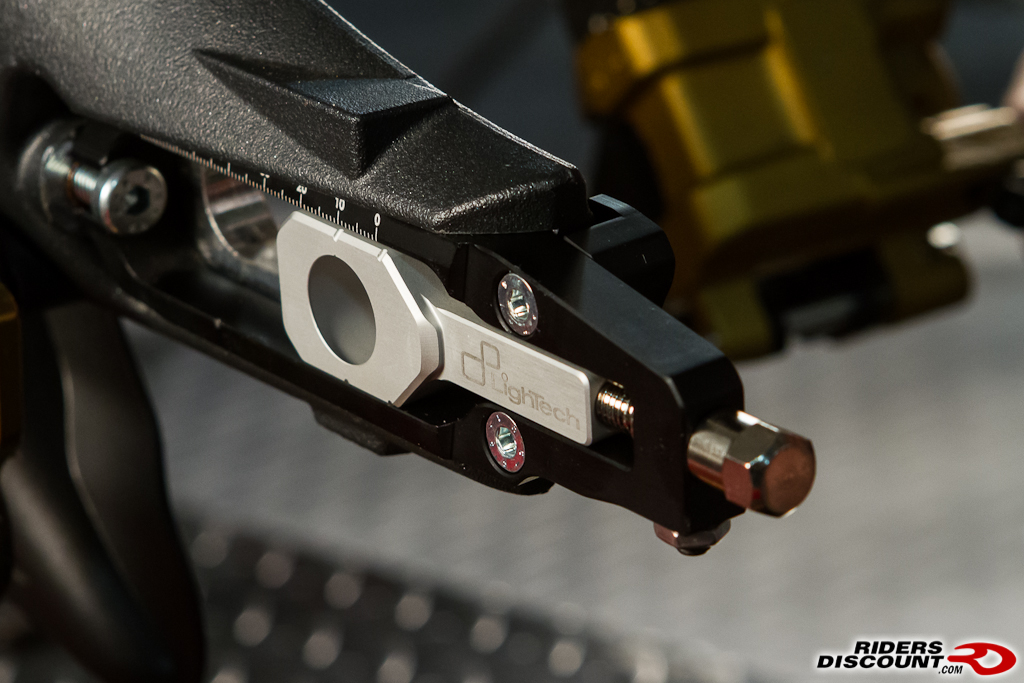 BOTM Winner
Join Date: Oct 2009
Location: Fort Wayne, IN
Posts: 4,134
Thanks: 45
Thanked 72 Times in 62 Posts
Very nice!

I REALLY like the purple they used on the Striples, I'm sad that I've seen so few members with that color.
Senior Member
Threadstarter
Join Date: Oct 2009
Location: Riders Discount
Posts: 12,417
Thanks: 62
Thanked 256 Times in 211 Posts
I wasn't too sure about the color when I first saw it, but after sitting in the shop for a few hours it definitely grew on me.
I think of grape ape or jolly rancher when I see this...
---
Bike: 2012 Triumph Street Triple R -
My youtube channel with my videos
Car: 2012 MazdaSpeed3 JBR TIP SRI | Damond OCC | COBB AP | Stage 1 S-OTS 93
Senior Member
Join Date: Feb 2012
Location: Springfield, MO
Posts: 3,422
Thanks: 2
Thanked 46 Times in 33 Posts
Best color. If I could find one at a non-astronomical price.
---
2009 Triumph Street Triple- White Lightning
2007 Triumph Daytona- Golden Thunder
I was at twisted Throttle this past Saturday and they had a Striple on the showroom floor with the side/saddle bag set up, and a few other goodies. I really do think the Striple is a good start for many custom looks, from café/retro to half Daytona to touring........
All made possible by the many fine aftermarket retailers and the imagination of the owners, all it takes is money.
Junior Member
Join Date: Aug 2012
Location: Sydney, Australia
Posts: 131
Thanks: 2
Thanked 1 Time in 1 Post
Those LIghTech adjusters are curiously arousing
Junior Member
Join Date: Jul 2012
Location: Orchard Park, NY
Posts: 21
Thanks: 0
Thanked 0 Times in 0 Posts
I'm also digging the adjusters...
How 'bout a price TJ
Best Looking Purple Triple [Pripple?] since this beast.
Member
Join Date: Oct 2010
Location: Los Angeles, CA
Posts: 563
Thanks: 2
Thanked 2 Times in 2 Posts
Love that color on a bike.
---

Posting Rules

You may post new threads

You may post replies

You may not post attachments

You may not edit your posts

---

HTML code is Off

---