Junior Member
Join Date: Jun 2010
Location: Columbus, OH
Posts: 29
Thanks: 0
Thanked 0 Times in 0 Posts
With great sadness, I'm no longer a Triumph owner...
---
...but the pain is eased by the new Diavel taking it's place in the garage. Muahahaha.....

In all seriousness, the Daytona was an incredible machine, it just didn't make sense in my current situation. Most of my riding is now commuting due to my work schedule, and my commute (and central Ohio in general) has roughly 4 turns to enjoy that aren't onramps so it just became a lower back / ab / leg workout instead of an enjoyable ride.

Plus, the Diavel is just a stuuuuupid fun bike. I was on the fence about the styling but after test riding it I didn't care what it looked like.

And naturally the week after I swapped I also got the RR recall notice. Go figure...
BOTM Pimp Daddy!
Ducatis are a different Breed. I have a 2006 Sport Classic. Congrats on the Ducati. That Diavel is freakin huge though and I would never ride that thing!
The Diavel is one badass bike - congrats on the new ride!
Senior Member
Join Date: Aug 2010
Location: Norman, OK
Posts: 2,358
Thanks: 77
Thanked 67 Times in 49 Posts
Congrats. I'm more a fan of the Multistrada
---
2009 Matte Graphite Street Triple R. Arrow Slip on's, TecSpecs, GB Racing Protection bundle, CRG Lane Split Mirrors, on Michelin Pilot Road III

7643 posts behind MacBandit and getting further behind each day
Senior Member
Join Date: May 2011
Location: Beckley, WV
Posts: 3,345
Thanks: 0
Thanked 6 Times in 6 Posts
At least you made a good switch! Get some pics up of the new bike!
---
"Faster we become, until the thrill of speed overcomes the fear of death"
I was part of the Cycle World Magazine/Ducati Promotion for the Diavel last summer. We rode it for about an hour or so. I was not a big fan of this bike prior to riding it, but afterwards I had a whole different opinion. I don't know if I would buy one, but it was a nice bike. Congratulations.
Junior Member
Threadstarter
Join Date: Jun 2010
Location: Columbus, OH
Posts: 29
Thanks: 0
Thanked 0 Times in 0 Posts
Thanks guys. The slow-speed handling takes some getting used to but once up to speed it just feels like a slightly stretched Monster. I'm still tweaking the suspension though so the handling is a work in progress. When I first got it they had all preload and damping taken out and it always felt like it was dragging it's ass like a dog on carpet, but I have it about 90% dialed in now. It occasionally still feels a little busy over rough pavement and like that huge rear tire wants to work it's way in front of the front in hairpins, but a handful of throttle fixes that.
In reality though, the star of the show is the motor. Minor handling quirks are easy to forget the first time you hammer it coming out of a 30 mph sweeper. It also makes you thankful for all that rubber back there...
Some crappy phone pics as I haven't had it clean enough for real pictures yet because I'm always riding instead of washing: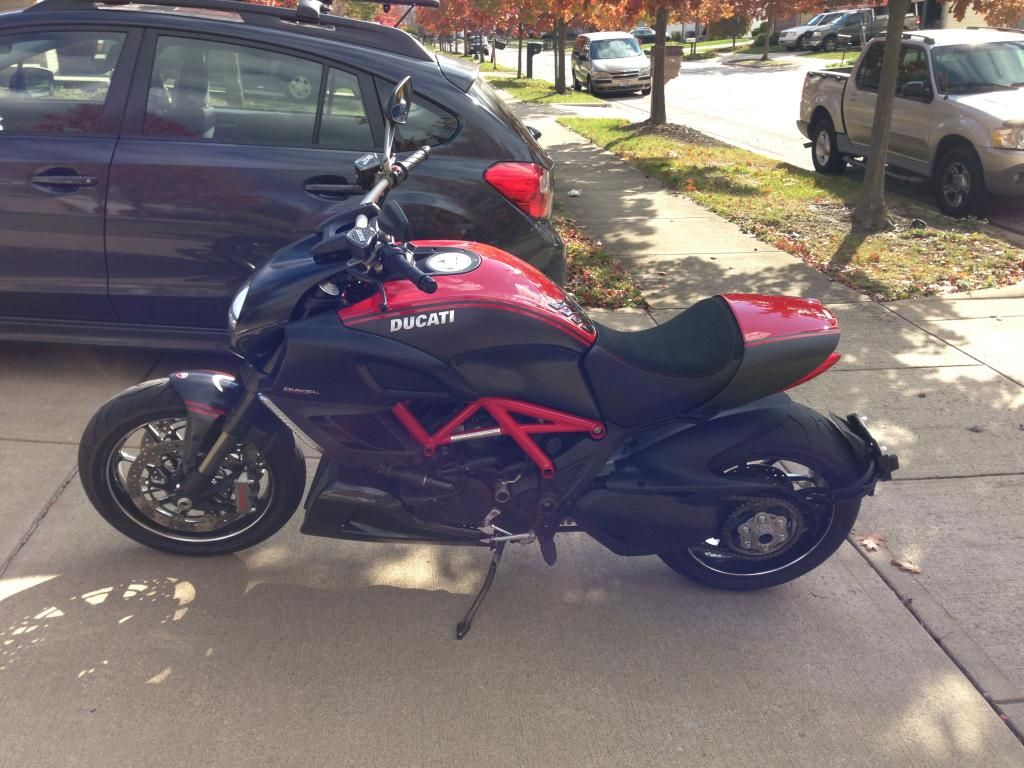 Senior Member
Join Date: Aug 2012
Location: 90 miles from Brainerd International Raceway, Minnesota
Posts: 1,367
Thanks: 148
Thanked 39 Times in 32 Posts
Satanist!
J/K. Enjoy the new ride.
---
'16 BMW S1000RR Premium
'15 MV Agusta Brutale 1090RR Corsa (Sexy mistress)
'06 Harley Davidson V-ROD Street Rod (Best handling HD...evar!)
'14 Yamaha YZ250 (NEW Dirty beast)
'03 Yamaha YZF-R1
Senior Member
Join Date: Jan 2012
Location: Orlando FL
Posts: 1,330
Thanks: 16
Thanked 10 Times in 8 Posts
Brilliant beast indeed
She's a real head-turner for sure...Congrats on the new bike
Posting Rules

You may post new threads

You may post replies

You may not post attachments

You may not edit your posts

---

HTML code is Off

---