Junior Member
Join Date: Oct 2012
Location: Whistler
Posts: 16
Thanks: 0
Thanked 0 Times in 0 Posts
What do you guys think of this bad boy?
---
Just got a salvaged 2009 675 and was thinking of the Striple conversion that seems to have been quite popular and then I came across this type of concept. I personally think it is quite cool and unique.
http://spiritoftheseventies.tumblr.c...and-threw-us-a
This is my first Triumph and I have been riding a 78 Honda CB that I turned into a cafe racer which has been a ton a fun. I got spoiled when I had the chance to ride a Ducati sport bike this summer and realized that motorcycles can be way more fun then I ever imagined. I had to find something work on this winter and the right deal came along and now I am down to bare bones and rewiring madness. I may still go the street triple route but this Spirit of the Seventies machine really has my attention. Let me know what you think.
Looks like a great idea but a lot of fiberglass fab work. Gl and keep us updated.
---
2009 Daytona 675
Akra headers/comp werks exhaust, 1050 throttle tube, ohlins ttx rear shock, bazzaz zfi fuel controller/QS, MWR air filter, attack rear sets, galfer rotors front and rear, brembo MC,
2013 Aprilia RSV-4
stock for now
Senior Member
Join Date: Jul 2008
Location: Camas or the Bay Area
Posts: 1,768
Thanks: 0
Thanked 1 Time in 1 Post
do it and take those pics
Senior Member
Join Date: Feb 2012
Location: Springfield, MO
Posts: 3,422
Thanks: 2
Thanked 46 Times in 33 Posts
I think that would be awesome to have in the stable.
---
2009 Triumph Street Triple- White Lightning
2007 Triumph Daytona- Golden Thunder
Super Moderator
Join Date: Sep 2008
Location: Seattle
Posts: 11,200
Thanks: 3
Thanked 292 Times in 260 Posts
I really like that look but if you want it to be your regular rider then do something that has readily replaceable parts. Custom bikes are heart breakers when used for regular riding.
Junior Member
Threadstarter
Join Date: Oct 2012
Location: Whistler
Posts: 16
Thanks: 0
Thanked 0 Times in 0 Posts
There is something about that front fairing that is super cool to me. I have been searching for what bike this would be off of and no luck. Airtech doesn't have one similar. Anyone recognize it? It might be a custom concept but I thought someone may recognize it on here.
Junior Member
Join Date: Oct 2012
Location: Paducah ky
Posts: 69
Thanks: 0
Thanked 0 Times in 0 Posts
That would e an awesome project! Lots of work but it would be worth it.
Member
Join Date: Oct 2012
Location: Tampa
Posts: 260
Thanks: 0
Thanked 2 Times in 2 Posts
That would be the perfect combination of classic cafe racer design with modern technology.
---
12 675R
BOTM Winner
Join Date: Jan 2009
Location: Jersey, Channel Islands
Posts: 2,505
Thanks: 0
Thanked 38 Times in 34 Posts
Whatever you do, make sure you post a build thread. Love seeing this kind of stuff.
Good luck.
---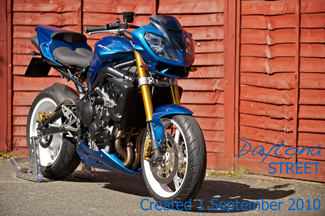 Junior Member
Join Date: Apr 2012
Location: Banner Elk
Posts: 16
Thanks: 0
Thanked 0 Times in 0 Posts
I have seen that front fairing on a few older Ducatis at some track days. Not sure if they custom built them or if they were able to buy them?
Posting Rules

You may post new threads

You may post replies

You may not post attachments

You may not edit your posts

---

HTML code is Off

---