Junior Member
Quote:
I never understood why some riders will look at any possible alternative to boots.
For me, it's all about my ability to find a boot that fits. I have large calves and I can't find a taller boot that I can actually zip up fully. I've tried several and no go. Not going to do me much good zipped up/fastened half way.
I wear Alpinestars SMX2's and am very happy with them, both for the level of protection they offer for a mid-cut boot and for their overall comfort and fit.
Noob Hazer
Join Date: Sep 2010
Location: KC,MO
Posts: 12,388
Thanks: 86
Thanked 269 Times in 208 Posts
There are a few dudes on here that have big calfs and found plenty of boots that fit them. Especially the racing boots get pretty wide. My Puma Desmos GTX allow a big calf and so do my v3s
---
2010 TornadoRed D675 Trackbike
~
Member
Threadstarter
Join Date: Apr 2009
Location: Lancaster ohio
Posts: 294
Thanks: 5
Thanked 7 Times in 7 Posts
Well, thought I would give the Cortech Latigo Air RR Boots a shot. Ordered them tonight, and should be here by the weekend, I hope. Although the Alpines held up well enough in my low speed off, I did get the peg in the shin. I can't imagine how bad that would have been if I had been going much faster. Ever since TwoWheeledWonder pointed them out to me at the beginning of this thread, I have been keeping an eye on 'em. Have seen many good reviews on them, so it should be a definite upgrade.
As for the Alpinestars...we have a 300' sandstone mountain in the middle of town that I grew up climbing on as a kid. I'll bet the soles would be pretty good for climbing that.


Senior Member
Join Date: Oct 2012
Location: Warrensburg
Posts: 2,983
Thanks: 149
Thanked 146 Times in 125 Posts
---
If you want it.....make it happen!!!
Junior Member
Join Date: Apr 2013
Location: Blackwood, NJ
Posts: 88
Thanks: 0
Thanked 2 Times in 2 Posts
Edit just realized you were talkin about a diff boot
---
2007 Scorched D675
2001 ZX6R- Stolen and Totaled
---
Last edited by Lets Get Weird; 04-22-14 at

22:05

. Reason: I'm silly
Member
Threadstarter
Join Date: Apr 2009
Location: Lancaster ohio
Posts: 294
Thanks: 5
Thanked 7 Times in 7 Posts
Just came in today. Boots look and feel awesome. But there was a small defect and they are going to be sent back.The left toe slider was installed improperly, and the bottom edge of it was UNDER the boot. Didn't seem to be a problem at first, as I figured I could adjust them as they are replaceable. No dice. The second screw was stripped out and would not loosen up.Almost as if the screw was forced in crooked and the "nut" is spinning inside the boot. I called and sent pics to revzilla, and they are already sending a new pair. Will be sending these back in the morning. too bad though, cause I was really looking forward to riding in them tomorrow.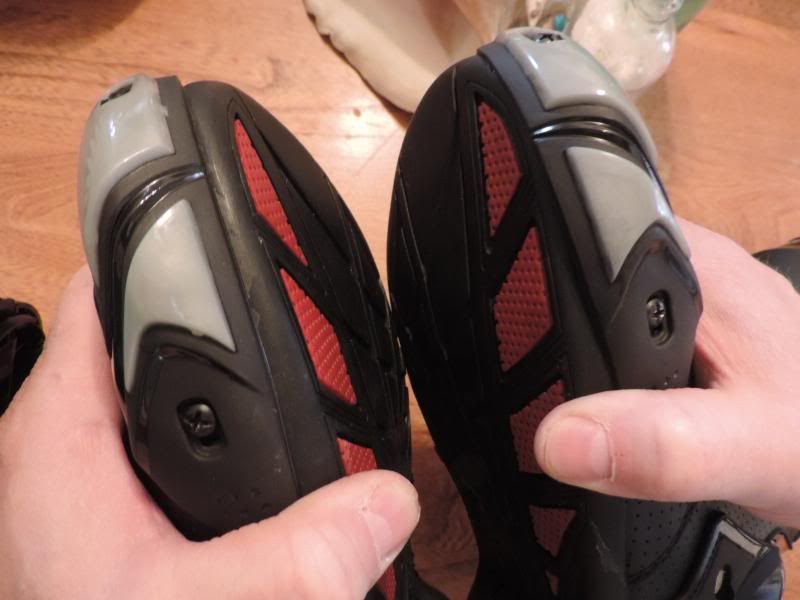 Posting Rules

You may post new threads

You may post replies

You may not post attachments

You may not edit your posts

---

HTML code is Off

---