Senior Member
Join Date: May 2010
Location: S"o Paulo (Brasil)
Posts: 955
Thanks: 0
Thanked 4 Times in 4 Posts
eBay CHINESE levers
---
Iíve searching levers on eBay and thereís some chinese ones wich looks pretty good (a perfect copy of Pazzoís) and Iím wondering if anyone ever ordered a set.
The set itís something like $50.
They offers keyless gas caps also. Pretty cheap too.
Any reviews?
User: firedragonbros2009
Link:
http://rover.ebay.com/rover/1/711-53200-19255-0/1?type=3&campid=5336105917&toolid=10001&mpre=http% 3A%2F%2Fstores.ebay.com%2Ffiredragonbros2009
PS.: Iím a brazilian engineer and China is the biggest PITA to our companys. A lot of german companys wich were located here and makes parts for Europeans and NA cars are moving to China also (like INA, LUK, Bosch, etc.). So, in the end of the day, weíre all inclined to Chinese products.
Googling about those levers, seems like a lot of riders from CBR and Kawasaki forums are using them. Besides little manufacturing/quality issues, based on reviews, they are kinda good and worth the price.
---
Last edited by Ricardo_; 09-23-10 at

09:54

.
Senior Member
Three friends of mine bought those cheapo race levers from ebay for their bikes (08 Honda CBR1000rr, 05 Suzuki GSX-R600 & a 05 or 06 Suzuki GSX-R1000) and all of them fit horribly. There is too much play in the lever base. I would reccommend you spend the extra doe for a set of FP Tactical levers (GB on here and if the GB is closed you can still get a decent deal here rather than paying retail). A number of us on here have ordered them and are very happy with them. The only thing that I could see from those ebay levers are that they seem to be made from the same meterials and look exactly like the CRG and Pazzo levers. This may be one of those "you get what you pay for" scenarios.

Just my 3 cents.
---
[SIGPIC]
Until we meet where rubber reaches street,
R.I.D.E.
safe & often.
Instagram & youtube: Lion6015
www.sportbikesincmag.com
Senior Member
Join Date: May 2006
Location: Central IL
Posts: 5,224
Thanks: 0
Thanked 1 Time in 1 Post
Man, those look identical to Pazzo levers. Hmmmm.
---
'09 Tiger 1050
'06 Daytona 675 (sold)
'96 Ducati 900SS
'02 SV650S (hers)
I think these are the ones that my brother bought...he figured why not? They're so cheap, if they suck bad he isn't out that much money.
---
Senior Member
Join Date: Jun 2010
Location: Oceanside CA
Posts: 999
Thanks: 0
Thanked 0 Times in 0 Posts
my buddy got thos for his RC-51... they didnt fit right like lion said... nothing a litlle modding couldn't fix.. but the craftsmanship is poor... you get what you pay for. i got my crg's for 75 ea... worth everypenny more than those levers made by china's absolute disregard of patent laws.........
Banned
Join Date: May 2009
Location: Seattle
Posts: 1
Thanks: 0
Thanked 0 Times in 0 Posts
Seems like if you are mechanically inclined you can get away with it and save some dough, if not, avoid them.
http://cgi.ebay.com/ebaymotors/SHORT...Q5fAccessories
I bought this chinese brake lever off ebay from Shine Trust Company for my 675 and have real no complaints. The quality of the machining and materials is very good for the price. Fitment was excellent...it needed no modifications to make work on the bike. Now with that being said i can see were if you compaired it to a CRG or something high end it certainly is not of the same quality. But neither is the price.
The only nit picks are that the adjustment mechanism doesnt seem to ratchet very smoothly and I didnt like the fact that the pivot pin was not held in by a c-clip but a wire clip. However, neither effect how the lever functions. Beside's a little WD-40 and a 1 cent c-clip could fix those issues.
It also looks like this company is now making a fold away type brake and clutch lever set... cheap! I would have probably bought these if they were available when I bought the ones I have....still might?
http://cgi.ebay.com/ebaymotors/RACE-...Q5fAccessories
I would'nt hesitate buying them again. As for the above mentioned ones in this thread... I cant say having never seen them. It looks like there are many chinese company's making levers now.
Good Luck!!
---
Last edited by Bleakster; 09-23-10 at

14:14

.
Junior Member
Join Date: Dec 2008
Location: Halifax, NS
Posts: 28
Thanks: 0
Thanked 0 Times in 0 Posts
I bought a set of eBay levers from a seller called "helmet_hk" for $50. It sounds like some of these levers are hit or miss, so I was expecting to have to alter them a bit, but these ones fit perfectly!
BOTM Winner
Join Date: Apr 2008
Location: South East Taxachusetts
Posts: 4,895
Thanks: 0
Thanked 0 Times in 0 Posts
wow nice for a track bike to have a few on hand
Looks like Ebay is getting swamped all over the word for cheap levers. We (UK ST forum) get ours from The2Wheels. £30 including delivery ($45-$50).
No complaints so far. I bought gold shorties/black adjusters and black shorties/black adjusters for my Street Triple R. The one adjuster had a ablemish in the metal and I emailed and a new adjuster is on it's way to me. Excellent after sales service. The guys were even offering some group buys ($40 including delivery).
They sent me catalogues all their items they sell. Send me a PM and I'll send you a link to it. But for track use they have the folding levers.
Anyway enough of bigging them up, here are some pics and some feedback from the ST guys.
http://www.street-triple.co.uk/index...topic=7699.150
I found them on Ebay in the USA.

http://stores.ebay.com/the2Wheels_Levers
I just had a look on the USA shop, bugger you guys are offered this cheaper than we can it as a group buy.
Ebay UK

http://shop.ebay.co.uk/the2wheels/m.html
When they arrived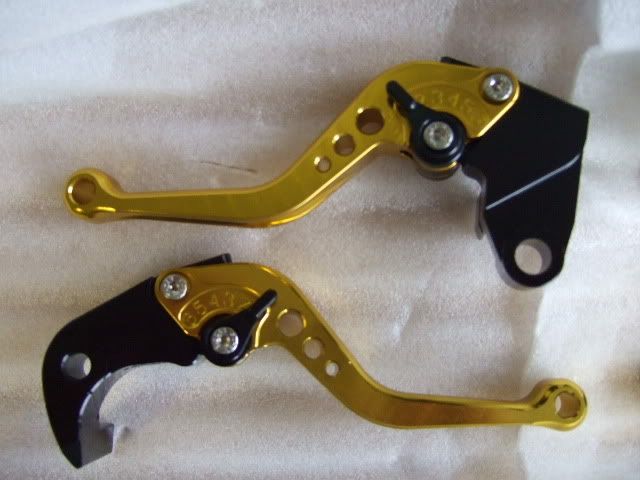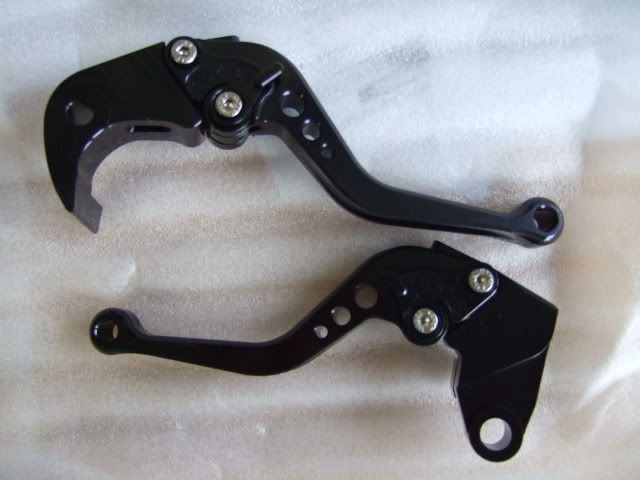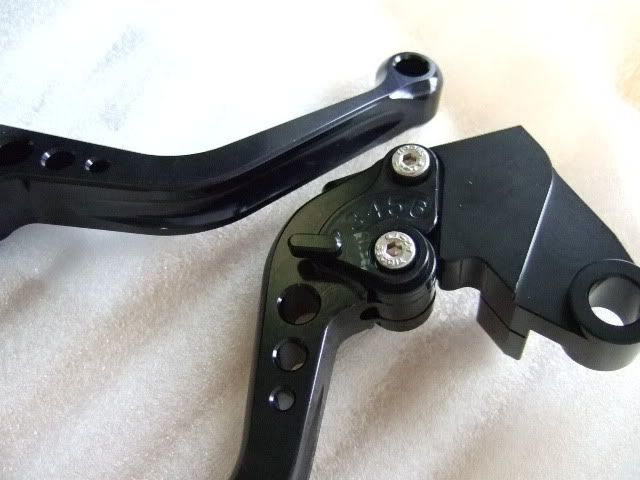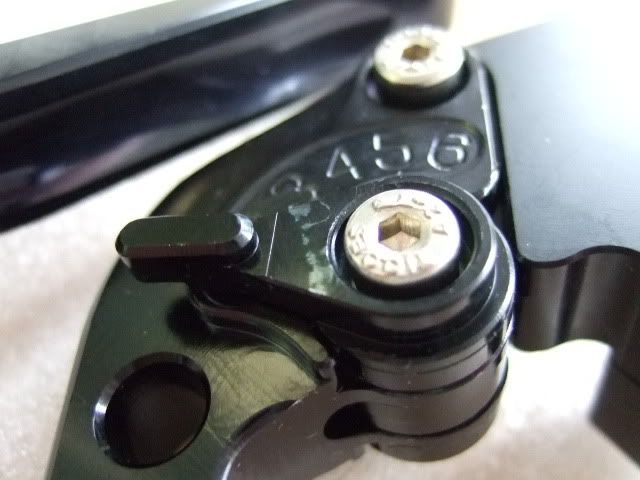 Levers fitted. A quick 5 min job but I still need to take it for a ride.
Re-use your brake lever spacer from the OEM lever.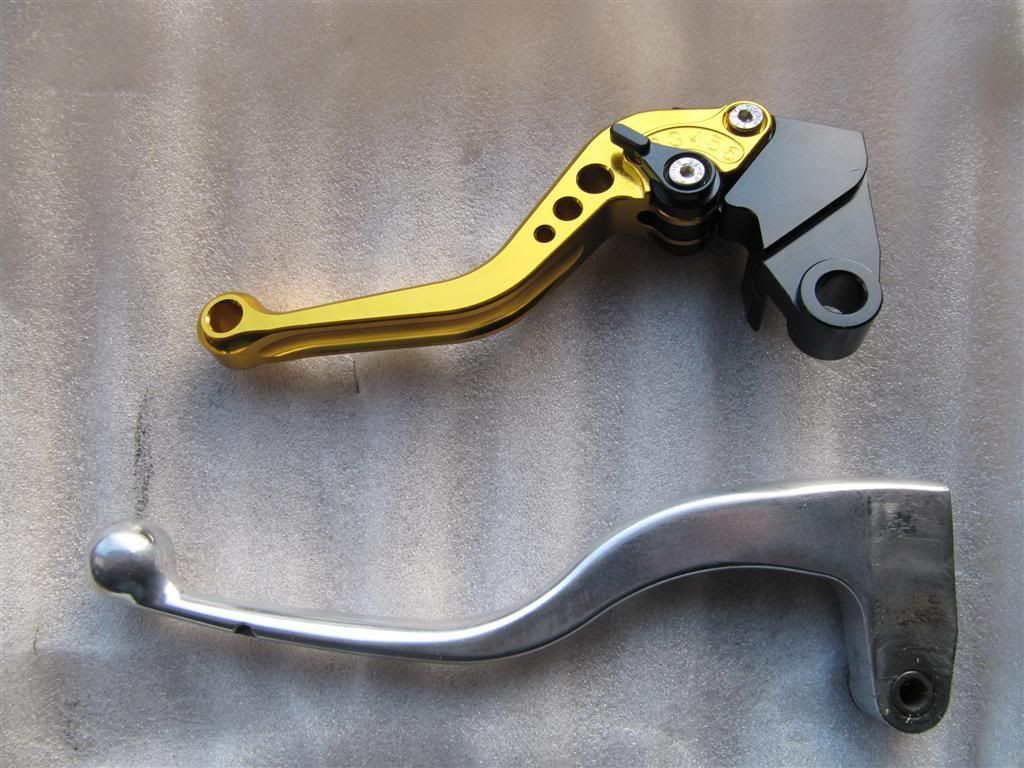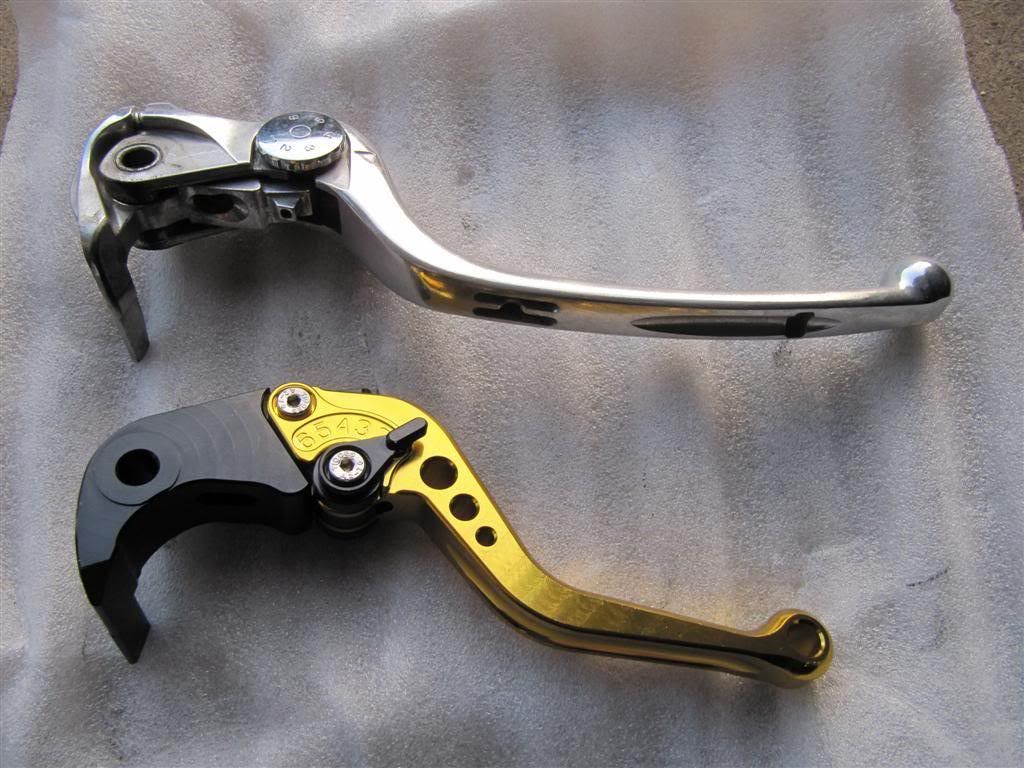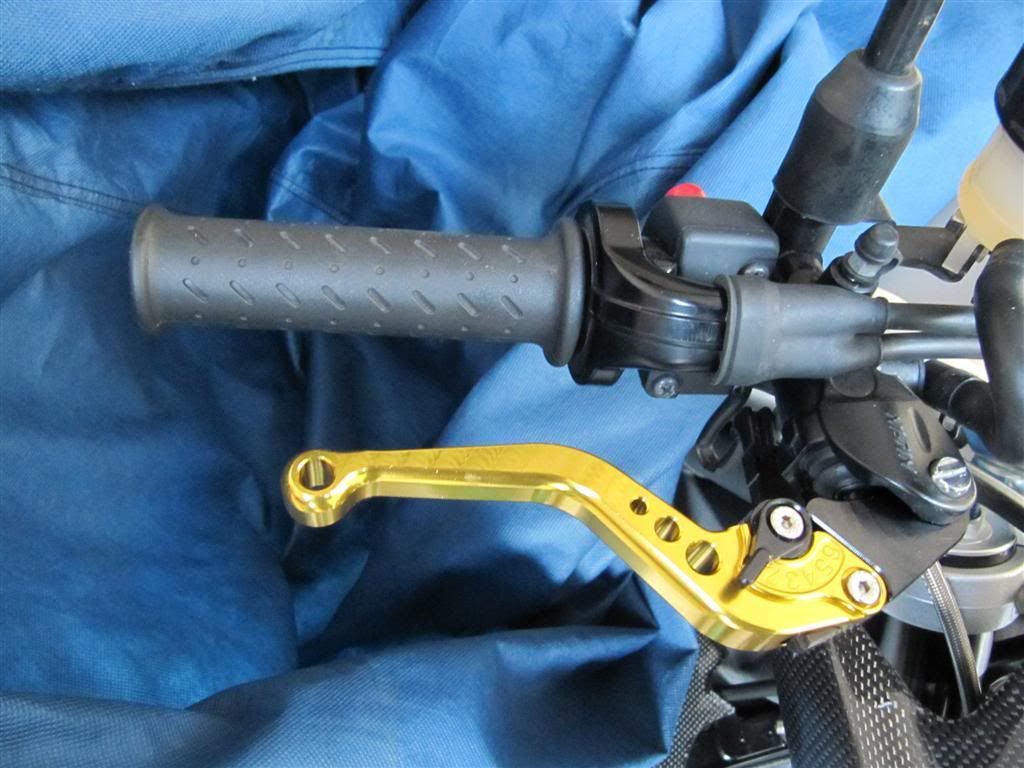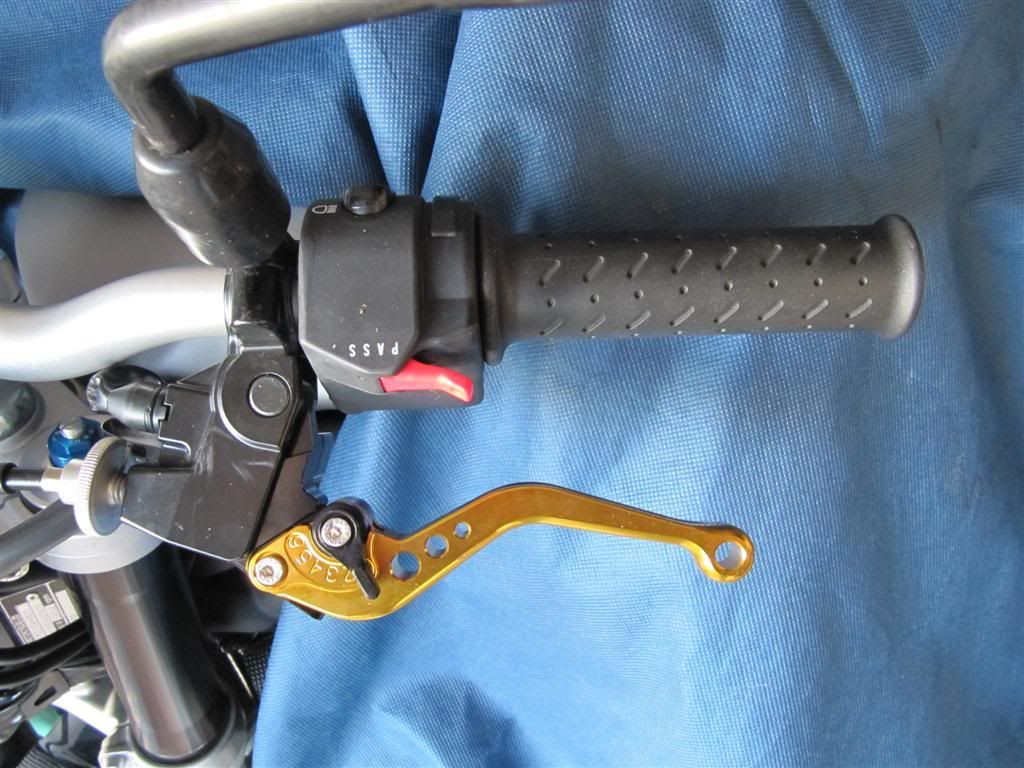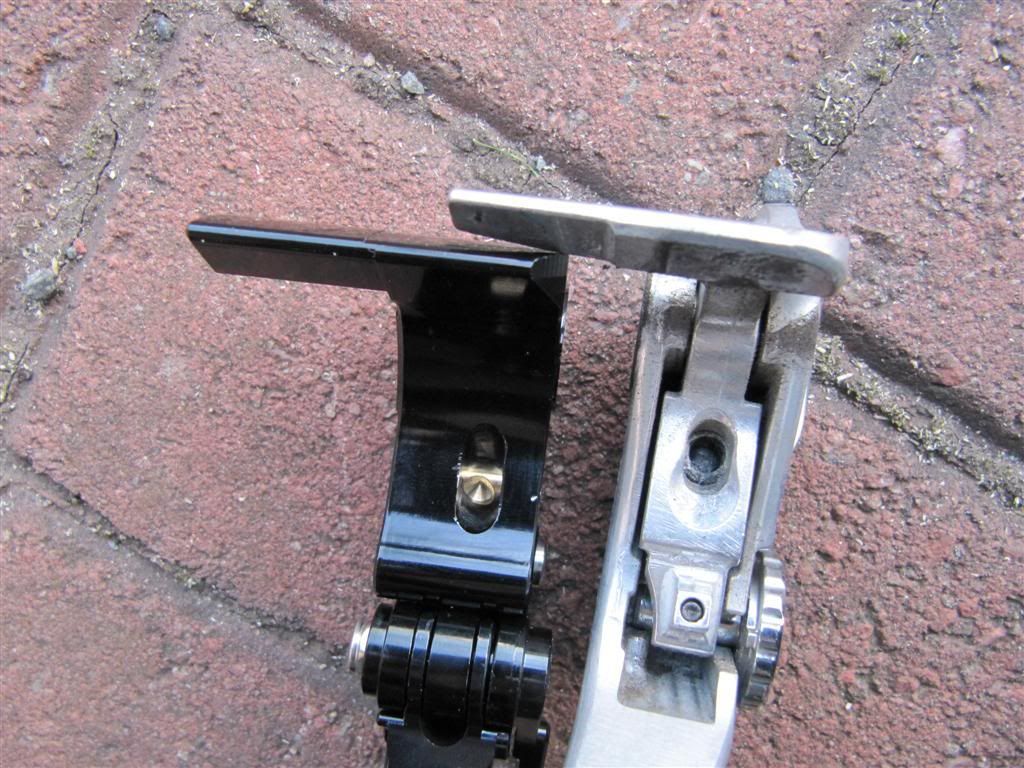 ---
I just love the look of Carbon in the morning sunlight.
---
Last edited by bel; 11-28-10 at

04:57

.
Posting Rules

You may post new threads

You may post replies

You may not post attachments

You may not edit your posts

---

HTML code is Off

---