BOTM Winner
Join Date: Jan 2009
Location: Jersey, Channel Islands
Posts: 2,505
Thanks: 0
Thanked 38 Times in 34 Posts
Daytona to StreetFighter Conversion - Project Trixie Transformation
---
Having been inspired by the likes of 1 riktig svensk I am about to undergo my very own Daytona to Street Triple conversion. I plan to keep you informed about my progress, with plenty of pictures.

So first off, why am I doing this? Why am I going to rip apart a beautiful looking bike? Why donít I just buy a Street Triple? Well, I love the Daytona, the engine the handling, etc. I just canít get on with a sports bike on the road. I find them too uncomfortable. I have a GSX-R1000 that I race anyway, so I donít need another sports bike.

Why not buy a Street Triple I hear you cry? Well, no offence to those who own one, but I donít like the looks. The twin cans and twin headlights donít do it for me. I love the Daytonaís rear end though.

As we often read in the bike mags, when a manufacturer turns a sports bike into a road bike (like R1 to Fazer), they detune the engines, fit cheaper suspension, brakes, etc and basically take away all the good bits.

So that is pretty much it. Plus I wanted a project bike. So thatís what I have, a 2006 Daytona. Not even a crashed one. I did consider that, but where I live itís hard to get hold of crash damaged bikes as they are all shipped off to the UK.

Here is a pic of the starting point. Why Trixie Transformation? I name all my bikes, but my wife beat me to it and named her Trixie.
---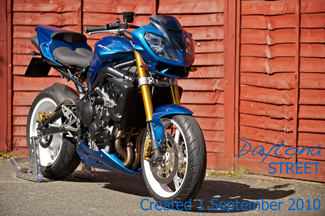 Senior Member
what better way to spend winter then to watch someone build a bike
---
If ur not ridin' ur not livin'
Banned
Join Date: May 2009
Location: Seattle
Posts: 1
Thanks: 0
Thanked 0 Times in 0 Posts
If you don't like the ugly lights, which are you going with?
---
Last edited by CDaddy; 12-18-09 at

02:01

.
Senior Member
Join Date: Apr 2009
Location: Aliso Viejo, California, USA
Posts: 975
Thanks: 0
Thanked 0 Times in 0 Posts
That is a cool headlight. I like the doubles ala the Speed Triple but I certainly agree with Ruby Racing that the Daytona's got a nicer rear end than the Streety.
Good luck!
---
~Chris
moto photos on flickr
2011 Harley-Davidson FXDF
Faster, faster, faster, until the thrill of speed overcomes the fear of death.
~Hunter S. Thompson
BOTM Marshall
Join Date: Jun 2008
Location: near Savannah, GA
Posts: 3,551
Thanks: 44
Thanked 9 Times in 7 Posts
Good luck and have fun! Sounds like a great winter project.
Kind of 50/50 about the dual headlights. But it would be great to see a triple with a different headlight arrangement.
Senior Member
Join Date: May 2007
Location: Colorado
Posts: 3,062
Thanks: 9
Thanked 14 Times in 8 Posts
I'm definitely in to see the outcome and progress of this project, but I could never bring myself to do that to a D675.

Good luck to you
Member
Join Date: Nov 2009
Location: USA
Posts: 456
Thanks: 6
Thanked 2 Times in 2 Posts
I wonder if there's a little fairing/windshield that can attach to this one like on the Street Triple headlight assembly?
Senior Member
Join Date: Dec 2006
Posts: 6,242
Thanks: 0
Thanked 7 Times in 3 Posts
I'm in...
---
TACTAA
The bad thing about riding a motorcycle is you cant hear the phone ring.
The good thing about riding a motorcycle is you cant hear the phone ring.
- Scott P.
Senior Member
Join Date: Nov 2009
Location: NYC
Posts: 830
Thanks: 0
Thanked 0 Times in 0 Posts
that Spiegler light reminds me of the Ducati Street Fighter... which kind of fits with your title
Posting Rules

You may post new threads

You may post replies

You may not post attachments

You may not edit your posts

---

HTML code is Off

---