Post pics of your Graphite 675!
---
Let's see 'em!
---
Junior Member
Join Date: Aug 2007
Location: Palermo, Sicily, Italy
Posts: 43
Thanks: 0
Thanked 0 Times in 0 Posts
OT:
hey white, how did you turn both your headlamps on?

On my bike it's possible to turn on just one at the same time.
Retired Administrator
Join Date: Nov 2005
Location: Chattanooga, TN
Posts: 3,757
Thanks: 0
Thanked 3 Times in 2 Posts
---
Quote:
chimkychink-- you bastards
chimkychink --we gave you america...you gave us a ****ing squirrel...that killed all the other ones
heres mine!
My Graphite
---
Heres mine!
---
FORMER RIDE:CBR F4i- Gone But Not Forgotten
#223 Graphite Grey Daytona 675

Senior Member
Join Date: Dec 2005
Location: Geelong (since Apr 10), Australia
Posts: 1,620
Thanks: 1
Thanked 0 Times in 0 Posts
Mmm, this reminds me to get off my butt so I can kick my girlfriends butt for not wanting to take pics/videos of my bike, preferably me riding it. She says it's too wanky and refuses to do it most of the time. The time(s) she says she will do it is when we are cuddled up in bed, saying our last bits of small talk as we fall asleep.
Last pics I think I took was like in May *sigh* :roll: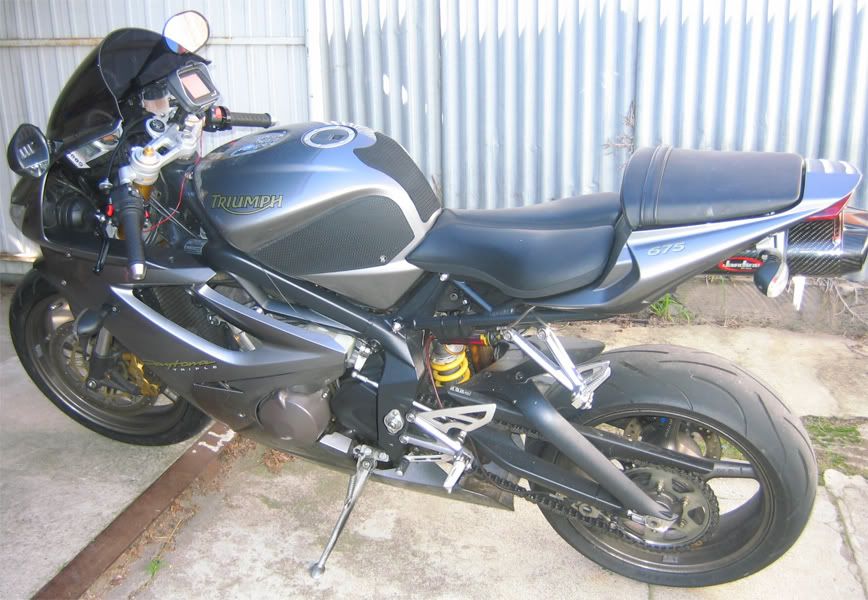 Oh well, life happens! I'll see what tomorrow, err today brings. Ok, I'm going to bed NOW.. YAAAAAAAAAAAAY :shock:
---
Remember this,
http://www.youtube.com/watch?v=Z1RQmnSJoRg
Junior Member
Join Date: Jan 2006
Location: omaha ne usa
Posts: 97
Thanks: 0
Thanked 0 Times in 0 Posts
---
cycleboy, there is no substitute
Posting Rules

You may post new threads

You may post replies

You may not post attachments

You may not edit your posts

---

HTML code is Off

---