FS: Ohlins TR039 TTX36 MKII Shock with full adjustments and remote preload
---
Ohlins TR039 TTX36 MKII Shock with full adjustments and remote preload
This is not the stock cheaper ohlins that comes on the R models.
$
800
- only 2k miles including couple of trackdays. Setup for 180lb rider. These retail new at $1350.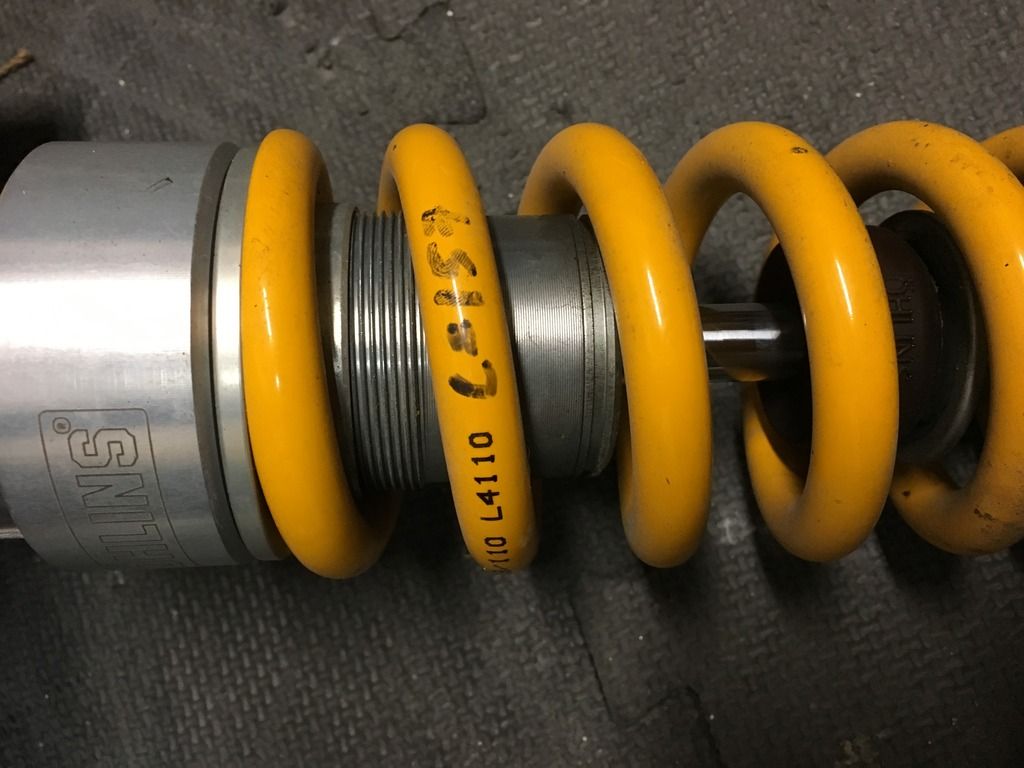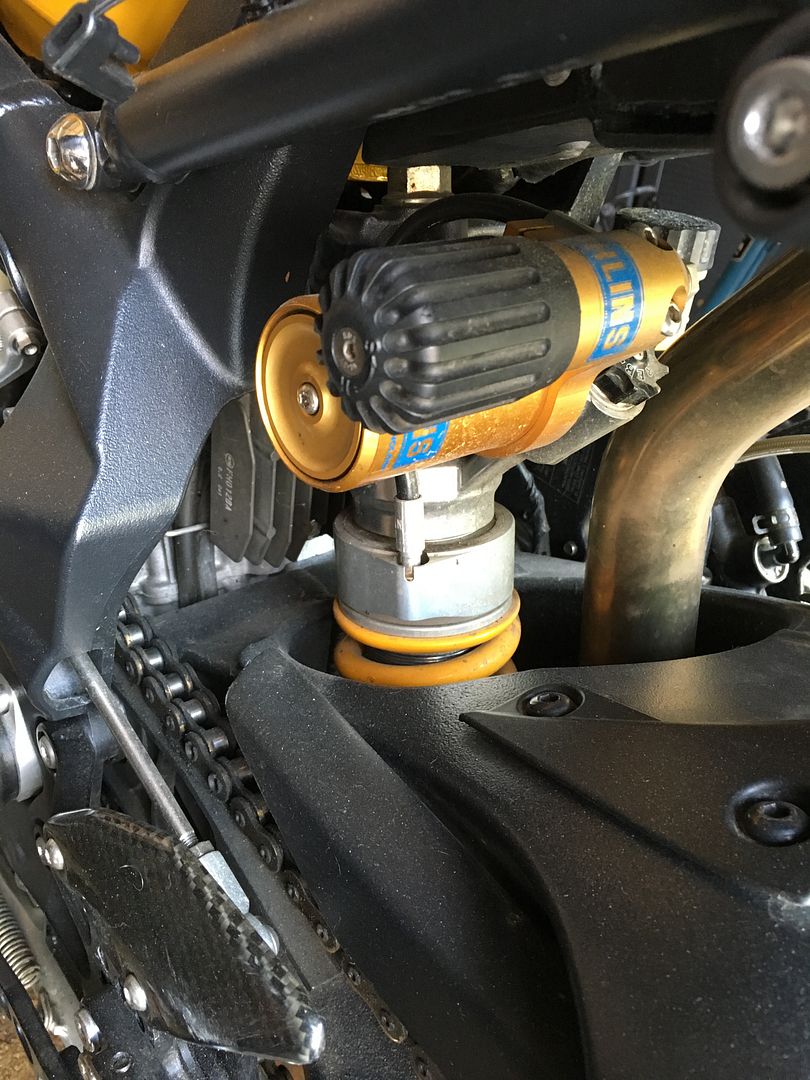 ---
2006 SY Daytona 675-R
Ohlins TTX shock|GPR V4 Steering Damper|Renthal Bars|Pazzo Shorty Levers
2 Bro M5 Exhaust|R1 Throttle|Attack Performance Rearsets|Renthal 520 Conversion
|Seat Cowl|HIDs|Full T-Rex Protection|manual CCT|MOSFET R/R

2007 Raven FZ1-R
Elka stage4 Shock|08 R1 Forks|HEL SS|Giles Rearsets
Micron Full System|Roth Stacks,AIE|FCE|Flies|PC5
CF Cowl,Fender,Hugger|T-Rex Protection
Spencer Seat|Puig DB|Gripsters|HIDs|Protons|Heated Grips|Hard Luggage

---
Last edited by CrazyBiker; 05-19-17 at

15:38

.
Member
Threadstarter
Join Date: Apr 2010
Location: Fremont, CA
Posts: 263
Thanks: 1
Thanked 3 Times in 3 Posts
Price dropped.
---
2006 SY Daytona 675-R
Ohlins TTX shock|GPR V4 Steering Damper|Renthal Bars|Pazzo Shorty Levers
2 Bro M5 Exhaust|R1 Throttle|Attack Performance Rearsets|Renthal 520 Conversion
|Seat Cowl|HIDs|Full T-Rex Protection|manual CCT|MOSFET R/R

2007 Raven FZ1-R
Elka stage4 Shock|08 R1 Forks|HEL SS|Giles Rearsets
Micron Full System|Roth Stacks,AIE|FCE|Flies|PC5
CF Cowl,Fender,Hugger|T-Rex Protection
Spencer Seat|Puig DB|Gripsters|HIDs|Protons|Heated Grips|Hard Luggage

Member
Threadstarter
Join Date: Apr 2010
Location: Fremont, CA
Posts: 263
Thanks: 1
Thanked 3 Times in 3 Posts
btttt
---
2006 SY Daytona 675-R
Ohlins TTX shock|GPR V4 Steering Damper|Renthal Bars|Pazzo Shorty Levers
2 Bro M5 Exhaust|R1 Throttle|Attack Performance Rearsets|Renthal 520 Conversion
|Seat Cowl|HIDs|Full T-Rex Protection|manual CCT|MOSFET R/R

2007 Raven FZ1-R
Elka stage4 Shock|08 R1 Forks|HEL SS|Giles Rearsets
Micron Full System|Roth Stacks,AIE|FCE|Flies|PC5
CF Cowl,Fender,Hugger|T-Rex Protection
Spencer Seat|Puig DB|Gripsters|HIDs|Protons|Heated Grips|Hard Luggage

Member
Threadstarter
Join Date: Apr 2010
Location: Fremont, CA
Posts: 263
Thanks: 1
Thanked 3 Times in 3 Posts
Bttt


Sent from my iPhone using Tapatalk
---
2006 SY Daytona 675-R
Ohlins TTX shock|GPR V4 Steering Damper|Renthal Bars|Pazzo Shorty Levers
2 Bro M5 Exhaust|R1 Throttle|Attack Performance Rearsets|Renthal 520 Conversion
|Seat Cowl|HIDs|Full T-Rex Protection|manual CCT|MOSFET R/R

2007 Raven FZ1-R
Elka stage4 Shock|08 R1 Forks|HEL SS|Giles Rearsets
Micron Full System|Roth Stacks,AIE|FCE|Flies|PC5
CF Cowl,Fender,Hugger|T-Rex Protection
Spencer Seat|Puig DB|Gripsters|HIDs|Protons|Heated Grips|Hard Luggage

Member
Threadstarter
Join Date: Apr 2010
Location: Fremont, CA
Posts: 263
Thanks: 1
Thanked 3 Times in 3 Posts
btttt
---
2006 SY Daytona 675-R
Ohlins TTX shock|GPR V4 Steering Damper|Renthal Bars|Pazzo Shorty Levers
2 Bro M5 Exhaust|R1 Throttle|Attack Performance Rearsets|Renthal 520 Conversion
|Seat Cowl|HIDs|Full T-Rex Protection|manual CCT|MOSFET R/R

2007 Raven FZ1-R
Elka stage4 Shock|08 R1 Forks|HEL SS|Giles Rearsets
Micron Full System|Roth Stacks,AIE|FCE|Flies|PC5
CF Cowl,Fender,Hugger|T-Rex Protection
Spencer Seat|Puig DB|Gripsters|HIDs|Protons|Heated Grips|Hard Luggage

Member
Threadstarter
Join Date: Apr 2010
Location: Fremont, CA
Posts: 263
Thanks: 1
Thanked 3 Times in 3 Posts
Price drop


Sent from my iPhone using Tapatalk
---
2006 SY Daytona 675-R
Ohlins TTX shock|GPR V4 Steering Damper|Renthal Bars|Pazzo Shorty Levers
2 Bro M5 Exhaust|R1 Throttle|Attack Performance Rearsets|Renthal 520 Conversion
|Seat Cowl|HIDs|Full T-Rex Protection|manual CCT|MOSFET R/R

2007 Raven FZ1-R
Elka stage4 Shock|08 R1 Forks|HEL SS|Giles Rearsets
Micron Full System|Roth Stacks,AIE|FCE|Flies|PC5
CF Cowl,Fender,Hugger|T-Rex Protection
Spencer Seat|Puig DB|Gripsters|HIDs|Protons|Heated Grips|Hard Luggage

Member
Threadstarter
Join Date: Apr 2010
Location: Fremont, CA
Posts: 263
Thanks: 1
Thanked 3 Times in 3 Posts
make offers
---
2006 SY Daytona 675-R
Ohlins TTX shock|GPR V4 Steering Damper|Renthal Bars|Pazzo Shorty Levers
2 Bro M5 Exhaust|R1 Throttle|Attack Performance Rearsets|Renthal 520 Conversion
|Seat Cowl|HIDs|Full T-Rex Protection|manual CCT|MOSFET R/R

2007 Raven FZ1-R
Elka stage4 Shock|08 R1 Forks|HEL SS|Giles Rearsets
Micron Full System|Roth Stacks,AIE|FCE|Flies|PC5
CF Cowl,Fender,Hugger|T-Rex Protection
Spencer Seat|Puig DB|Gripsters|HIDs|Protons|Heated Grips|Hard Luggage

Member
Threadstarter
Join Date: Apr 2010
Location: Fremont, CA
Posts: 263
Thanks: 1
Thanked 3 Times in 3 Posts
Price drop


Sent from my iPhone using Tapatalk
---
2006 SY Daytona 675-R
Ohlins TTX shock|GPR V4 Steering Damper|Renthal Bars|Pazzo Shorty Levers
2 Bro M5 Exhaust|R1 Throttle|Attack Performance Rearsets|Renthal 520 Conversion
|Seat Cowl|HIDs|Full T-Rex Protection|manual CCT|MOSFET R/R

2007 Raven FZ1-R
Elka stage4 Shock|08 R1 Forks|HEL SS|Giles Rearsets
Micron Full System|Roth Stacks,AIE|FCE|Flies|PC5
CF Cowl,Fender,Hugger|T-Rex Protection
Spencer Seat|Puig DB|Gripsters|HIDs|Protons|Heated Grips|Hard Luggage

Member
Threadstarter
Join Date: Apr 2010
Location: Fremont, CA
Posts: 263
Thanks: 1
Thanked 3 Times in 3 Posts
btttt
---
2006 SY Daytona 675-R
Ohlins TTX shock|GPR V4 Steering Damper|Renthal Bars|Pazzo Shorty Levers
2 Bro M5 Exhaust|R1 Throttle|Attack Performance Rearsets|Renthal 520 Conversion
|Seat Cowl|HIDs|Full T-Rex Protection|manual CCT|MOSFET R/R

2007 Raven FZ1-R
Elka stage4 Shock|08 R1 Forks|HEL SS|Giles Rearsets
Micron Full System|Roth Stacks,AIE|FCE|Flies|PC5
CF Cowl,Fender,Hugger|T-Rex Protection
Spencer Seat|Puig DB|Gripsters|HIDs|Protons|Heated Grips|Hard Luggage

Member
Threadstarter
Join Date: Apr 2010
Location: Fremont, CA
Posts: 263
Thanks: 1
Thanked 3 Times in 3 Posts
bttttt
---
2006 SY Daytona 675-R
Ohlins TTX shock|GPR V4 Steering Damper|Renthal Bars|Pazzo Shorty Levers
2 Bro M5 Exhaust|R1 Throttle|Attack Performance Rearsets|Renthal 520 Conversion
|Seat Cowl|HIDs|Full T-Rex Protection|manual CCT|MOSFET R/R

2007 Raven FZ1-R
Elka stage4 Shock|08 R1 Forks|HEL SS|Giles Rearsets
Micron Full System|Roth Stacks,AIE|FCE|Flies|PC5
CF Cowl,Fender,Hugger|T-Rex Protection
Spencer Seat|Puig DB|Gripsters|HIDs|Protons|Heated Grips|Hard Luggage

Posting Rules

You may not post new threads

You may not post replies

You may not post attachments

You may not edit your posts

---

HTML code is Off

---