Junior Member
Join Date: Mar 2013
Location: nashville
Posts: 63
Thanks: 0
Thanked 0 Times in 0 Posts
Street triple photo thread
---
Pics of the bike and maybe a mod list. Update as needed. Nothing else. I can't seem to find a thread of just pics and always enjoy looking at pics of bikes. Can we do that here?
Member
Join Date: Jun 2007
Location: Southwest
Posts: 264
Thanks: 0
Thanked 4 Times in 3 Posts
Pictures?
I think I have a few...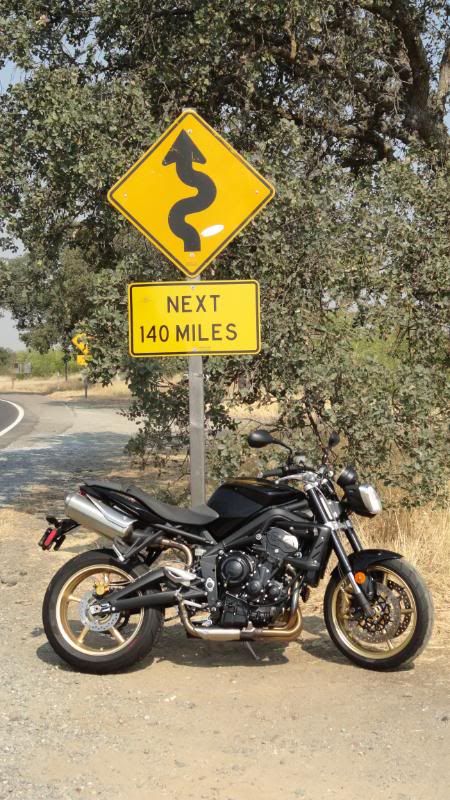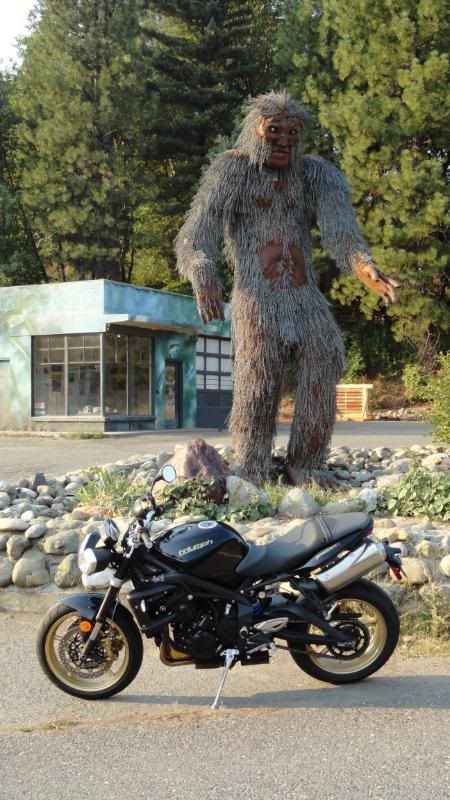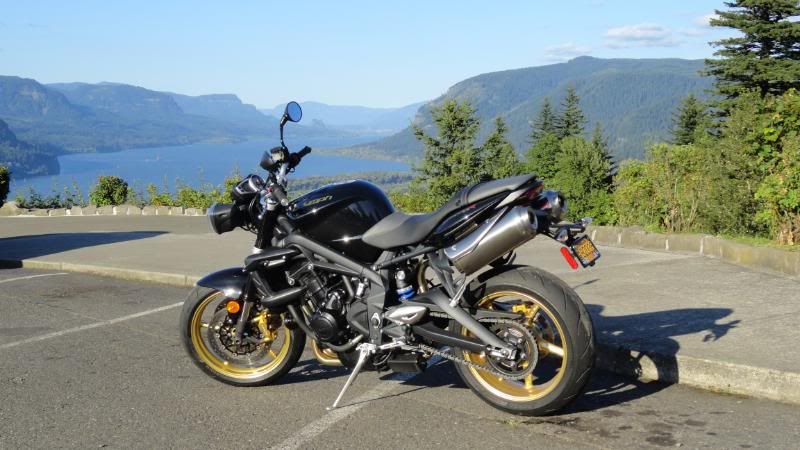 Mods thus far:
D.I.Y. fender eliminator
Bar end mirrors
Heated grips
DanMoto carbon mufflers
Removed passenger pegs/brackets
Junior Member
Join Date: Nov 2012
Location: Sag Harbor
Posts: 29
Thanks: 0
Thanked 0 Times in 0 Posts
The Grey Lady
---
Here is The Grey Lady, perhaps the favorite of all the thirty or so bikes I have owned. My apologies to those who may have seen this in another recent thread. I am really looking forward to seeing members bikes, so please keep them coming.

Modifications included in purchase

1. Exhaust: IXIL Extreme round.
2. Triumph Seat cowl
3. Rizzoma bar ends
4.GB Engine case covers kit
5.Gold swing arm spools
6.Adjustable clutch lever
7.Frame sliders
8.Clear alternatives threeway tail light
9.Triumph Rear lamp unit
10.Triumph OEM tank protector
11.Soupy Performance adjustable drag link
12.Soupy Performance adjustable sidestand

New additions

13. Black alloy rearsets
14. Black adjustable brake levers, gold adjuster
15. Hyperpro RSC steering damper
16. Remove front reflector, replace with oem bolts
17. Install pig tail for Battery tender
18. Front fork sliders
19. Osram Xenon Nightbreakers + headlight bulb
20. Triumph OEM rear hugger
21. Gold Aprilia handlebar ends
22. LSL single headlight conversion
23. IXIL muffler dB Killers
24. Rizzoma black alloy brake reservoir
25. Michelin Pilot Power 3 Tires
26. CRG black 3"round bar end mirror, modified bar end
27. Black and gold swing arm spools/sliders
Senior Member
Join Date: Aug 2012
Location: Rancho Cucamonger
Posts: 776
Thanks: 7
Thanked 11 Times in 11 Posts
i've got a couple:
Junior Member
Threadstarter
Join Date: Mar 2013
Location: nashville
Posts: 63
Thanks: 0
Thanked 0 Times in 0 Posts
I rode my Tiger 800XC by that Deadwood sign last summer on my way to Yellowstone. Cool town.
A great day comes to a close...
---
Loaded and coming home... after all, a good day at the track... well, there really is no comparison...
Jennings 4/22/2013
---
Know God; Know Peace
Kevin/34: "I pull that chin strap tight - We're on a racetrack. We're out here riding motorcycles. You put your helmet on, you pull that chin strap tight, there should be nothing but a smile on your face. Because what the hell else would you rather be doing?"
BOTM Winner
Join Date: Mar 2011
Location: S FL / USA
Posts: 793
Thanks: 0
Thanked 20 Times in 16 Posts
Just clicky on my sig link
.
---
..
My Bike
.. ...has a new owner :(
Junior Member
Join Date: Apr 2013
Location: OH
Posts: 12
Thanks: 7
Thanked 0 Times in 0 Posts
Mods Thus Far:
Arrow Under-seat
K&N Intake
Headlight Cowl
Passenger Seat Cowl
Radiator Cowls
Belly Pan
Rear Wheel Hugger
Bar end Mirrors
Shorty Levers
D3 Fender Eliminator (Low Boy Version)
Clear Integrated Tail Light
Cox Radiator Guard
GB Racing Crash Kit
Tech Specs (Dave Moss Cut)
Sargent seat
Ram GPS Mounts
and some red accent trim
Next Round of mods:
Tune ECU
Suspension Tune
Quickshifter
Subframe Swap or Powder Coat
Handel Bars
LED Winkers
Rearsets
Slipper Clutch
No particular order lol...
---
2012 Street Triple R Crystal White
2011 Daytona 675 Diablo Red
2005 sv650s Candy Grand Blue (R.I.P.)
Posting Rules

You may post new threads

You may post replies

You may not post attachments

You may not edit your posts

---

HTML code is Off

---