Senior Member
Join Date: Mar 2014
Location: Yamato, Japan
Posts: 1,013
Thanks: 11
Thanked 71 Times in 66 Posts
Loaded her up the other day and dropped her off to get registered. The emissions got stricter here in Japan so I'm hoping there's no issues.
| | |
| --- | --- |
| The Following User Says Thank You to easbaysav For This Useful Post: | |
Member
Join Date: May 2014
Location: Baltimore
Posts: 151
Thanks: 4
Thanked 2 Times in 2 Posts
I've been commuting on my lovely STRX nearly every warm day for the past few weeks. Generally, I've had other obligations after work that would require a car...not nearly as fun) or I was working from home. While my commute has been lessened from 85-90+ miles each way to 27 miles each way, it is just the best time. As much as I try to take some back roads and twisties, sometimes it's just way easier/makes more sense in terms of time to take the highway. Riding is riding, but the highway stuff is not nearly as fun and definitely has been squaring off my rear tire some. Today, I noticed some cord showing down the center :(

With that in mind, I am in need of a new rear tire. The stock Rosso Corsa has served me well, and may be my selection again. I've been caught in light rain, to downpours; and, I have been out on 100+ degree days and ridden when there's snow on the side of the roads. The Rosso Corsa has served me quite well, in all conditions.

I'll continue combing through the Tire Tech threads and other sites to make a final decision (hopefully today)!

Parting thoughts -- Doesn't the day just start better when your ride in is on a bike and not a car??
Junior Member
Join Date: Feb 2016
Location: greer sc
Posts: 5
Thanks: 1
Thanked 1 Time in 1 Post
2010 SE upgrades
---
So i didnt do all of this today but i finally got a friend to come over and take a picture. I have done a ton to this bike and love the outcome. What do you think
https://www.flickr.com/photos/thirst...blic/lightbox/
He is a local guy here in Greenville sc and takes amazing pics. This was his first motorcycle shoot but i am happy with the results.
Upgrades:
Mods:
Engine
Slip on Yoshimira Exhaust -- shortened to match tail length -
Tuned via Tune ECU
K&N Performance filter
Body/ brakes/suspension
Bitubo adjustable steering damper
Sato Racing Rearsets black -
Galfer Wave Rotors Front Triumph DAYTONA 675 2006-2009 -
Galfer Rear Wave Rotor Triumph DAYTONA 675 2006-2009 -
Galfer Brake Lines Triumph 675 - Front 2006-2010 -- Black on black -
Galfer Brake Lines Triumph 675 - Rear 2006-2010 -- Black on black -
Sato Racing Daytona 675 / 675R Racing Hooks-Black -
Triumph Chain Adjustment Kit Black A9640045 -
British Customs Daytona 675 Mirror Block Off Plate BC201-001B -
Triumph Daytona 675 Seat Cowl A9708095-Pearl White VIN before 440189 -
Rizoma Front Brake Fluid Reservoir for Triumph CT027-Black -
Rizoma Rear Brake Fluid Reservoir CT015-Black - $
SpeedyMoto Clip-Ons for Triumph Motorcycles 08-0050-Black
Lightech Quick spin gas cap -
Shorty Brake and clutch levers -
Front sliders -
Frame Sliders -
Lightech Fairing bolts -
Lightech engine bolts -
Lightech windscreen bolts -
Ligtech steering stem nut -
Lightech axle nut -
Tinted black windscreen -
HID 6000K
Head light internal mods --painted black and blue
Powder Coated Parts -
Wheels powder coated Satin black -New Wheel bearing installed by Triumph
Triple clamps
Axle bolts
Frame/ swing arm bolt and adjuster
Drivetrain
DID EVR3 520 Chain -
Supersprox 47 tooth rear -- 200 miles -
Front Sprocket 15 tooth -
---
Last edited by msaunde; 08-26-16 at

13:56

.
| | |
| --- | --- |
| The Following User Says Thank You to msaunde For This Useful Post: | |
What did you do to your Street Triple today?
---
Evotech Tail Tidy - Seems like a quality product. Easy to install.

Sent from my iPhone using Tapatalk
---
Last edited by 15striple; 09-20-16 at

01:16

.
New Penske from Shamrock / Patrick
---
Thank you sir... Track in a few months to really give it the test.
Installed last Saturday and to the best suspension guy I know this Saturday...
---
Know God; Know Peace
Kevin/34: "I pull that chin strap tight - We're on a racetrack. We're out here riding motorcycles. You put your helmet on, you pull that chin strap tight, there should be nothing but a smile on your face. Because what the hell else would you rather be doing?"
---
Last edited by Superhawk; 09-14-16 at

22:04

. Reason: Link to google bad
Installed grab handles for the wife. Arrow slip on coming soon.
Sent from my iPhone using Tapatalk
Arrow Slip On - Thanks morbo1978.
ECU Re Flash.
Sent from my iPhone using Tapatalk
Junior Member
Join Date: Oct 2015
Location: Großbissendorf Bayern
Posts: 101
Thanks: 6
Thanked 7 Times in 6 Posts
Sold it for more than I paid for it.
---
GO CHIEFS!
Junior Member
Join Date: Sep 2015
Location: Hobart, Australia
Posts: 13
Thanks: 2
Thanked 0 Times in 0 Posts
---
Boxing day mini-project, replaced the Triple rear shock with a Daytona one.
Total time: 30 mins
---
---
2008 Street Triple
2008 Daytona 675 (track bike)
1989 Honda CBR250R (track bike)
Junior Member
Join Date: May 2015
Location: Istanbul
Posts: 115
Thanks: 7
Thanked 8 Times in 7 Posts
Got new D.I.D. 525VX 118 links gold chain, and Esjot 16T front and 47T rear sprockets installed.
Also finally received the 2016 Speed Triple Tank Badges from the dealer. I think these tank badges are going to look awesome on my Hooligaz )))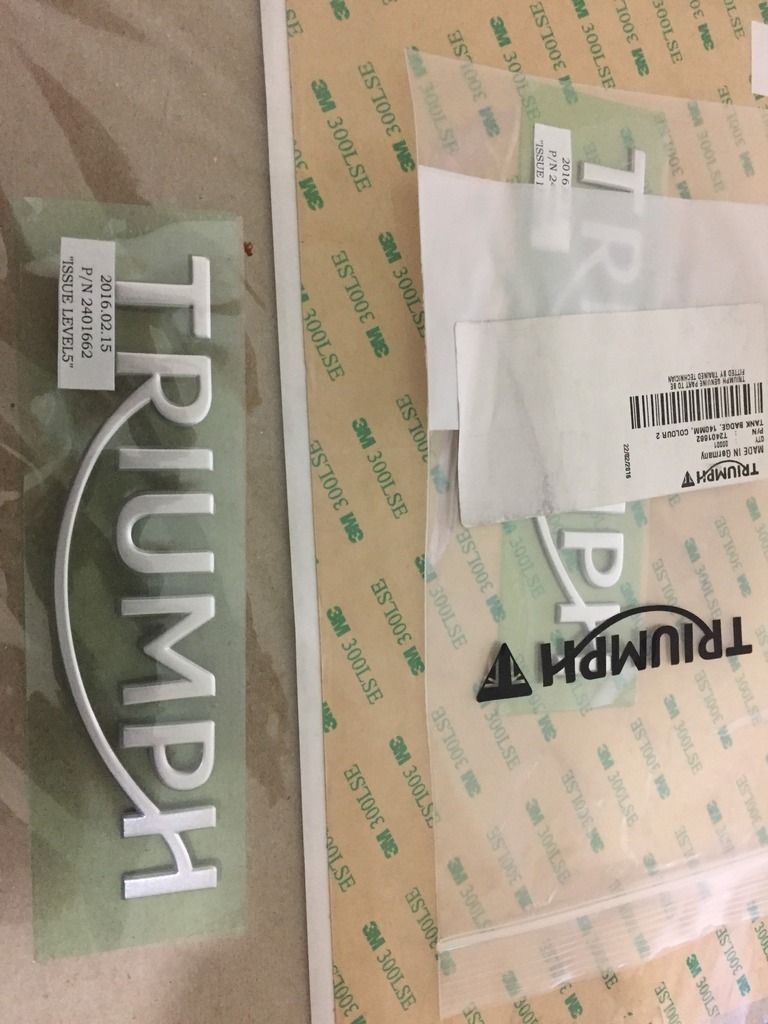 ---
- Do Not Open
—
No User Serviceable Parts
Inside ! -


Street Triple 2015 to custom RX with Daytona 675R front-end
(
aka Hooligaz RS Build
)
Posting Rules

You may post new threads

You may post replies

You may not post attachments

You may not edit your posts

---

HTML code is Off

---