Junior Member
Join Date: Aug 2011
Location: Sydney
Posts: 25
Thanks: 0
Thanked 0 Times in 0 Posts
Won't rev over 8000rpm
---
Hello all. Iím looking for some help please. My 2012 D675R will not rev past 8000. It's like it's hitting a rev limiter.

My bike went down the track recently but seemed to suffer only bodywork and control damage. It went down on it's left nose area and slid without hitting anything. I don't know if it ran on its side or if the tilt switch killed the engine right away. (I was not near it as the crash was just under 200 km/h and the bike and I didn't end up in the same place.) Chassis and engine seem totally untouched after the crash.

The bike is producing a small amount of blue smoke but I attribute that to a small amount of oil in the exhaust that will soon burn off.

Here's a run down of what I have checked:

I have had the tank off for repair. The fuel pump has been out and refitted as per the service manual. Itís been pressure tested. It holds fuel with the bike hose disconnected so the o-ring seal is good.

I took the airbox cover off and cleaned out a tiny bit of engine oil sitting in the engine breather. The course foam in the breather had a tiny amount of oil on it. There was no oil around the filter or intake. Under the filter there was no debris. The engine oil was reading on the lower dip stick mark. I dropped the oil anyway and the right volume came out so itís not hiding in the wrong part of the engine. New oil went back in.

Unrelated but...I've removed the left handlebar switch cluster. All wires removed from the connector except for the clutch switch which remains intact and connected via the original connector block.

I turned the bike over on the starter with no tank fitted to run a little to lube around a motor that had been standing for a few weeks on a trickle charger.
With the bike all back together I ran the bike for the first time with the tank propped up slightly to ensure there was no kink in the fuel hose. The bike fired up easily and idled normally. There was quite an amount of blue smoke initially. No bad noises. I turned the bike off after a short idle and let the heat build to burn off oil in the exhaust.

I fired it up again. Less blue smoke but still a small amount. I let the bike warm up fully. I gave it a few more revs and the bike sounds normal but there is still a haze of blue smoke. It doesn't sound like it's missing. I can see the flap in the air intake opening. The bike looked ok so I have it more revs a little at a time. It hits 8000 revs and will not rev past that limit.

There are no warning lights on the dash to give an indication of any issue. The tilt thingy is intact and looks normal. All plug caps have been pressed in to ensure they are seated correctly. Nothing moved.

The bike is running a TuneBoy map that was setup by Wayne (Mr. TuneBoy.) I swapped maps but the 8000 rev limit remains in all 3 maps.

I have used Goggle to check the forums for this issue but I didn't find anything similar.

The bike looks sweet. Nothing busted, loose, rattling etc. Do you have experience of this type of problem? Can you help me understand what else to check and how to fix it please. Next track time is next Friday.......Thanks in advance.
Super Moderator
Join Date: Sep 2008
Location: Seattle
Posts: 11,204
Thanks: 3
Thanked 292 Times in 260 Posts
Clutch switch. Without it it will do that.
BOTY Winner
Join Date: Oct 2012
Location: San Francisco
Posts: 2,321
Thanks: 1
Thanked 16 Times in 15 Posts
+1 on the clutch switch. If the bike thinks its pulled in nothing over 8,000 and the QS will not work. Check it by trying to start the bike in neutral without the clutch pulled in. If the bike starts, that's the prob.
Sent from my iPhone using
Motorcycle.com Free App
---
675R dedicated track bike.
Noob Hazer
Join Date: Sep 2010
Location: KC,MO
Posts: 12,388
Thanks: 86
Thanked 269 Times in 208 Posts
Its broke send it to me
---
2010 TornadoRed D675 Trackbike
~
Junior Member
Threadstarter
Join Date: Aug 2011
Location: Sydney
Posts: 25
Thanks: 0
Thanked 0 Times in 0 Posts
Unfortunately it's not the clutch switch. I retained the clutch switch and it's operating as normal. The bike will not start unless the clutch is pulled in.

Any other ideas please?
BOTM Winner
Join Date: Jan 2009
Location: Jersey, Channel Islands
Posts: 2,505
Thanks: 0
Thanked 38 Times in 34 Posts
When you refitted the airbox cover did your reconnect the rubber tube to the MAP sensor (I think that's what it's called) on the left rear side of the airbox. And connect the electrical connector?

Also there is another sensor the same as this mounted in front of the clocks on the fairing bracket. Is that OK after your crash?
---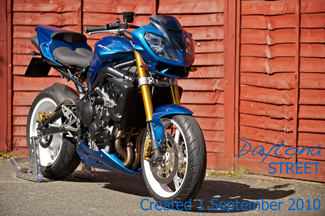 Junior Member
Threadstarter
Join Date: Aug 2011
Location: Sydney
Posts: 25
Thanks: 0
Thanked 0 Times in 0 Posts
All electrical connections under the tank are good and checked. Thanks for the suggestion but it's not that either. I expect that the very specific 8500 rpm limit is electronically managed. It's too consistent and specific to be anything else. The strange thing to me is the lack of a warning light. Do I need to connect an official test unit to read error codes? Is any fault condition consistent with the symptom I am seeing please?
Senior Member
Join Date: Jul 2008
Location: Camas or the Bay Area
Posts: 1,768
Thanks: 0
Thanked 1 Time in 1 Post
perhaps your cat is toast from the oil burning through it, I know on autos that a plugged exhaust will slow a car down at speed.. just tossing it out there
Member
Join Date: Sep 2009
Location: Gold Coast - AU
Posts: 480
Thanks: 0
Thanked 0 Times in 0 Posts
Check fuel supply - particuarly that there is no kink in the fuel lead under the tank.
Recently had this issue in my R6 which was a present from my local toolbar dealer that serviced the bike
---
Road - 2013 675R
Track - 2006 675
Road - 2009 675se sold :(
Track - 2006 R6 sold :(
Super Moderator
Join Date: Sep 2008
Location: Seattle
Posts: 11,204
Thanks: 3
Thanked 292 Times in 260 Posts
So when it hits 8500 does it bounce against that rpm limit like it's hitting the rev limiter or does it just stop and sit there and refuse to go higher?
Posting Rules

You may post new threads

You may post replies

You may not post attachments

You may not edit your posts

---

HTML code is Off

---