Senior Member
Threadstarter
Join Date: Oct 2007
Location: Sydney, Australia
Posts: 1,007
Thanks: 0
Thanked 0 Times in 0 Posts
Quote:
Mate i know you were having some trouble with your back - i can imagine the last thing you needed was to be banged up like that.

Hope your recovering well and back up the ol road soon.
yeh surprissingly, and it comes down to going into the fetal position as I came off, back and neck aren't to bad (I have to live with collapsed vertabrae c3 - c7)
Elbow protector in the jacket is smashed and right sleeve torn up, hips the size of a xmas roast and the inside of my right ankle is swallon and grazed from the rearseats. Bodies starting to stiffen up now though so a few days of taking it easy and I'll be back to my normal banged up and broken self, justy with another scar or two and another story to tell at the pub.
---
a blue Daytona with some stuff, but not all the stuff I want,

yet.......
Member
Join Date: Jul 2012
Location: Colorado Springs
Posts: 628
Thanks: 3
Thanked 6 Times in 4 Posts
Sorry to see that man! Never a good thing to see/hear of someone going down. Glad the outcome looks good. Bikes can be replaced, lives can't!
Senior Member
Join Date: Mar 2009
Location: South of most people.
Posts: 5,464
Thanks: 0
Thanked 38 Times in 31 Posts
Ouch!

Such a shame. A beautiful bike. Glad you're (relatively) okay. Heal up soon!



O.B
Senior Member
Join Date: Apr 2008
Location: Mentor, OH
Posts: 1,991
Thanks: 21
Thanked 75 Times in 51 Posts
Dang that sucks! Glad you are alright.

I've never seen a bike with the forks snapped off that wasn't COMPLETELY totalled. Almost looks like you kept it upright?
Senior Member
Join Date: Aug 2012
Location: 90 miles from Brainerd International Raceway, Minnesota
Posts: 1,367
Thanks: 148
Thanked 39 Times in 32 Posts
Wow! That looks nasty. Glad you're not all twisted up like the bike.
---
'16 BMW S1000RR Premium
'15 MV Agusta Brutale 1090RR Corsa (Sexy mistress)
'06 Harley Davidson V-ROD Street Rod (Best handling HD...evar!)
'14 Yamaha YZ250 (NEW Dirty beast)
'03 Yamaha YZF-R1
Senior Member
Join Date: Apr 2012
Location: chula vista
Posts: 1,326
Thanks: 0
Thanked 21 Times in 19 Posts
What's a hilux?
---
He is risen!
Junior Member
Join Date: Jul 2012
Location: Calliope, Australia
Posts: 73
Thanks: 0
Thanked 0 Times in 0 Posts
They're either 2 wheel drive or 4 wheel drive utes (trucks)
The newer 4 wheel drive's look similar to this: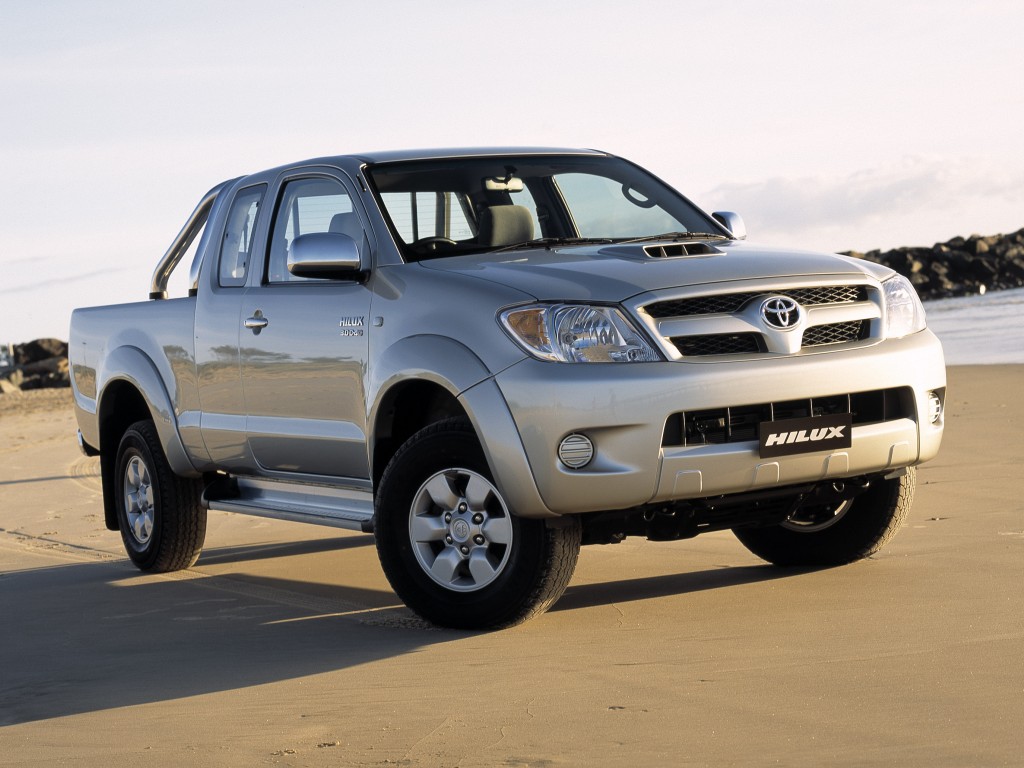 ---
2008 GSXR 750 (RIP)
2007 Daytona 675
Senior Member
Join Date: Jan 2009
Location: Sunshine Coast, Australia
Posts: 817
Thanks: 0
Thanked 10 Times in 8 Posts
That sucks man. Good luck with the insurance and hope the injuries don't give you any more grief than a stiff couple of days.
Senior Member
Join Date: Oct 2008
Location: Springfield, MO
Posts: 7,922
Thanks: 197
Thanked 233 Times in 198 Posts
They used to call the Toyota pickup the "Hi-Lux" in the USA as well, up until I believe 1978-ish. Coul be off a year or so, I had a 79 model and it was referred as just a pickup, but I saw the word "Hi-Lux" in the owners manual a lot.
Senior Member
Join Date: Dec 2008
Location: atlanta
Posts: 3,529
Thanks: 0
Thanked 0 Times in 0 Posts
Hilux's are the most indestructible truck ever, well, the older models. They are probably most like the tacoma here in the states.

Sorry to hear about your off man, hope you heal well.
Posting Rules

You may post new threads

You may post replies

You may not post attachments

You may not edit your posts

---

HTML code is Off

---