Member
Join Date: Oct 2010
Location: Los Angeles, CA
Posts: 563
Thanks: 2
Thanked 2 Times in 2 Posts
Do you SEE this shit!
---
I pulled my cams today. 2 exhaust valves were too loose.
After the cams were out I decided to pull all of the buckets and shims. Just to have some numbers on hand for the future adjustment.
That is when the
UNSPEAKABLE
happened....
The shim on exhaust valve #6 fell out of the bucket as I lifted it up with the magnet.
But it did not just fall, it fell into the oil feed hole down into the head!
Out of all the placed that shit could have fell, right into the abyss.
I sat there shitting a brick for a few minutes. Put my brain to good use, and fabricated a possible solution.
It's a magnet the size of a shim tightly wrapped in plastic. Tied to it, a length of monofilament fishing line. And a piece of wire to push it down the hole with (the magnet will not just feed down, it will stick to everything).
I pushed this device down the hole, and began pulling back. With it came the freaking shim! Talk about luck.
This shit saved my mother****ing month!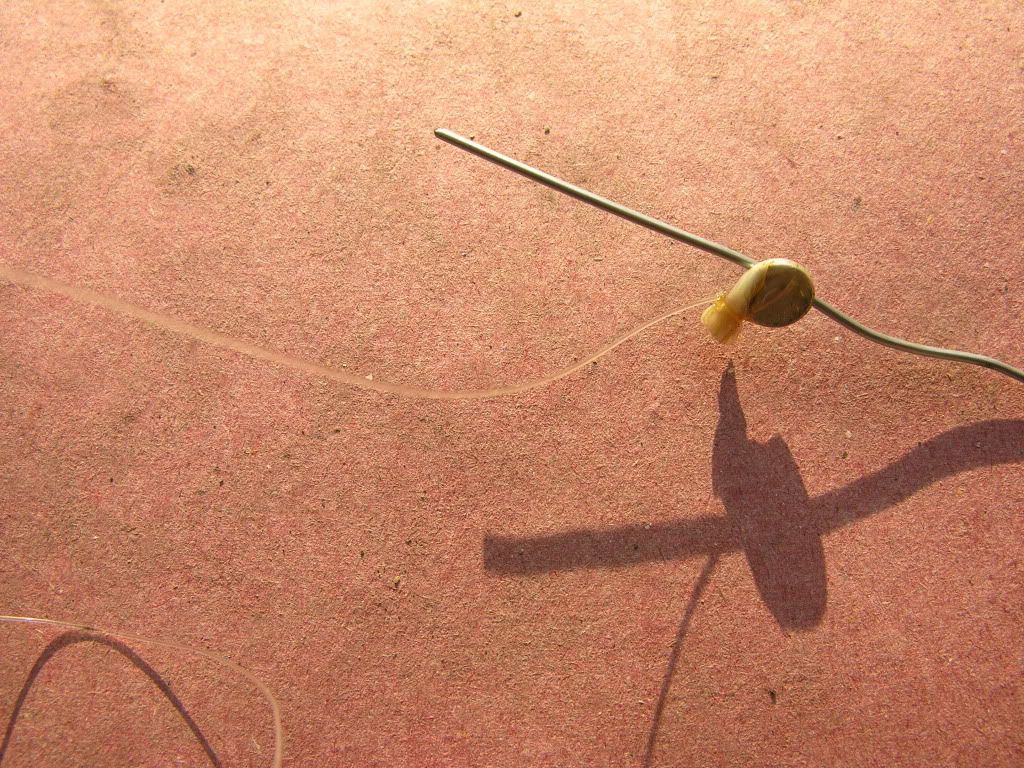 Maybe it will save someone else one day.
---

Good job Ace.
Last time I lost a woodruff key in an engine I had to pull the entire motor, turn it upside down and shake. Luckily, it was a 125cc Vespa motor.
Senior Member
what are the odds of the shim falling into an oil journal? better yet, what are the odds of getting it out? Good and bad LUCK counts.
Senior Member
Join Date: Aug 2012
Location: Minneapolis
Posts: 909
Thanks: 0
Thanked 0 Times in 0 Posts
Way to be creative! Funny the things you can come up with when you are in a sticky situation lol.
---
2007 Triumph 675 Race Bike
Junior Member
Join Date: Jun 2010
Location: San Diego
Posts: 41
Thanks: 0
Thanked 0 Times in 0 Posts
I replaced sump gasket 2 weeks ago. Where the f did I put the allen wrench that's missing from my set?!?!
Senior Member
Join Date: Jan 2012
Location: Orlando FL
Posts: 1,330
Thanks: 16
Thanked 10 Times in 8 Posts
Innovation comes to mind when we calm down great job man good karma came calling you deserve it I am sure
Senior Member
Join Date: Dec 2008
Location: Chicagoland
Posts: 3,350
Thanks: 103
Thanked 188 Times in 154 Posts
Good save, man! I would have freaked too, but you pulled yourself together and your innovation paid off. That would have purely sucked.

Sent from my Samsung Galaxy S II using motorcycle app
---
Progress Fuels Motion...Motion Fuels Momentum...Momentum Fuels Action...DO SOMETHING!
2012 Street Triple
R
Senior Member
Motion to sticky please!!!
Member
Join Date: Jul 2012
Location: Colorado Springs
Posts: 628
Thanks: 3
Thanked 6 Times in 4 Posts
My mantra... Cover the holes... Cover the holes! Good save on that one, and a great tip!!!
Posting Rules

You may post new threads

You may post replies

You may not post attachments

You may not edit your posts

---

HTML code is Off

---