Senior Member
Threadstarter
Join Date: Sep 2011
Location: Maryland
Posts: 1,035
Thanks: 0
Thanked 12 Times in 11 Posts
Quote:
I'll have to remember to bang on the sprocket carrier next time I have to take my wheel off. Last time it took me over an hour trying to finesse it in, with the wheel needing to slide in absolutely perfectly straight. Well, that, and the aforementioned swearing.
Ya, i just laid it down like Frayed suggested and compressed it like i was doing cpr. Also, 2 ceramic tiles are the perfect height for alignment. Once i had compressed the sprocket side i rolled it onto the tiles and slide the axle right in, took less than a minute.
---
2010 Ninja 250R
2012 Street Triple R
2006 Daytona
Senior Member
Join Date: Feb 2012
Location: Springfield, MO
Posts: 3,422
Thanks: 2
Thanked 46 Times in 33 Posts
Quote:
This mother****er right here, YES! Got it.
Ahh sweet victory. I have found that the more you keep trying and the more you curse, it works every time.
---
2009 Triumph Street Triple- White Lightning
2007 Triumph Daytona- Golden Thunder
BOTM Winner
Join Date: Jan 2009
Location: Jersey, Channel Islands
Posts: 2,505
Thanks: 0
Thanked 38 Times in 34 Posts
You could buy yourself some captive spacers. I just got a set and it means much less swearing!
---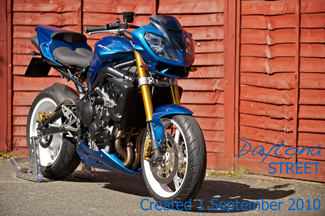 Senior Member
For me it didn't work until I spent an hour trying to get it right then I went into the house and threw up my hands then told my wife, "I think I may have to end up taking it to e dealership afterall because I can't get the rear wheel back on." Then I went back out into tehgarage and got it. I see you gotit done but I was gonna suggest that you use a screwdriver or something to keep the brake pads from closing in on one another while lining the rotor up between the two.
---
[SIGPIC]
Until we meet where rubber reaches street,
R.I.D.E.
safe & often.
Instagram & youtube: Lion6015
www.sportbikesincmag.com
BOTM Winner
Join Date: Jan 2009
Location: Jersey, Channel Islands
Posts: 2,505
Thanks: 0
Thanked 38 Times in 34 Posts
I don't know if my brake hose is slightly shorter than others, but I have to remove the rear caliper from its bracket in order to get the wheel in and out, as I can't pull it far enough rearwards to get the bracket out of its slot in the swingarm.

That is an extra job I'm not happy about and believe me I've tried to avoid it. However it does seem to make the job a bit easier as the bracket is easier to get into position as the gap where the pads would be is a lot wider. So maybe consider removing the caliper from its bracket to make the job easier.
---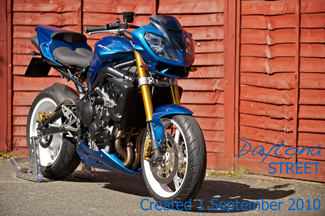 Another vote for captive spacers-much easier. My usual method is to lift with the left with the axle already in to the point where it is flush with the inside of the caliper bracket then try to shove it in. After a while I get tired, uncomfortable, frustrated and stop for a while-have a break and try again. It usually goes straight in then!
BOTM Winner
Join Date: Jun 2010
Location: Connecticut
Posts: 2,415
Thanks: 0
Thanked 3 Times in 3 Posts
I had to stick my foot under the back tire and line the right side up, got the axle started through the frame, brake bracket, spacer, then the wheel its self and just slid it right through to the left side where i lined up the spacer with the wheel and frame with the chain around the sprocket. Snap
Junior Member
Join Date: Jan 2011
Location: Southern California
Posts: 47
Thanks: 0
Thanked 0 Times in 0 Posts
Is there a specific grease I should use for the axel and spacers?
---
Senior Member
Join Date: Aug 2012
Location: Rancho Cucamonger
Posts: 776
Thanks: 7
Thanked 11 Times in 11 Posts
Quote:
Is there a specific grease I should use for the axel and spacers?
the bearings are sealed, greasing the axle is just to help it slide into the spacers & bearings, i guess?? i never lube axles.
my wheel install process:
1. use a large screwdriver to spread the brake pads fully apart inside the caliper. if you haven't added fluid to your reservoir you should be fine.
2. make sure the caliper bracket is positioned properly and slide the tip of the axle into the swingarm and caliper bracket, just enough to hold it in place.
3. lay the chain on the top of the swingarm to keep it out of the way. i always slack the adjusters a few turns to make the whole process easier.
4. make sure the cush drive is fully seated...
5. lift the tire with your toes as you guide the rear rotor into the caliper, watch for the chain to pinch between the swingarm & tire and guide it all up into place.
6. knock the axle into the wheel, careful to guide it gently into the opposite swingarm so not to bang up the threads.
7. install chain on sprocket, adjuster block/washer & nut
8. adjust chain slack & check tire for straightness.
9. drink beer while you clean your chain.
Posting Rules

You may post new threads

You may post replies

You may not post attachments

You may not edit your posts

---

HTML code is Off

---