Junior Member
Join Date: Feb 2006
Posts: 102
Thanks: 0
Thanked 0 Times in 0 Posts
Which Tech Spec Tank Grips
---
I'm going to buy some Tech Spec tank grips. Anyone have experience with the different materials - High Fusion, C3, Snake Skin? I'm leaning towards the High Fusion because it is the thinest, but I would appreciate any opinions.
I have "snake skin" they're about 1/8" - 3/16" thick.
Member
Join Date: Oct 2012
Location: Tampa
Posts: 260
Thanks: 0
Thanked 2 Times in 2 Posts
I have snake skin as well, and love their extra thickness when I have to really squeeze the tank.
---
12 675R
Another vote for Snake Skin.
Senior Member
Join Date: Aug 2012
Location: Rancho Cucamonger
Posts: 776
Thanks: 7
Thanked 11 Times in 11 Posts
snake skin, the extra padding allows you to really sink your knees into them when needed.
and they look badass.
Senior Member
Join Date: May 2011
Location: Westbury, NY
Posts: 2,368
Thanks: 117
Thanked 39 Times in 32 Posts
Contact username "nelson", I think he has had every single type they make on his bike. They use his bike for pictures and testing.
---
1993 Mitsubishi 3000GT VR-4
2007 D675
Senior Member
Join Date: Oct 2009
Location: Riders Discount
Posts: 12,417
Thanks: 62
Thanked 256 Times in 211 Posts
Riding the bike only on the street? What type of pants are you wearing?

SnakeSkin (track/street use) Some people have complained about wear on their textile pants, however no issues on leather like you will see with StompGrip. SnakeSkin is similar to a dense rubber.

C3 (street use) These work best with textile pants and have more of a soft foam feel to them.

I have not tried the High Fusion yet.
BOTM Winner
Join Date: May 2012
Location: Seward's Folly
Posts: 2,791
Thanks: 286
Thanked 118 Times in 109 Posts
I have the C3 (Moss cut) and while they do a good job, they aren't very "black." The snakeskin ones are a darker black, which I like purely for aesthetic reasons. I'm acually now looking at getting some
HT Moto ones.
They're sending me some color samples in the mail for free.
Here's a look at my TechSpecs: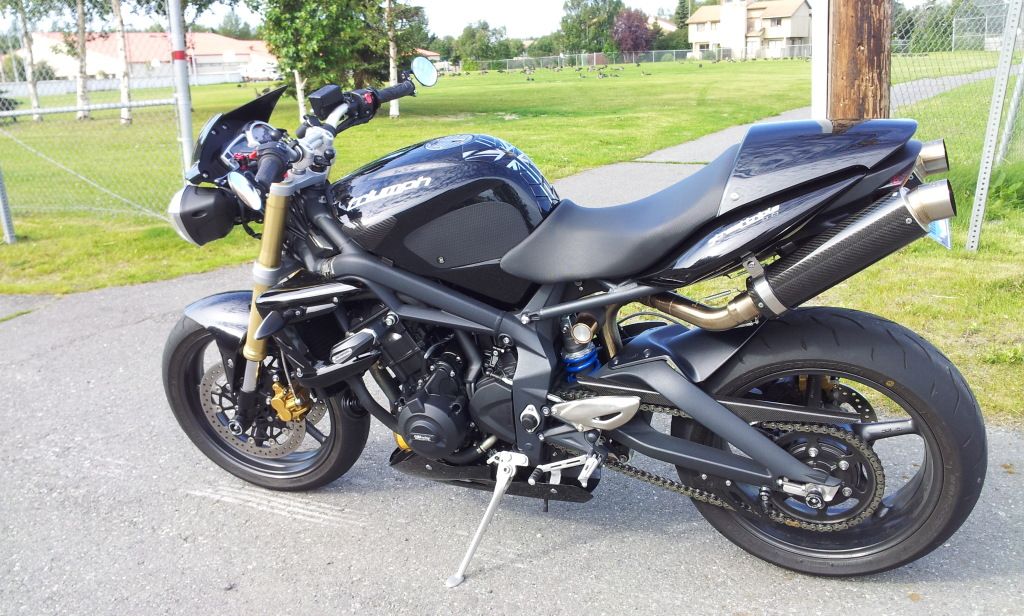 Senior Member
Join Date: Mar 2009
Location: South of most people.
Posts: 5,464
Thanks: 0
Thanked 38 Times in 31 Posts
I never liked the look of the Snakeskin type, so I went with High Fusion in black on my D675.

No complaints at all, track or street.



O.B
Junior Member
Join Date: Mar 2012
Location: Mount Waverley
Posts: 138
Thanks: 0
Thanked 0 Times in 0 Posts
I have Snake Skin. No issue with my Dragon jeans on street use. Will be testing the leathers out this weekend but I see no problem there. Much better feel then the stomps as well
---
Coffee injections are required hourly!The challange may get harder but it's never an impossible challenge.
2012 675R
PUIG RACE SCREEN DARK SMOKE
WHITE OGGY KNOBS
TRIUMPTH FACTORY ALARM
TWINLIGHT3-COX RAD GUARD
WATSEN FLUSH MOUNT FLASHERS
GEL SEAT
SHAVED STD SEAT
Posting Rules

You may post new threads

You may post replies

You may not post attachments

You may not edit your posts

---

HTML code is Off

---