Senior Member
Threadstarter
Join Date: Jul 2009
Location: OC, CA
Posts: 1,272
Thanks: 12
Thanked 27 Times in 27 Posts
Sounds like Shorai is the way to go. I quickly ordered a Powermax early this morning but don't have a whole lot of experience with them. It was cheap, so no big deal if it doesn't work out; may just get a Shorai as backup. I didn't want to wait any longer since the bike is my lifeline! Can't deal with traffic sitting in a cage!
BOTM Marshall
Join Date: Jun 2008
Location: near Savannah, GA
Posts: 3,551
Thanks: 44
Thanked 9 Times in 7 Posts
Still have the OEM.....4 and a half years on. I think its on borrowed time
never on a tender. went flat several times from lack of use. gonna upgrade to one of the newer technology options soon.
Senior Member
Join Date: May 2006
Location: Gaithersburg, MD USA
Posts: 1,890
Thanks: 0
Thanked 0 Times in 0 Posts
My OE battery in my 2006 D675 died after less than a year - didn't use a battery tender.

Dec 2006 I had the dealer prepare a new OE battery and I installed in in Dec of 2006. Its still in the bike and seems healthy. It has lived on a battery tender when not being ridden. So its still healthy almost 6 years later.

I will replace it soon. When batteries get that old they just suddenly fail. Don't want that hassle.
---
No Comment!
Senior Member
Threadstarter
Join Date: Jul 2009
Location: OC, CA
Posts: 1,272
Thanks: 12
Thanked 27 Times in 27 Posts
Crap, it is the stator. Stranded near the fwy. Kind of a scary experience having your lights go off in the dark.
Sent from my iPhone using
Motorcycle.com App
Noob Hazer
Join Date: Sep 2010
Location: KC,MO
Posts: 12,388
Thanks: 86
Thanked 269 Times in 208 Posts
I have the orignal still going on 2 years, I only put it on a tender in the winter time. Have had no issues yet.
---
2010 TornadoRed D675 Trackbike
~
Shorai and you can use a regular Battery Tender to charge it if needed.

The OEM lasted 5-years w/ battery tender attached, and was still holding a charge. Decided to replace it with the Shorai as they are so light!
---
Currently in the garage:
Daytona 675 2006 (2 each)
Bonneville 904cc 2003
KTM XC-W 250 2009
Honda CRF 230 2008
Husky TE-250 2010
bought my 675 sept '07, still on OEM battery, tendered only during winter storage
---
<----yea, thats my cat
'07 daytona
'07 FJ
'04 Audi A4
'97 wrangler
'92 mustang gt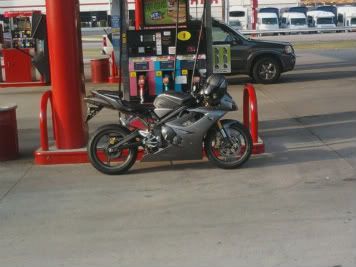 Senior Member
Threadstarter
Join Date: Jul 2009
Location: OC, CA
Posts: 1,272
Thanks: 12
Thanked 27 Times in 27 Posts
So, in case anyone wonders, my battery was still good. The stator fried and took out my R/R as well. Both are being replaced with aftermarket units. One area Triumph needs to step it up; electronics are very questionable.
Sent from my iPhone using
Motorcycle.com App
Noob Hazer
Join Date: Sep 2010
Location: KC,MO
Posts: 12,388
Thanks: 86
Thanked 269 Times in 208 Posts
nevermind already commented
---
2010 TornadoRed D675 Trackbike
~
Member
Join Date: Dec 2010
Location: New Mexico & Colorado, USA
Posts: 222
Thanks: 0
Thanked 0 Times in 0 Posts
I have 1.5 years on the original battery, never on a tender, starts up every time without fail. I would love to use a light-weight battery but it is just too cold here as it is regularly below freezing at night and occasionally for weeks at a time. I ride year-round, save for snow.

~Ex
---
2010 Triumph Bonneville SE - RIP (7/9/11)
2011 Triumph Daytona 675R (SOLD)
2012 Ducati StreetFighter 848
2014 BMW R1200GS
Posting Rules

You may post new threads

You may post replies

You may not post attachments

You may not edit your posts

---

HTML code is Off

---