Senior Member
Join Date: May 2008
Location: Sacramento/Folsom, CA
Posts: 2,725
Thanks: 1
Thanked 5 Times in 5 Posts
Thanks Don for getting this topic back on track.... Seriously pikachu ease up on the gear thing.... Yes the Triumph, bmw and duc guys are great about gear we get that and we hear your concern but seriously your rants are getting annoying.

Now when he wrecks and his shit is torn up we can rip him a new one :)
---
http://www.loganwildphoto.com
28,000 miles and counting
BOTM Winner
Join Date: Jan 2009
Location: Jersey, Channel Islands
Posts: 2,505
Thanks: 0
Thanked 38 Times in 34 Posts
I started out by sprinting over the quarter mile.

Then I moved on to hill climbing (tarmac hills, closed roads).

Then I started doing track days.

Then I went and did circuit racing.

Does it really matter what bike you use for what? Just ride and have fun.
---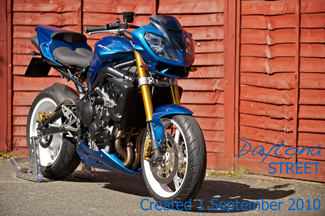 Junior Member
Threadstarter
Join Date: Mar 2012
Location: Land down under
Posts: 107
Thanks: 2
Thanked 3 Times in 3 Posts
Quote:
And it is one helluva good time.....especially if you go with some friends.
Not wrong. The presentation and party after the Race Meet is almost as fun as the racing
---
Its the afternoon on the last day of the holidays and its your call: Reg Lindsay`s Country Homestead with Mum and Dad or a painters plank on the top of a 12 gallon drum and your YZ80E...
John the Jersey Admin
Join Date: Dec 2007
Location: New Jersey
Posts: 9,282
Thanks: 53
Thanked 60 Times in 32 Posts
Enough of the BS and insults guys, or I'll just have to start with the bans.
---
CCS Expert
# 900
STT
- Advanced
TPM
- Advanced
NESBA
- Advanced
TTD
- Advanced
Spammer Kill Count - 221 "Piranha Gun! Oh Yeaaa!!"
Ridersdiscount
- BridgewaterAcura - VIP Honda
"Death smiles at us all, All a man can do is smile back."
Posting Rules

You may post new threads

You may post replies

You may not post attachments

You may not edit your posts

---

HTML code is Off

---