Senior Member
Join Date: May 2011
Location: Beckley, WV
Posts: 3,345
Thanks: 0
Thanked 6 Times in 6 Posts
Looks great!
---
"Faster we become, until the thrill of speed overcomes the fear of death"
BOTM Winner
Join Date: Jan 2009
Location: Jersey, Channel Islands
Posts: 2,505
Thanks: 0
Thanked 38 Times in 34 Posts
Quote:
Really great job. I live the way scorpion have blatantly ripped of akras logo.


Actually you're wrong, it's the other way round. Akrapovic used to be called Skorpion, but then Scorpion Exhausts made them change it as their name was too similar to theirs.
---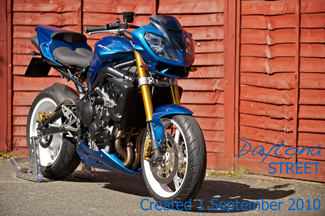 ---
Last edited by Ruby Racing; 11-12-12 at

07:14

.
I think it looks way better than the Parkingo Street triple R's
Junior Member
Join Date: Dec 2011
Location: Tecumseh, Ontario
Posts: 113
Thanks: 0
Thanked 0 Times in 0 Posts
I like the colour combo, the tail end looks cool. The whole bike looks killer. Nice work.
Member
Join Date: Apr 2009
Location: Fairmont,WV
Posts: 191
Thanks: 24
Thanked 14 Times in 7 Posts
Bike looks great, any numbers as far as weight and HP are concerned? Good luck with race series.
Senior Member
Threadstarter
Join Date: Nov 2007
Location: Alfreton, Derbyshire
Posts: 1,480
Thanks: 0
Thanked 20 Times in 13 Posts
Cheers guys. We still have loads of work to do on her. I had to throw her together quickly for the shoot and up and coming magazine feature. The wheels in the pic are off my Daytona so don't think we have thrown loads at this bike with carbon wheels. Its was put toghether on a small budget and with bits we had laying around.

Spec as follows (from memory):

2012 Street Triple R
Stock engine with cams dialled in on APE adjustable sprockets
Prototype MWR HE Race Filter
TRS Large Air Intake
One Off Exhaust, Zard Daytona Headers & Collector, Custom Made Link Pipe and Scorpion Serket End Can (104db) We are making the same system using stock headers
SAi Blanking Kit
TuneBoy Custom Map (Ongoing Project as Bike Changes)
Pro-Alloy Engine Bolt Kit
GB Racing Engine Cover Kit
520 AFAM Chain & Sprockets Conversion
MWR Fuel Filter
TWM QA Fuel Cap
TRS Quick Action Throttle Mod
SES Rearsets
EvoTech Fold Up Short Levers
TRS Frame Sliders
PFM Quick Release Discs (Not in Pic)
Brembo RC Pads for Hot Days or SC for Cold and Short Races
TRS Nose Cone & Clock Bracket
TRS Belly Pan
TRS Seat Unit with Removable Foam Seat Pad on its Own Base
Ohlins RSU Rear Shock with 100Nm Spring
K-Tech 20mm Kit with 8.5Nm Springs
TRS Carbon/Kevlar Tank Protectors
Tech Spec C3 Tank Grips
TRS Swing Arm Protectors
Stock Bars with TRS Bar Ends
Goodridge Custom Brake Lines (Mk 5!)
Putoline DOT 4 Brake Fluid
Putoline NANA Tech 4+ 10/40 Engine Oil
Ti & Alloy Bolts in Various Places
Rad Fan Removed

Still To Do:
Fit Bigger Daytona Radiator & SES Hoses
Pro-Shift Quick Shifter (Amazing Bit of Kit)
JTS Race Kit Bell Mouths + 1 Stock
Ride the Dam Thing!!!!!!!!

When I get time and my iMac back (been in 2 weeks for a HD recall) I hope to post some close up pics.
Junior Member
Join Date: Nov 2011
Location: Jambes
Posts: 4
Thanks: 0
Thanked 0 Times in 0 Posts
gorgeous bike!!!! im freakin drooling here! any chance on a street version of the race bodywork?
Senior Member
Threadstarter
Join Date: Nov 2007
Location: Alfreton, Derbyshire
Posts: 1,480
Thanks: 0
Thanked 20 Times in 13 Posts
The belly pan will fit all street bikes no probs. When used with a stock system theres no mods to be done. If uses with a low system some minor cutting away of the belly pan may be required.
I have used the seat on a road bike, I just made my own tail tidy with lights and indiactors on it. The nose cone is a no light only option!
Junior Member
Join Date: Jul 2012
Location: Orchard Park, NY
Posts: 21
Thanks: 0
Thanked 0 Times in 0 Posts
Posting Rules

You may post new threads

You may post replies

You may not post attachments

You may not edit your posts

---

HTML code is Off

---