Senior Member
Join Date: Aug 2011
Location: Austin, TX
Posts: 842
Thanks: 0
Thanked 1 Time in 1 Post
Quote:
1999 Kawasaki ZRX1100 with a ZZR1200 engine bored +2mm and turbocharged.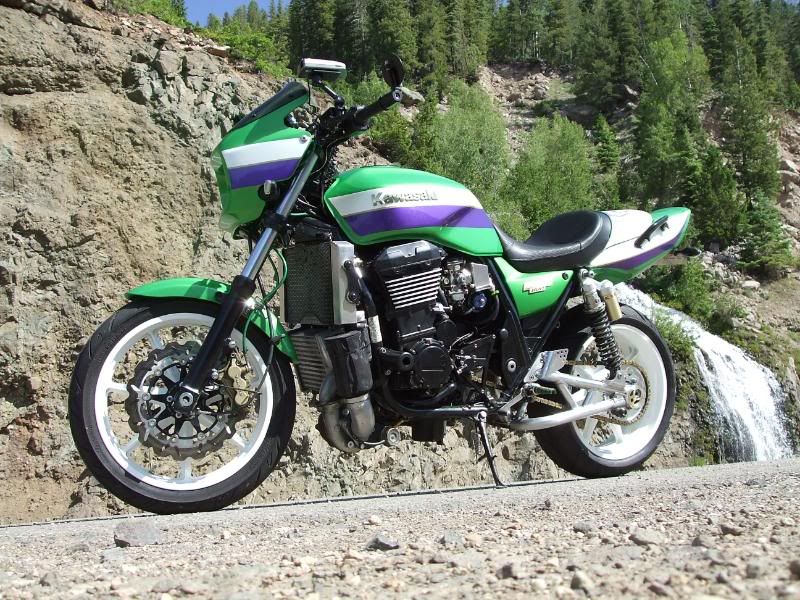 Uh, details?! That thing sounds awesome!
---
'10 Tornado Red Street Triple w/ plenty of goodies
Senior Member
Join Date: Aug 2012
Location: 90 miles from Brainerd International Raceway, Minnesota
Posts: 1,367
Thanks: 148
Thanked 39 Times in 32 Posts
***Past street bikes***
'82 Yamaha Virago 750
'86 Yamaha Fazer 700
'92 Yamaha V-Max 1200
'02 Yamaha YZF-R1
See sig for current bikes. Hoping to add a Triumph soon!
Here are a few pics.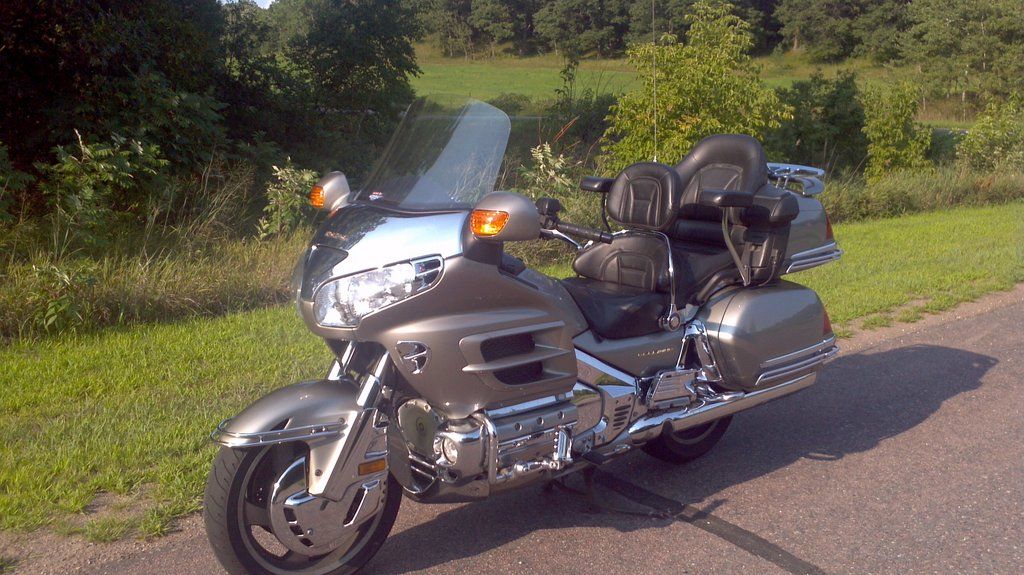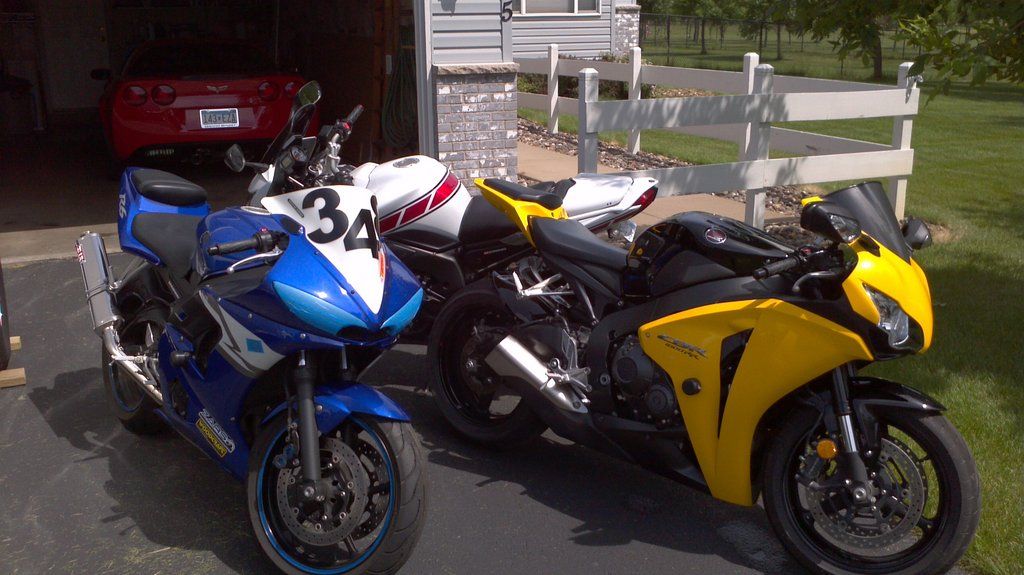 ---
'16 BMW S1000RR Premium
'15 MV Agusta Brutale 1090RR Corsa (Sexy mistress)
'06 Harley Davidson V-ROD Street Rod (Best handling HD...evar!)
'14 Yamaha YZ250 (NEW Dirty beast)
'03 Yamaha YZF-R1
The ol' RR
Member
Join Date: Dec 2005
Location: LBC
Posts: 550
Thanks: 2
Thanked 0 Times in 0 Posts
First bike I rode = 72 Hodaka Combat Wombat .... when I was 12 years old

First bike ... 1989 Honda NX250

Then .... 1992 Suzuki Bandit 400
( learned how to ride on this one ... up and down Tuna Canyon in Malibu .... before they made it one way)

Then .... 1995 Triumph Speed Triple

Then ... 2001 Triumph Speed Triple

Then .... 2006 Triumph 675 ( about 30,000 miles of commuting, thrashing, and racing on her now ... awesome )

Then .... Sold '01 SP3 ... got 2005 Yammi FJR1300

AND the wife's bike (which I ride most of the time now)
... 1989 Honda Hawk, Tweaked, Tuned, and Modified ... 73 whp ....
---
Go Fast, Take No Chances !
Junior Member
Join Date: Mar 2011
Location: iowa
Posts: 34
Thanks: 0
Thanked 0 Times in 0 Posts
Currently ride
09 Aprilia Dorsoduro
08 Daytona 675
01 Dr650

plus lots of parts bikes :)
Member
Join Date: Apr 2012
Location: Alpha Bravo
Posts: 402
Thanks: 0
Thanked 1 Time in 1 Post
Quote:
The ol' RR
What year? Great photo.
Sent from my GT-I9100 using Motorcycle.com Free App
Member
Join Date: Feb 2010
Location: Dallas
Posts: 297
Thanks: 2
Thanked 3 Times in 3 Posts
Learned on an 04 Monster 620. Just enough pep to be really fun and not get me into too much trouble. Came with a pre-dented tank and scuffed up sliders. Was 100% reliable for the two years I owned her. This god ray image has a nice nostalgic touch to it:)
Near the end of my ownership run I converted the Monster into a clip-oned cafe racer. It looked awesome, but I hated how uncomfortable it had become. She went back to stock and was sold a couple months later.
Meaning to buy something bigger/more practical/more comfy, I took a test ride on this 09 Daytona and was smitten. Speed!
After 7 months of ownership and a pathetically small amount of miles, I sold the Daytona and bought my current steed, a white 08 Street Triple. This bike is the absolute balls. She is a fast little minx and I am in love everytime I ride. In two months, I've ridden almost double the miles I put on the Daytona. All the power with amazing all day comfort. She absolutely rocks.
2007 Buell XB12... Loud as hell and enough torque to get into a whole lot of trouble in a hurry but a constant maintenance nightmare. ECM decided to die on I-75 @80mph and filled both cylinders with fuel, wheel bearings shit the bed after 3k miles, Ignition switch shorted out and I had to re-solder the connections, volt reg died 2 times in as many months. The list goes on and on. So I sold it and got the Striple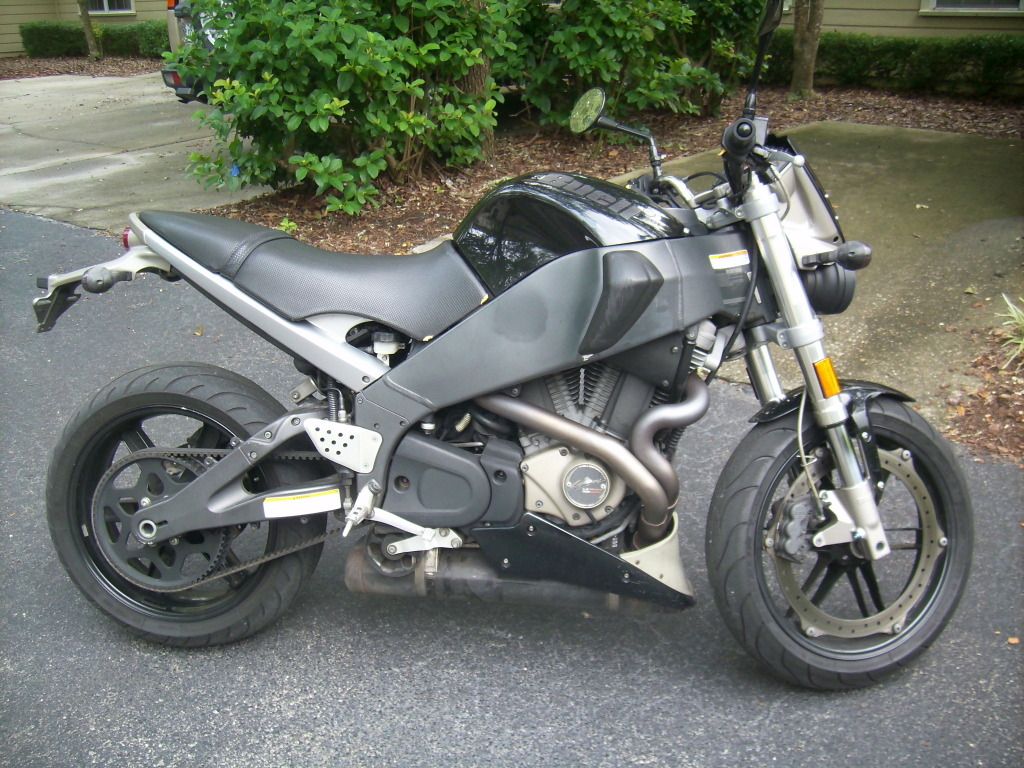 2008 Honda CBR600RR with a few mods -
2008 Suzuki GSXR600 -
Junior Member
Join Date: Jul 2012
Location: West Palm Beach FL
Posts: 80
Thanks: 0
Thanked 0 Times in 0 Posts
I own a 98 Triumph Thunderbird Sport...
And the 2012 Daytona 675 of course.
---
2012 Triumph Daytona 675 -
Red
Posting Rules

You may post new threads

You may post replies

You may not post attachments

You may not edit your posts

---

HTML code is Off

---